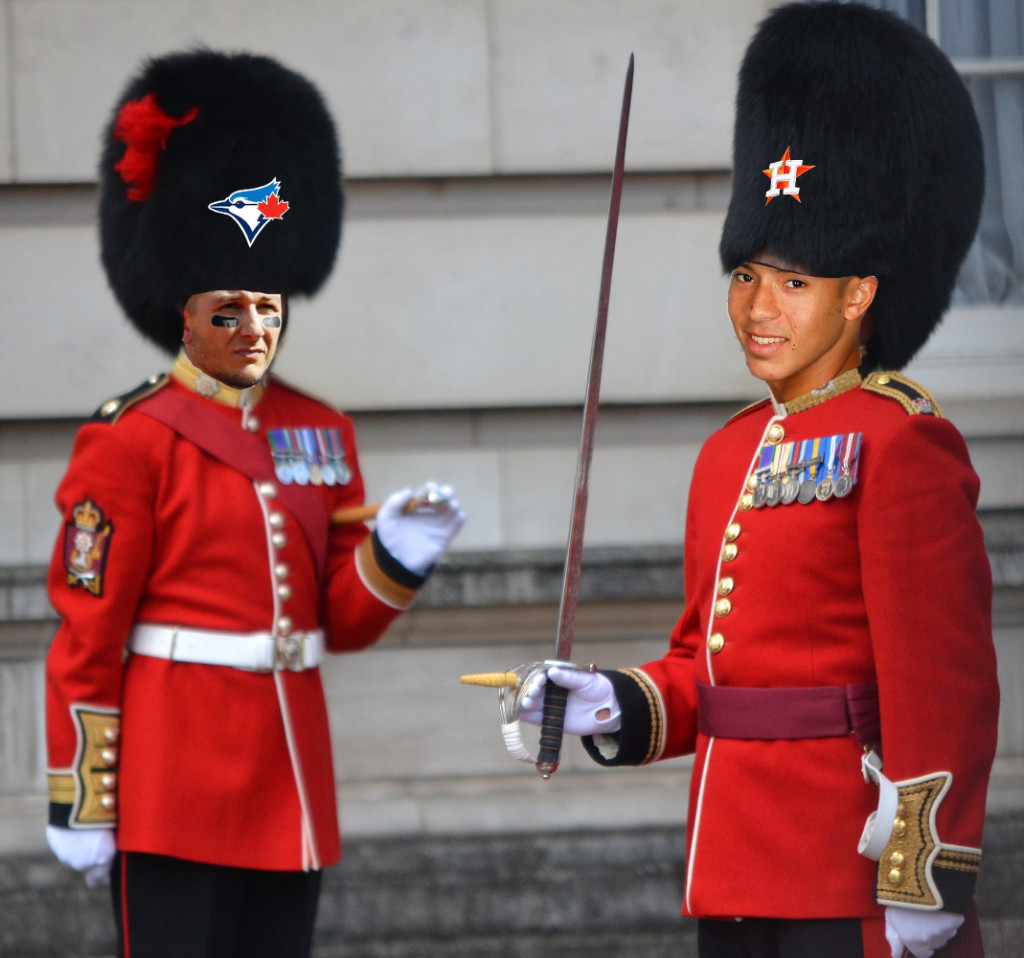 Fact. Everybody loves January Grey. In December you get Santa Claus and in January you get Grey. Instead of the jolly fat man, you have the jolly mustache man. Well… guess who's making his January debut, has two thumbs and loves Blow Pops? That's right, "this guy"! I actually don't like Blow Pops, but I wasn't sure it would get past our editors had I said "blowjobs". I'm sure at least two of my ten readers from last year were wondering if I'd be back in 2016. Well, the suspense is now over. December Grey offered me the opportunity to continue sharing my immature and opinionated "points" of view and I accepted. I considered taking my talents to South Beach (espn.com), but then I remembered that they suck. So do many of the other sites and blogs out there "on the line". Razzball is where the cool kids hang out.
As much as I'd really like to talk about how unnecessary Jamaal Charles, Marshawn Lynch and Le'Veon Bell are to their respective teams considering those same teams didn't skip a beat in their absences, I have to remind myself that football malamoney is on break and that you baseball fans couldn't give two sh!ts about any of that.
In 2006, at the age of 21, Troy Tulowitzki was called up to play 25 games. During those 25 games he had 108 plate appearances, one home run, six RBIs and three stolen bases. In the following year he properly introduced himself to the league. In 155 games he hit 24 home runs, drove in 99 and scored 104 runs. He also struck out 130 times, a career high. Strikeouts be damned as this level of production from a shortstop had the attention of every fantasy baseball player. In that season only two shortstops scored more fantasy points than Tulowitzki. Jimmy Rollins and Jose Reyes. Rollins put up MVP numbers with 30 homers, 94 ribbies, 139 runs scored and 41 stolen bases. He then proceeded to fall off the proverbial cliff. In his first, and perhaps only, full season Troy scored 426 points, averging 0.634 points per plate appearance. His following (2008) season was impeded by two trips to the disabled list. Little did many know at the time, thus had begun the endless cycle of home runs, injuries and fantasy heartbreak. However, in 2009 Tulo had cemented himself as the games top offensive shortstop in the game. Over the next three seasons he averaged 30 home runs, 97 RBIs and a .304 batting average. Those stats translated into 469 points per season and a 0.798 PPPA. To put that into perspective, over the last four seasons Mike Trout has a 0.758 PPPA.
Troy Tulowitzki had become fantasy baseball elite. The "January Grey" of shortstop if you will. Even during the seasons in which he missed time due to injury, which has been every season since 2010, it has been more productive from a fantasy points perspective to draft Tulo and deal with a replacement shortstop when he's on the DL than it has been to draft another shortstop. Sure, there are some exceptions, but as a long time Tulo owner, I can attest to the fact that I have consistently outscored my league mates at the shortstop position.
Last year, in his age 31 season, Double T as I like to call him, had the worst statistical season of his career. It was so concerning that new Rockies General Manager Jeff Bridich actually traded him away! With his numbers steadily decreasing since 2011, TT hit only 17 home runs in 534 plate appearances. The more concerning stat is the 114 strikeouts. As those of you that read my rants last season know, I hate strikeouts in points leagues. Unless, of course, you're in a mediocre league that doesn't punish for strikeouts. His move out of Colorado cannot bode well for his final stat line. Season after season Coors Field finds itself at the top of the list for ballpark factors. However, there were three stadiums in which more home runs were hit last season. Those were Oriole Park (222), Yankee Stadium (219) and Tulo's new home, Rogers Centre (203). There were 202 homers hit at Coors Field. I'd like to mention, however, that all three of those ballparks are in the American League where there is a DH.
Tulo ended the year with a 0.548 PPPA. In points leagues, that's pretty much waiver wire kind of sh!t. Have we seen the end of Tulowitzki's days as the top offensive shortstop? And if so, who is stepping up to take his place? The answer to the first question is "yes", and the answer to the second is "Carlos Correa".
2015 marked Carlos Correa's first season in big leagues. In 432 plate appearances, 100 less than Tulowitzki, he hit more home runs and drove in only two less runs than Tulo. With 22 ding dongs, 68 ribbies, 52 runs scored and 14 stolen bases, Correa has put himself on the map with 0.657 points per plate appearance. That's slightly better than Tulo's debut back in 2007. Here's the difference. No player is as fragile as Tulo and Correa can steal bases. I think 30 homers and 20 swipes will be his floor. Considering that he's only 21 years old, I think it's safe to say that a star has been born in Houston. He was actually born in Puerto Rico, but you get the point.
Double C as I like to call him also hit 22 doubles to go with his 22 home runs. As he matures and puts on some major league muscle, some of those doubles are going to become homers. I just drooled all over my keyboard. At least I think that's drool. Speaking of doubles, you know who was quite the doubles machine last season? While Michael Brantley led the league with 45 doubles in 597 plate appearances (that's a double every 13.2 plate appearances), it was Andrès Blanco that led the league in doubles per plate appearance with a minimum of 250 plate appearances. Blanco hit 22 doubles in just 269 appearances (11.86 DPPA). For the record, however, I am not advocating going out and grabbing Blanco. I was just pointing out an obscure stat.
Correa posted a 132 adjusted OPS. Here are the last four players to post a higher adjusted OPS at the age of twenty: Bryce Harper, Mike Trout, Alex Rodriguez and, my personal favorite, Ken Griffey Jr.
The point of today's post is hammer home the reality that Carlos Correa is the real deal. Dare I say "the next Mike Trout". Yes I dare. And even if he falls a little short of Trout's stat line, need I remind you that he plays SHORTSTOP? We have a changing of the guard at shortstop. If you blinked in 2015 you might have missed it, but keep you eyes open because it's going to be magnificent. Here's a little equation to prove my point:
(CC at SS) > (TT at SS) or C2 > T2
Give me 500 CCs STAT!