Wheeeewwwwwwyyyy! What is that smell? Well, it might've been Rougned Odor's 2017 batting average or the failed 2018 expectations, but I'm here to tell you that the Odor is becoming less repulsive and may be somebody to take a shot on in 2019. Like R. Kelly is trying to do after Surviving, Roogie looks to bounce back in 2019.
Despite the upside that Rougned Odor has displayed, I have never been the one to reach for him in a draft. In 2019, I may be buying in with his slightly deflated ADP, which is currently an average pick of 126.35 compared to his top 50 ADP in previous seasons.
The drop in his ADP can be pretty easily understood as he went from 33HRs/14SBs with a .271 batting average in 2016 to 30/15/.204 in 2017, and then in 2018, Odor brought the average back up, but didn't show the same power with only 17 homers, granted, in 116 less plate appearances. Despite his lack of power production, I believe this is the time to buy back in on Odor and maybe we'll get another season closer to his 2016 results.
While examining the game film, there were a few things I noticed in his swing if you compare early season 2018 to later season 2018 Rougned Odor. As you can see below, the initial set up is similar. The stance may be a bit more open later in the season (image on the right) and the weight is more heavily distributed to the back.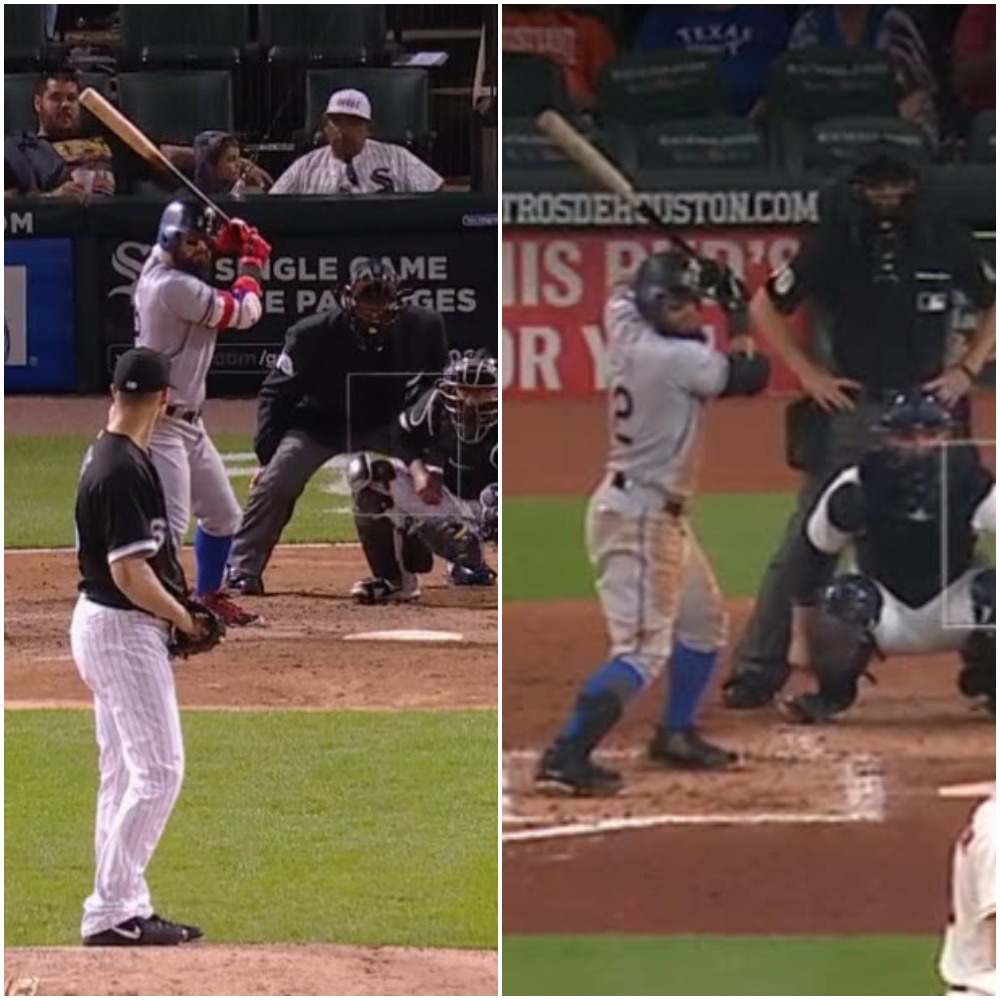 Once the swing starts, there are a couple other differences between early and late 2018. The plant foot after his leg kick is positioned differently. Early in the season, he was stepping more in line, or even out toward 1B at times. Later in the season, you can see that the plant foot has moved inward toward the 3B line.
There's nothing inherently wrong with either plant location, but it does seem to make a difference for Odor. As you can see in the image below, the 2 on the left are of a more in line, or outward, plant foot, and he ends up off balance and falling over. In the image on the right, he is fooled by the pitch, but the weight is staying back, his plant foot is moving inward, and Odor stays on the pitch for a double to left field. The weight distribution and balance seemed to improve as the season progressed and Odor made these adjustments.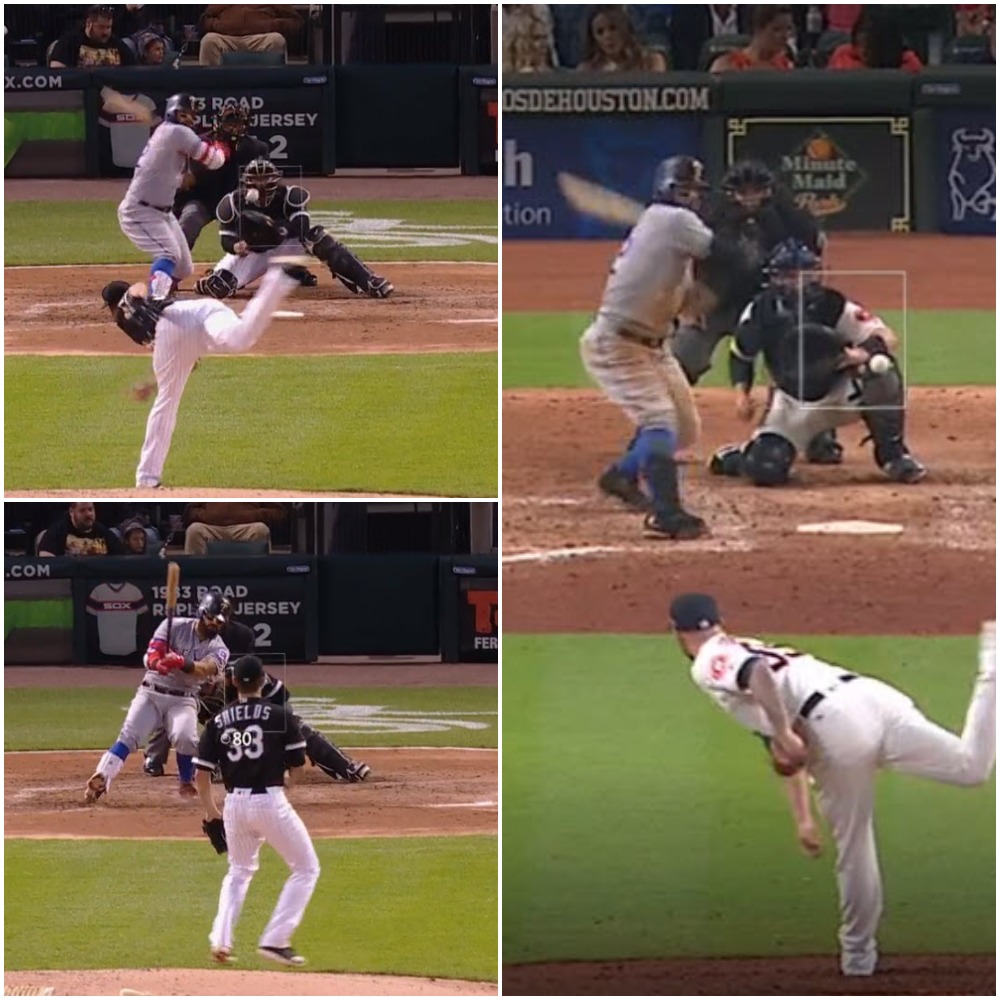 The last change that I noticed in the swing was in the bat path. Odor's swing had gone too far in his search for launch angle and was making a much steeper angle to attack the pitch at 15.2 degrees. This can be evidenced statistically as he had back to back season entering 2018 with an infield fly ball rate higher than 15%. His full season 2018 launch angle was 11.7 degrees.

My problem with the increased launch angle for Roogie, in addition to the added difficulty of making contact at an exaggerated launch angle, was the increase in his infield fly ball rate that had been over 15% in both 2016 and 2017. During the 2018 draft season, some wanted to look at BABIP luck with Odor, but infield fly balls are the easiest play in baseball and you won't find much BABIP luck there. However, that rate dropped 4% points from 2017 to a more reasonable 11.5% rate and we saw the return of some batted ball luck.

In the image below, you can see the beginning of the adjustment to the bat path. In the early season image on the left, you can see that the lead elbow has dropped, creating more of an uppercut swing. In the later season image on the right, you can see that the elbow is staying more parallel to the ground, which creates a flatter bat path.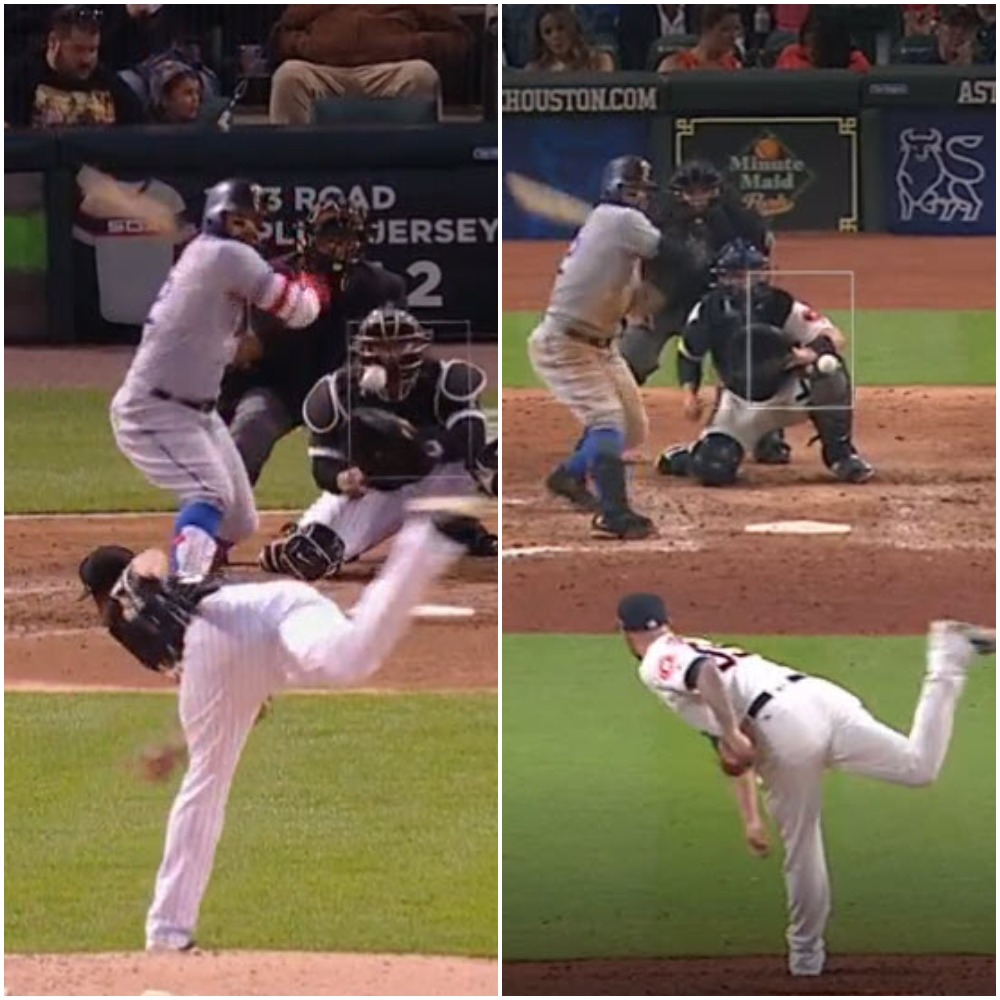 It's not just about the swing changes though as we can see there were some approach changes made in 2018 as well. While an 8% walk rate is not an elite OBP asset, it is a clear improvement that was 3.1% better than his previous best MLB rate. Odor's K% climbed to almost 25% in 2017, and the first half of 2018 actually appeared to be worse (25.6%). However, with the swing changes and an improving pitch selection, he dropped his strikeout rate down to 22% in the 2nd half.  We can also see these changes in the 2.5% drop in swinging strike rate from 2017 to 2018.
This coincided with a drop in his outside the zone swing rate (2nd best of his career), and he swung less in general, reducing his swing percentage to the lowest he's ever shown. There is a balance between patience and aggression at the plate, but given the way that Roogie was trending, I'm happy to see a more selective, less free swinging version. The adjustment has aided his plate discipline, but also provided him with better pitches to hit and he took advantage by logging his 2nd best barrels per plate appearance rate outside of his massive 2016 season.
There is a lot to like about the changes Odor made to his approach and swing from the start of 2018 to the end of the season. The swing became more balanced with a more level bat path as Odor made some strides in his plate discipline as well. I'll be taking a shot on the upside as I believe the power will return. I do want to caution, specifically in head to head leagues, that you still have to understand you are getting a streaky hitter who will win you weeks and bury you in others. Even after the swing change and plate discipline adjustments, Odor struggled at the end of the season hitting only .202 with 1 homerun in September.
Follow B_Don on Twitter @DitkaSausagePod. Subscribe to his podcast with @DonkeyTeeth87, Ditka, Sausage, and Fantasty Sports, wherever you get your podcasts.