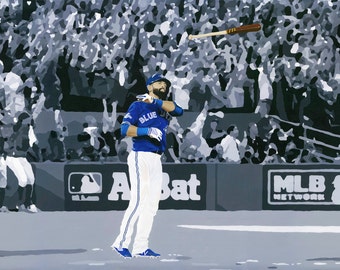 I always loved pinatas at parties. You got to beat the crap out of something with a stick until candy fell like manna from the heavens. Ah, the good ole days. To make it a little more challenging, pinatas would often be swung from side to side to make it a moving target. There would also be like a million kids waiting their turn because who wouldn't want to beat the crap out of something with a stick? You would get two, maybe three swings. I noticed that if you showed some skill and whacked it with feeling, the parents would let you do your thing. As long as you didn't look like a psychopath. Anyways, the point is that it took time to figure out how to hit the pinata correctly. With the limited number of swings afforded, it also made it a very stressful situation. Sounds a lot like baseball…
Which brings me to Jose Bautista. For the first month of the season, he had a .259 wOBA and .067 ISO. Since May 1st, though, the wOBA is .348 and ISO is at .298. Is the candy now going to start spewing from the pinata or is this an instance when someone just chopped off an arm that was attached to the outside?
Since I'm generally a positive person, let's start with the good. Since May 1st, Bautista has a hard contact rate of 38% and is pulling the ball 65% of the time. During the first month of the season, the hard contact rate was only 27% and the pull percentage was 34%. The increase in hard contact rate is self-explanatory. The increase in pull percentage is a welcomed development. You see, for the first six years of Bautista's career, he was a 10-15 home run player that sprayed the ball all over the diamond. It was in 2010 when he changed his approach and started hitting for power. As a result, the pull percentage numbers went from 36% all the way up to 51%.
The walk rate has also been good (14-16% range), which is where it's been since 2012. He's also not chasing pitches out of the strike zone, as the O-Swing% is at 22%. That number has been in the 22-25% since 2010.
So, is it just a case of Bautista taking time to calibrate for the new season?
Now, for the bad. The most glaring development has been the increase in strikeout rate. In April, it was 27%. In May, it increased to 32%. Overall, it's 29% for the season, which is a career-high mark. For perspective, last season was the first time it was above 17% since 2010. The swinging strike rate is at 10%. That number has not been above 8% since 2006. It then makes sense that the contact rates are down across the board. Outside the strikezone has dropped to 57%, the first time under 60% since 2007. Contact inside the strikezone has dropped to 81%. That number was 89% last season. Contact rate in general is at 73%. That number used to be consistently in the 80% range.
Steamer has Bautista projected for 20 home runs and a .355 wOBA. That's a fair projection and it makes sense that some positive regression takes place. With that said, I'm not as bullish. The directions that the strikeout and contact rates have gone concern me. And I don't think it's just smoke. Plus, there's always the injury risk and another Odor beatdown.
I took the chance on Bautista this offseason, thinking that the sixth round price was a solid discount. While it's still early and there's plenty of season left, I believe the ceiling is really limited. I never expected him to get back to the 40-50 home run days, but 30 seemed like a possibility. Now, I think 20 is in question. I'd look to trade him if possible, since there are some nice selling points you can currently offer: his current heater and the fact that Tulowitzki and Donaldson should be re-joining the Blue Jays lineup soon. If you wait until after those guys return and he sucks, then you'll be left with…..put your hands down your pants…..that, which could be something or nothing. Either way, it's not a good thing.
VERDICT: BEAR (D)