My last post was about a young ace, so I'm following it up with an article on an old vase, Jayson Werth.  Just under two months shy of his 35th birthday, the bearded wonder is entering his 13th season in the bigs.  I find it difficult to predict Werth, as his production doesn't abide by the "normal rules" of aging.  The pre-2009 Werth was deplorable when compared to the post-2009 version, or Werth 2.0, as I lovingly call him.
| | | | | | | | | | | |
| --- | --- | --- | --- | --- | --- | --- | --- | --- | --- | --- |
| Season | PA | HR | R+RBI | AVG | OBP | LD% | FB% | HR/FB | BB% | K% |
| 2002-2009 | 1611 | 57 | 451 | 0.263 | 0.354 | 23.63% | 37.86% | 15.29% | 11.59% | 26.67% |
| 2009-2013 | 2853 | 113 | 754 | 0.280 | 0.373 | 19.66% | 41.81% | 14.66% | 12.25% | 21.75% |
He definitely seems to be doing better as he ages.  He is walking slightly more (BB%), and striking out a bunch less (K%), which probably explains a good portion of the average jump.  His line drive rate (LD%) is down though, which is not a great sign.  A higher LD% is associated with a batter making better contact.  Most of Werth's missing line drives transferred to his fly ball rate (FB%).  Fly balls are good for power hitters, which Werth doesn't qualify as since he only has one 30+ HR season.  On top of this, his home run per fly ball rate (HR/FB) is down.  This means that he is hitting more fly balls, but fewer of them are saying hello to lucky fans and more are saying hello to an outfielder's glove.
Here is another reason Werth has me at a loss for words: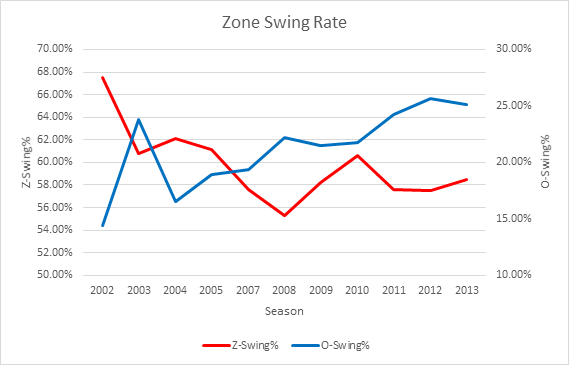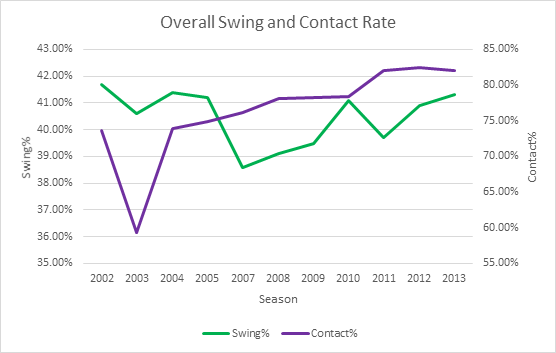 Yay graphs!!  Did I lose you?  I hope not.  The first graph shows Werth's swing rate inside (Z) and outside (O) the strike zone.  This looks like bad news: he is swinging at more pitches outside the strike zone, and fewer inside the zone.  The green line on the second graph shows his overall swing rate, which has slight fluctuations, but is fairly stagnant.  This, when combined with the first graph, would lead to the conclusion that Werth is losing his feel of the strike zone.  The purple line shows Werth's contact rate, and this is the part that takes the words out of my mouth.  Meat Loaf can also take the words out of my mouth, but that's for another time.  Even though Werth is swinging at worse and worse pitches, he is making better contact.  Sounds like he has a case of the Vlad Guerreros.  His contact rate on balls thrown inside and outside of the strike zone are on the rise.  Obviously that's good news, but it makes me question whether or not Werth's production is sustainable.
So I didn't just call Werth a vase because it rhymes with ace, but also because he is as fragile as one.  He has hit the DL in eight of his twelve seasons, including missing the entire 2006 season.  While it is true that most of his injuries were in his younger years, he hit the DL in both 2012 and 2013.  I think it's a problem when a supposedly full time player has played in 150+ games in only three out of twelve seasons.  He is more fragile than when someone takes my ice cream away while I'm watching The Notebook.
The last point I wanted to make is related to Werth's fragile body, his age.  He will be 35 for most of the 2014 season.  Me, in all my infinite wisdom, went and searched for elderly baseball players similar to him.  Since 2009, there have been fifty-three batters who have played during their age 34 and 35 seasons with at least 100 PA in each season.  There are a lot of familiar names on this list, such as: A.J. Pierzynski, Alex Rodriguez, David Ortiz, and even Vladimir Guerrero.  Now the first item of business: restrict PA more strictly to remove backups.  Backups always screw with my analyses because their numbers are so much lower than a full time player, so I have to pluck them out faster than I pluck out my eyebrows.  Out of the one hundred and six seasons I had (two for each batter), sixty-nine (tee-hee) seasons surpassed 300 PA.  But wait!  This only shows seasons that reached that marker.  What about players that only passed 300 PA in one of those seasons (Example: Travis Hafner had 368/263 PA in his 34/35 seasons)!?!?  Well I took that into account too.  After I did some more sorting, I removed players who didn't break the 300 PA barrier in both seasons.  The list shrunk to twenty-nine players.  There are probably various reasons for not making the mark, such as retirement, skill decrease, and injury.  Below are the average stats of those twenty-nine players:
| | | | | | | | | | | | |
| --- | --- | --- | --- | --- | --- | --- | --- | --- | --- | --- | --- |
| Age | G | PA | HR | R | RBI | SB | BB% | K% | AVG | OBP | WAR |
| 34 | 136 | 542 | 15 | 65 | 67 | 6 | 8.1% | 14.6% | 0.270 | 0.334 | 1.93 |
| 35 | 123 | 480 | 14 | 55 | 59 | 4 | 8.0% | 15.0% | 0.265 | 0.329 | 1.68 |
While the changes aren't huge, they're still there.  The biggest red flag is the games played and PA, which are way down.  This leads to the other counting stats taking a hit.  The walk rate is down and the K rate is up.  Honestly, it's probably negligible, especially the walk rate.  But it's my job to report on even the most insignificant details, the Razzball blood oath I took requires it.  The only other major factor is WAR, which is down a decent amount, about 13%.  I should note that Werth's past three WARs are 2.3, 0.6, and 4.6; not exactly the model of consistency.  I don't expect Werth to reach a 4.6 WAR again.
Okay, so before I said I had one last point, but I have another one…so sue me!  On second thought, please don't, I'm broke after I lost all my money investing in pork-belly futures.  The real last point I want to make is Werth's BABIP.  His career number is .331, and his BABIPs from 2012 and 2013 are .356 and .358, respectively.  These are two of the three highest BABIPs he has ever recorded, and his fourth highest BABIP, .352, came in 2010.  Do I smell regression?  Or is it that just the week old cheese I left on my kitchen counter?
Werth has a lot of potential to be a solid player, but I don't see him getting there without a decent amount of luck.  It's just not in the cards…I knew that travelling salesman ripped me off with these tarot cards.  I see his 2013 production as a ceiling, and it's a very high ceiling at that.  I think a 74/19/72/.285/8 slash looks about right.  I never have trusted Jayson Werth to produce, and I probably never will.
Drum roll please! (as if I didn't just give it away)
Jeremy is a contributor for Razzball Baseball. He had a last name, but he lost it in 'Nam.  You can follow the soldier of misfortune on twitter @Jeremy_Razzball, just don't trigger his flashbacks.