Before I start, I want to try another experiment for this series. I feel as though I am biased in writing articles on players I choose. I probably go through five or ten players before I find the one I want to write up. So what I want you, my loving audience, to do, is give me player suggestions for the upcoming week. Just leave a comment below with a player or multiple players. I will try to pick one of the more popular responses. There are only four rules:
The player can't be any I have done in the past (although I am breaking my own rule this week).
The player can't be out for the rest of the season, because I know some of you would look for any loop hole and suggest Jarrod Parker, Avisail Garcia, or any other Tommy John candidate.
No speculation articles on minor leaguers.
Don't pick obscure players; I won't be writing on Chone Figgins or Kevin Quackenbush (I bet he got picked on in school).
If you just want me to keep doing my thing my way, that's cool too. Alright, here is the post:
Okay…okay…I know this guy falls a little low on the popularity radar, but I thought I should look back into Angel Pagan. For those of you who don't know, I wrote an article on Pagan earlier this year where I said Pagan was a great late round steal. If you don't want to read my past article, I said that Pagan was Desmond Jennings in disguise (and his price tag was 100+ picks lower). If you took my advice, Pagan has been a great fourth/fifth outfielder so far. He is currently ranked as the nineteenth best outfielder in standard leagues by ESPN. Here's a quick comparison of their seasons so far:
For all of you non Jimmy Stewart fans, they say every time a bell rings, an angel gets its wings. Also, I suggest you go watch Rear Window, because it's amazing. Well, if I can use wings as a metaphor for speed (and I will), then there must be a ton of bells ringing. I expected Pagan to have five to seven steals by this point in the season, but he is showing me up, doubling that. Pagan is single-handedly reviving the bell making industry…okay, Dee Gordon had a hand in this too.
Pagan has been making Jennings look like a fool, and that's not even including a draft pick adjustment. So now that we are two months deep into the season, it's time for a Pagan update.
Category One: Injury Risk
As I am writing this the Giants have played in sixty-two games. Our little Angel has played in fifty-seven of those, or just shy of 92%. Assuming nothing drastic happens, he is on pace for 148.935483871 games this season. Decimals are important in my line of work…the difference between .9 and .935483871 games is HUGE. Anyway, 148/149 games played is a solid amount. Players like Josh Hamilton, Carlos Gonzalez, Brandon Belt, and Ryan Braun have already knocked themselves out of contention to reach numbers that high.
But unfortunately there is another side to this coin. Pagan is in his ninth full season in the show. He has only eclipsed triple digit games three times, and if you raise the threshold to 125 games, it drops to two. Back on the other side of that coin: those three seasons have all come in his past four seasons (2010-2013). Pagan wasn't so lucky in 2013 though, he tore his hamstring and missed June, July, and most of August. It doesn't seem like his leg has been bothering him this year though, as his eleven steals show.
Pagan seems to be over his injury demons, but there is still a chance they come back and burn him.
Score: 3.5 out of 5
Category Two: Everything Else
Keeping in line with the injury theme above, I looked into how Pagan did before and after his injury last year. Below are his stats pre and post 2013 DL stint:
| | G | PA | H | HR | R | RBI | SB | AVG | OBP |
| --- | --- | --- | --- | --- | --- | --- | --- | --- | --- |
| Before | 46 | 204 | 49 | 3 | 30 | 24 | 6 | 0.262 | 0.314 |
| After | 25 | 101 | 30 | 2 | 14 | 6 | 3 | 0.323 | 0.376 |
I like that he got almost exactly half the amount of PA post-DL stint, because it makes extrapolation much easier. If you multiply the bottom row by two, you'll see that Pagan equals or surpasses his pre-DL stint marks in all categories except runs and RBIs, and the runs is still in the same ballpark. I'm going to chalk up the RBIs to the Giants subbing out their first string players towards the end of the season when they knew all hope of the postseason was lost. He is also a leadoff batter, so RBIs aren't an expected part of the package. If you look above at this season's numbers, you'll see Pagan is still on the same pace as he was last season.
I wanted to look into how Angel was hitting each pitch, to see if he had learned how to hit a certain pitch better. Here's what it looks like: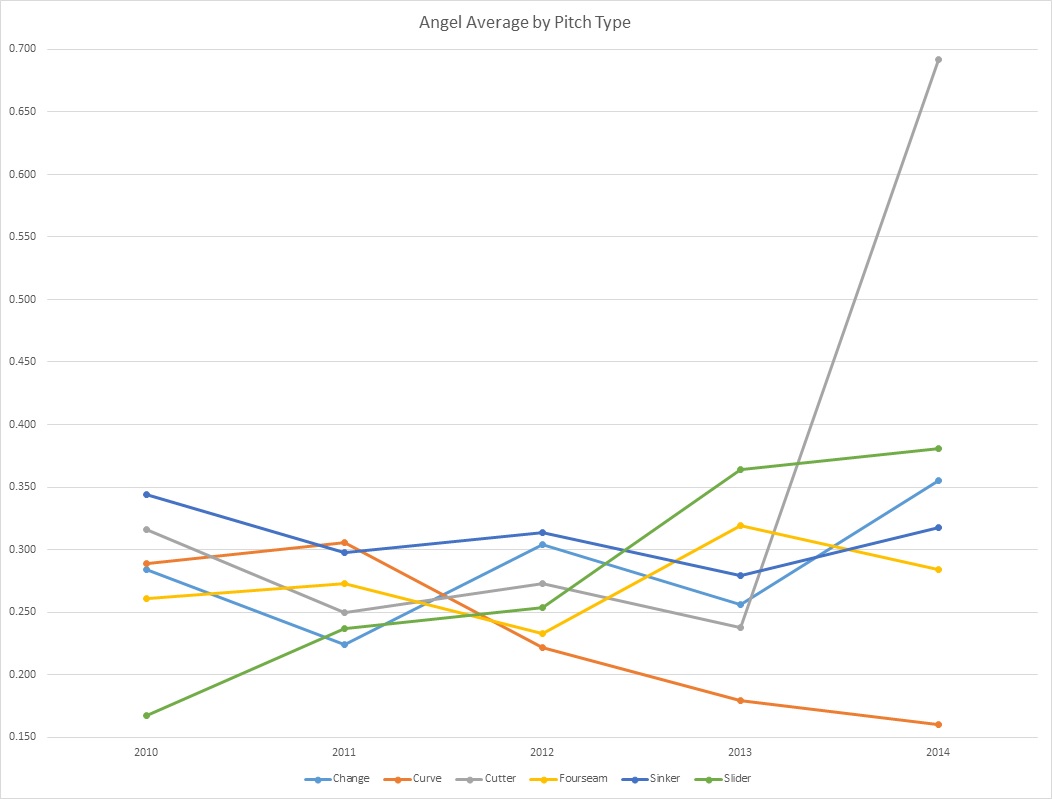 Okay, that's a mess of lines. I'm going to remove the lines that seemed fairly steady over the five seasons: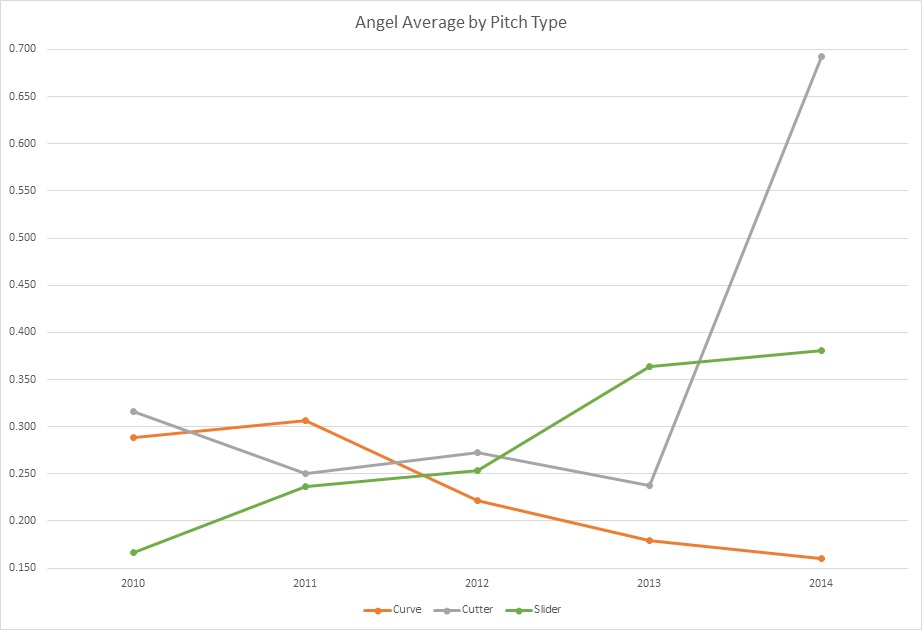 Now we're left with three pitches: Curves, Cutters, and Sliders. I'm going to chalk up the cutters to a small sample size on this season. He is nine for thirteen against cutters this season. The slider looks promising though, as he keeps getting better at hitting it. Interestingly, his curve runs an almost perfectly inverse course, getting worse over time. I'm not sure if these pitches are being misclassified by whatever system is measuring them, but I think Pagan just about breaks even on this. I am a little worried about regression though. Obviously the cutter average will come down, but the slider average is very likely to fall also. On the plus side, the curve average should come up.
Honestly, I don't see anything that outstanding with Pagan. I don't see many red flags, but I don't see many green flags either. There is one issue that I want to address, one of my favorite stats, BABIP. Here's a history lesson on Pagan's BABIP: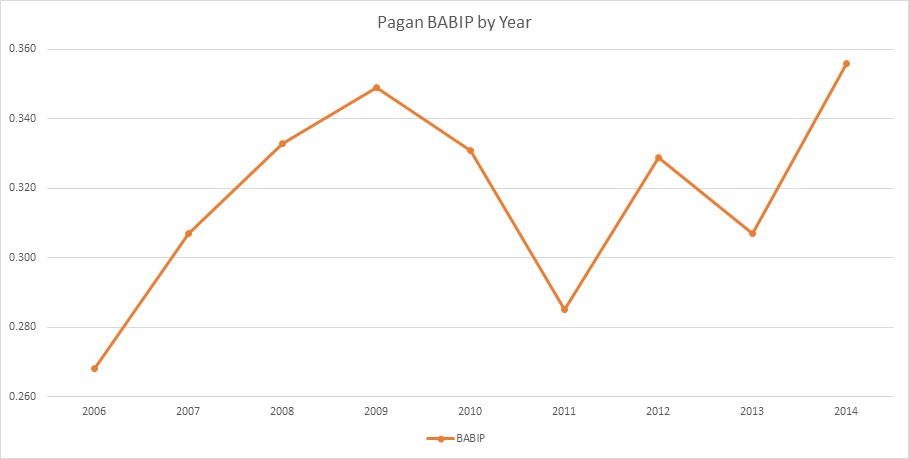 First off, I'd like to say this looks like a fun roller coaster to ride…except for the sharp bend in 2011, which would probably end with whiplash for many unlucky passengers. Now that I think about it, roller coasters and I don't get along so well, so maybe I'll skip that one and go on those cute spinning tea cups. Anyways…as I was saying, Pagan doesn't exactly have a steady BABIP. This could be partially due to smaller sample sizes in six of the nine seasons. Pagan should be able to hold a higher BABIP as he knows how to ring bells. I do expect Pagan to regress here, since he is at his highest BABIP ever. I want to say he will fall from his current BABIP of 0.356 to a number in the 0.330 to 0.340 range. His career BABIP is 0.320, but I think he is capable of sustaining a higher one. If his BABIP falls, so will his average. It is still plausible that Pagan hits around 0.300; he has done it before.
Don't expect Pagan to hold the pace he is at, but do expect him to be a solid producer in any league that is 12+ teams deep.
Score: 7 out of 15
Overall Score: 10.5 out of 20
Weighted Score: 105%
Hold onto your little Angel.

Jeremy is a contributor for Razzball Baseball. He had a last name, but he lost it in 'Nam. You can follow the soldier of misfortune on twitter @Jeremy_Razzball, just don't trigger his flashbacks.