On March 9th, I took part in the Tout Wars Mixed Draft – a 15-team snake draft that is unique amongst 'analyst' leagues in that it is a 5×5 OBP league. Otherwise, pretty standard. Weekly transactions. 2 catchers. $1000 FAAB.
Quick Perspective On The Difference Between OBP vs AVG
The biggest shift in OBP leagues is published hitter ADPs are less reliable. This makes the draft room more unpredictable but it advantages more prepared drafters. I look at ADP but am more willing in other drafts to jump guys 1+ rounds.
There are other minor shifts (1Bs look better b/c they typically have highest BB rates, hitters with high AVGs but mediocre BB rates become less valuable, etc.) but this ends up baked into the projections. I have to run 15-team 5×5 OBP custom but you can access my 12-team 5×5 OBP projections and those are updated daily for Season to Date and Rest of Season as well. All free.
Last Year's Recap (here is my post-draft writeup – note this draft took place before the season was delayed.)
A year after a threepeat was lost because of an underachieving pitching staff, my ToutWars team was the only non-offensive memory about 2020. Unlike recent years where my first two bats create a killer OBP foundation (e.g., Trout/Soto in 2019), Bellinger/Devers were never expected to be .400 OBP guys but they still fell short of expecations. Even rougher in retrospect is my bud D.J. Short of Rotoworld NBC Sports EDGE (why are they yelling?) wisely jumped ADP to take Juan Soto at 1.4 and I had the 1.5 pick.
My team's speed was held together with duct tape coming out of the draft and Lorenzo Cain's opt-out + Bichette's half-season helped torpedo SB (and Runs).
This was a shame as my Nola/Carrasco/Fried/Bundy/Diaz led pitching staff was the second best staff in pitching standing points (despite only using league average draft capital on pitching). I didn't need much more than league average in R/SB/OBP to win which would have thwarted Scott White of CBSSports.com from winning his first crown and upgraded me to arch-nemesis status.
Rudy Gamble takes Corey Seager with the fourth pick in Round 3, and bolsters his nemesis status in the process.

— Scott White (@CBSScottWhite) March 10, 2021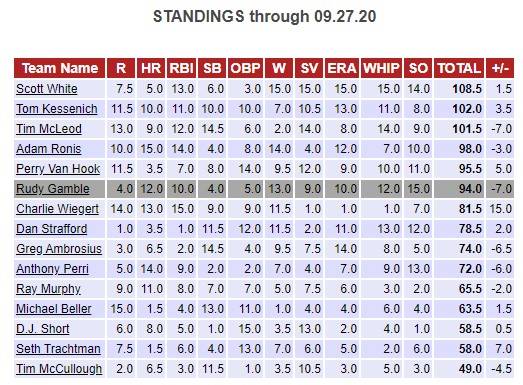 This Year's Draft
Here is the draft board.
Below are my picks:
Random Thoughts
Just in case you were wondering, I do not do this type of analysis for the rest of my drafts besides LABR and ToutWars. These are the two most prominent public 'analyst' leagues so I feel discussing them is kind of my duty plus every team is fair game to critique since it's public. For me personally, this type of analysis is helpful to do at least once a season but the Law of Diminishing Returns certainly applies.
More importantly for y'all, this type of analysis (either from me or yourself) is most valuable when applied to future drafts. Like me, you should be building the aspects you think are most critical (for me, category + hit/pitch balance + maximizing value) into your pre-draft planning and draft process (you can actually use my draft room – it comes free with season-long subscriptions). I want to make any course corrections in draft vs cry about them post-draft. Think like a doctor. You don't have to make a post-mortem diagnosis if the patient survives.
Your #1 goal during draft season should be no future regrets. Bad luck happens. I don't lose sleep over tough luck coin flips or injuries. I only lose sleep from avoidable errors. I find that the harsher you judge your teams during/after the season, the more time you spend during the pre-season trying to avoid making those errors.
Draft Strategy Overview
Picking 4th, I want one of the OBP studs (Soto, Trout) or the 30/30 studs (Acuna, Tatis).
Aim for around the projected market's Hit/Pitch split (projected at 64/36).
Aim for balance in hitting categories but prioritize HR/OBP over SB.
Get three SPs in top 10 rounds. Get a true RP1 if the value is there with no pressing needs for a bat/SP – otherwise bargain shop.
Early Round Notes
Trout fell to me and I chose him over Betts. I know it's going to put me in a hole for SBs but OBP is my priority here.
Picks 2-4 go well. I get my ace with Luis Castillo in the 2nd and another offensive foundational piece with Corey Seager in the 3rd. While any desired speed options were gone by my 4th pick, pleasantly surprised Blake Snell fell to my 4th pick and just build up by 4 category base with Pete Alonso and Alec Bohm in the 5th/6th.
General Notes/Strategy
I have used the same post-draft writeup structure for a while now as I find it more interesting than a pick-by-pick analysis and most readers seem to agree. This format does mean I talk more about my competitors' teams than most post-draft write-ups. I do my best to be respectful yet honest.
Hopefully, you'll find some piece of strategy you can apply to your upcoming drafts. I have updated this to reflect changes in my philosophy since last year. Some of it incorporates learning. Some of it is driven by changes in the player pool.
You'll see me note a lot of percentages about pick values. I calculate pick values based on my auction dollar projections. The #1 pick gets the $ value of the 1st ranked player, etc. Generally, the last pick in the 22nd round is worth a dollar (13 hitters + 9 pitchers * 15 teams) as I budget $0 for the 2nd catcher. The 23rd to 29th rounds are valued at or around $0.
 Topic
In General
My Team
Observations on Other Teams
Hit/Pitch Mix
I'm typically looking to stay about league average which I estimated pre-draft at 63.5/36.5 Hit/Pitch.

I hit the desired split with 63.8/36.2 (28.9 SP/7.3 RP).

Last year it was 64/28/8.

This year it was almost exactly the same.

Unlike last year, only two teams (vs 6) were outside the 60-69% range for hitting as Scott White (56/44) went heavy on SP and welcomed Tout Wars rookie Shelly Verougstraete (57/43) paired a 1st round Giolito with a 5.15/6.1 RP double tap.

I think if you are going to invest 40+% in pitching, you should project top 5 in all 5 pitching stats coming out of the draft. Scott White looks strong in W/K/ERA/WHIP but didn't draft any closers.  Shelly looks strong in Saves but I'm not seeing the IP volume necessary to dominate W/K.

Upside vs Reliability/ Volume
Sprinkle upside picks throughout draft, veer towards reliability in early rounds. Focus on $/Game vs $.

Avoid 'rookie nookie' without very good chances of relevant opening day roles. They clutter your bench and make for difficult cut decisions.

My offensive upside players are Bohm, Robles, Franmil, Solak, Riley, Gimenez, W. Calhoun and Hilliard. Four guys with speed, two plus power plays, and a solid 4 category guy in Bohm. And Willie Calhoun. The only guy during the draft I had any playing time concerns with was Andres Gimenez and it appears he's close to locked in as the starting SS now.

While Castillo/Snell/McCullers isn't an old boring start, the rest of my SP mirrored my LABR draft. Not very exciting. There are some younger pitchers I like that I should've jumped 1-2 rounds for knowing this is a prospect-loving room.

I am not seeing any teams making major upside statements on hitters. Certainly some young hitters went earlier than I expected (e.g., Kelenic at pick 152).

Scott White toned down his prospecting vs last year when he had two nice hits (Tucker, Mountcastle) and two misses (Adell, Hilliard) on offense. Same for Tim McLeod who drafted Kelenic in the 11th but, otherwise, gently shifted from prospect-heavy to a team more like I'd draft (including a sexy Soto-Tucker-Verdugo-Kelenic-Senzel-Pache OF). But Kyle Hendricks AND Dallas Keuchel. Oh Canada…

Evidently, the longer one's last name in the draft, the more they liked young pitching. Tim McCullough paired a first round Gerrit Cole with Elieser Hernandez, Montas, Deivi Garcia, Tarik Skubal, Daniel Ponce de Leon, and Brendan McKay while Shelly Verougstraete complemented a Giolito/Wheeler core with Aaron Civale, Dustin May, Tejay Antone, Trevor Rogers, and Logan Gilbert.I like a lot of those arms. I'd have liked one. My concerns from a team construction is having enough useful innings each week.

I ran an analysis for S's & G's to see how much draft capital per team was spent on guys I consider 'fuzzy' for playing time (click to enlarge, the #s are draft capital $ so $26 means 10% of one's draft capital). This includes all non-C hitters I have projected at less than 500 PA and SP's with less than 110 IP. See below. Tim pops to the top because of Kelenic (11th) and Ohtani (13th). Anthony Perri drafted Ha-seong Kim in the 11th, Villar in the 16th, and 5 between rounds 22-28. I don't know if this type of view is helpful or predictive in any way. Just something I'm playing with.

Bouncebacks
I like them as long as health not a question mark, skills/age look positive, and properly discounted.

2021 sure feels like one where there would be a disproportionate amount of bouncebacks.

Glancing at my team, none really jump out. I guess Snell, Alonso, and Pham? Maybe Robles?

Last year, Adam Ronis snagged Machado at end of 4th round and Donaldson at end of 6th. This year, he drafted J.D. Martinez in the 4th and Matt Olson in the 6th. I would pay $100 to get his 2022 picks right now for tips on whom to avoid this year.

Ray Murphy has some power-hitting bouncebacks in Joey Gallo (5th), Jorge Soler (8th), and Mitch Garver (13th).

Charlie Wiegert has Yordan Alvarez (5th) and Matt Chapman (8th).

Tim McCullough has Judge (3rd), Altuve (5th), and Bryant (7th).

Category Balance vs Best Player Available
In a weekly league with FAAB, I prefer to come out of drafts without glaring weaknesses. So I do monitor this during draft so, everything equal, I am taking the player who provides better balance.
I'm feeling really good here. I think I'm average or above average in all categories right now.

I am surprised I was able to salvage SB after my first 6 rounds (will cover in the Speed section). Loading up on OBP early (which I didn't do last year) certainly helped.

Scott White knowningly punted Saves (no closers) and maybe knowningly punted OBP. Catching up on power, speed or OBP is rough without a solid early round core in the other two. Catching up on multiple after drafting SPs 1st/2nd/4th is even tougher. I guess I'd rather punt SB or OBP than power and hope for variance/in-season pickups.

I've got Tim McLeod as a strong SB/OBP team with weak HR/RBI.

Not much jumps out on pitching. Anthony Perri's pitching is clearly designed around investing heavily in SPs and hoping to strike gold later with RPs.

ADP vs "Get Your Guys!"
I prefer to wait as long as possible for guys I like but adjust based on draft room dynamics.
This is a difficult exercise given the NFBC ADP I use for hitters is 5×5 AVG vs 5×5 OBP.

I was 54 picks ahead of 5×5 ADP on Tommy Pham. I didn't love this pick but I needed to make a dent in speed by the 7th round and he's better in OBP.

I moved Victor Robles up almost 2 rounds above ADP with no OBP justifcation. I just liked him more than other speed plays in that range of the draft and didn't want to play it cute.

Players that were relative bargains vs ADP were Blake Snell (+12), Lance McCullers (+19), Andres Gimenez (+65), and Andrew Heaney (+27)

NFBC duo Greg Ambrosius and Tom Kessenich showed faith in their customers' wisdom as they were the top 2 in "ADP value" in rounds 1-15.

No player jumps out as being too 'get your guys' in the first 15 rounds. Many of the boldest examples (like a 5+ round jump on Joey Gallo and Carlos Santana) can be explained by OBP.

Anticipate Other Teams' Picks When Prioritizing
Get ahead of position runs to minimized getting sniped.
During the draft, it felt like where there was a lot of sniping. I know I was frustrated that none of Robert/Arozarena/Marte/Grisham made it to me at 4.11.

I did not anticipate the aggressiveness in the 16th-19th rounds on closers and high-upside SPs. I did adjust to get Jake McGee in the 18th and maybe dodged a bullet that Tim McLeod grabbed Amir Garrett two picks before me in the 17th.

Based on some tweets and DMs, I think I actually did pretty well here. I think I sniped the drafters around me more than the opposite. Hard to say that was skill vs luck though.

Hard to judge other teams on this.
Closers
My strategy is generally get one secure closer and then be opportunistic on RP2. Safety in numbers if grabbing speculative closers.
Last year was quite anomalous with only 4 RPs drafted in the first 8 rounds. I'd argue the 2021 RP crop is no less different and 7 were taken.

I ended up drafting the same RP1/RP2 as in LABR with mildly better value on Ryan Pressly (late 8th vs early 7th) and less value on McGee (18th vs 21st).

Joely Rodriguez (23rd) and Hunter Harvey (26th) were solid values on RP3/RP4 though Harvey got hurt days after the draft. Who could have seen that happening?

Given I spent about room average on RPs in draft capital (7.3% vs 7.6%), I think this is a solid RP group.

The room spent 7.6% of draft capital on RPs with Shelly V's 13.7% on a Hader/Hendriks double tap the clear leader.

Everyone else fell between 5.6-9.7% besides Scott White who drafted zero closers.

Catchers
I typically like to punt Catchers. The demands of the position lead to greater injury risk and more volatile offensive numbers IMO. I prefer catchers who aren't OBP sieves.
Typical draft for me. Only 1.0% of draft capital on catchers with a 20th round Danny Jansen and a 27th round Luis Torrens.

I'm not bullish on either but they should at least be tolerable in OBP.

4.6% of draft capital on catchers vs 4.3% in 2019 and 2020.

Three teams went 2x the room investment – Seth Trachtman at 12% (Grandal in 6th, Sal Perez in 8th), Tim McCullough at 9% (JTR in 4th, Omar Narvaez in 20th), and Charlie Wiegert at 8.6% (Will Smith in 6th, James McCann in 15th). This isn't my style but the only pick I really can't buy into is Salvador Perez given he's projected for less than a .300 OBP.

Three other drafters joined me in the < 2% draft capital allotment (Beller, Shelly, and Ronis).

Starting Pitchers
Draft quality and quantity. Mix upside and consistency but put a little more weight on quality vs quantity of IP. Aim for about 9 SPs.
I am very happy with this rotation. The 9 SPs represented 28.9% of my draft capital which is almost exactly room average (28.7%).

Love Luis Castillo/Blake Snell as a top 2. I think McCullers/Odorizzi are a solid 3/4, and my last 5 (Eovaldi, Heaney, Desclafani, Wood, Shoemaker) should be startable in at least 50% of matchups. Certainly not the best collective health in this group but unlimited IL lets me avoid the awkward roster decisions I would have in an NFBC format.

The average team drafted 8.6 SPs with McCullough, Beller and Kessenich the lowest at 7 SPs and five tied at 10 SPs.

The draft capital ranged from 22% (McCullough – despite a 1st round Cole…stars & scrubs!) to 44% (White) which is exactly his investment last year when he won it all.

4 SPs went in the first round and 12 SPs in the first 30 rounds. While that is light for NFBC Main Event standards, it's still a marked change from a couple years ago.

The teams who took SP1 latest were Tim McLeod (Strasburg in 4th), Perry Van Hook (Ryu in 6th) and Murphy (Glasnow in 4th). I think this route is fine (I did well last year with Nola in the 4th as my SP1) – it's more about total SP investment than SP1. My rule of thumb is if you should aim for 3 SPs in the first 10 rounds – especially if you go cheap(er) on the SP1.

Speed
SBs are in such short supply that it is more important than ever to have a plan for where you can draft speed at value.
It is already hard enough to find speed without killing your HR/RBI. It is even worse with OBP vs AVG since these are not the days of Rickey Henderson and Tim Raines.

After choosing Trout over Betts in round 1 and the 4th round speed run, I found myself starved for speed through 6 rounds with a Trout/Seager/Alonso/Bohm start. This was not my plan but the value wasn't there on speed so I focused on building up the other four categories.

I then aggressively moved on Tommy Pham and Victor Robles in the 7th/9th and Nick Solak around ADP in the 12th.

We took a mini-break after 15 rounds which gave me a little extra time to scan the board. I was shocked to see Andres Gimenez still on the board and dejected I had to wait 10 more picks for a chance to take him. He lasted though – 65 picks after ADP. He is not going to help in the other 4 categories but was a perfect fit for my team.

I then added Sam Hilliard in the 25th round as an OF6 and Elvis Andrus in the 29th round as an insurance policy in case Gimenez didn't start the year in the majors.

There were 34 guys taken in the first 15 rounds that I had as solid speed plays ($4+ SB). They went on average at 6 picks ahead of ADP. Subtract Kolten Wong (aggressively drafted in the 12th round) and it's around 3.5 picks ahead of ADP.

This looks relatively normal except for the fact that OBP increases the correlation (vs AVG) between HR/RBI and decreases it with SBs. In other words, it is harder to draft speed without taking hits in the other 4 categories so you would expect teams in a 5×5 OBP to spend LESS than ADP on speed vs MORE.

I think Beller and Trachtman did a good job at getting SBs without sacrificing the other 4 categories. I think Anthony Perri (Robert in the 3rd, Baez in the 5th, Villar in the 16th?!) and D.J. Short (Tim Anderson in the 4th, Tommy Edman in the 10th) did the worst.