On March 5th, I took part in my 5th Tout Wars Mixed Draft – a 15-team snake draft that is unique amongst 'analyst' leagues in that it is a 5×5 OBP league. Otherwise, pretty standard. Weekly transactions. 2 catchers. $1000 FAAB.
Quick Perspective On The Difference Between OBP vs AVG
While the same draft tenets I discussed in my 2020 LABR writeup still apply, the biggest shift in OBP leagues is published hitter ADPs are less reliable. This makes drafts a little more unpredictable but it generally advantages the more prepared drafters in the room. I look at ADP but also put my projected $OBP – $AVG right next to it to indicate guys whose value is much higher/lower in OBP.
There are other minor shifts (1Bs look better b/c they typically have highest BB rates, hitters with high AVGs but mediocre BB rates become less valuable, etc.) but this ends up baked into the projections. I have to run 15-team 5×5 OBP custom but you can access my 12-team 5×5 OBP projections and those are updated daily for Season to Date and Rest of Season as well. All free.
Last Year Recap (here is my post-draft writeup)
My quest for a ToutWars threepeat (TM Pat Riley) fell short as I finished 4th with 107 points. I ran out to a fast start and was in first place through the first half of the season but a combination of a 2nd half pitching ratio implosion and strong runs by winner BaseballHQ's Ray Murphy (125 points) and my perennial ToutWars rival Adam Ronis (117 points).
My offense certainly wasn't the issue as I had the top offense with 67 of 75 potential points led by Trout (1.1), Juan Soto (3.1) and Eugenio Suarez (4.15) with Jorge Polanco (15.1) and Christian Vazquez (29.1) as strong values. Given I only spent  62% of draft pick capital on offense, I should've been able to win.
The problem was the starting pitching. Disappointing performances from two of my top 3 SPs (Trevor Bauer at 2.15 and J.A. Happ at 10.15) combined with not unearthing any breakout pitchers (like I had with Snell and Morton in 2018). I still managed 34 points across Wins/SV/K's but ended up with a pathetic 6 points combined in ERA/WHIP. Given Ray's strong team, it would have taken 5th place finishes in the ratios (vs 13th) to take down the crown again.
This Year's Draft
Here is the draft board: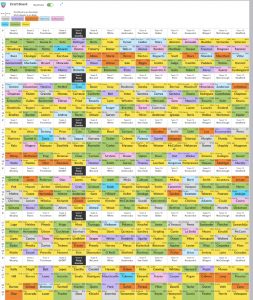 Below are my picks compared with NFBC ADP (take the hitters with a grain o' salt):
Draft Strategy Overview
Picking 5th, I am hoping one of the top 4 bats fall or I am taking Juan Soto. Unless something crazy happens, I am taking a bat with pick #2. If Corbin falls, I will take him pick#3 otherwise will wait until pick #4.
Aim for balance across categories but aim for middle of pack in SB and SV if the market values those stats more than me.
Aim for around the projected market's Hit/Pitch split (projected at 64/36) with a little more pitching draft capital than the market on SP vs RP.
Early Round Notes
Bellinger falls to me. Love it. The 1B/OF eligibility is a nice bonus as I like a lot of OF and have been punting 1B all year.
Devers at #2 was great. Strasburg was tempting here but wary of just getting 175 IP. Corbin got swiped on the turn so went with best available bat in Springer and white knuckled the 4th round and glad one target (Nola) made it back.
After four picks, I'm feeling good on everything but speed. This spot was dedicated for Pham or Bichette. Pham went on the turn and lucky Bichette made it to me. I probably roll the dice here with Robert if Bichette is gone and would not have been happy (Robert less valuable in OBP than AVG).
General Notes/Strategy
I have used the same post-draft writeup structure for a while now as I find it more interesting than a pick-by-pick analysis and most readers seem to agree. This format does mean I talk more about my competitors' teams than most post-draft write-ups. I do my best to be respectful yet honest.
Hopefully, you'll find some piece of strategy you can apply to your upcoming drafts. I have updated this to reflect changes in my philosophy since last year. Some of it incorporates learning. Some of it is driven by changes in the player pool.
You'll see me note a lot of percentages about pick values. I calculate pick values based on my auction dollar projections. The #1 pick gets the $ value of the 1st ranked player, etc. Generally, the last pick in the 22nd round is worth a dollar (13 hitters + 9 pitchers * 15 teams) as I budget $0 for the 2nd catcher. The 23rd to 29th rounds are valued at or around $0.
 Topic
In General
My Team
Observations on Other Teams
Hit/Pitch Mix
I'm typically looking to stay about league average which I estimated pre-draft at 63.5/36.5 Hit/Pitch.

Last year, I had the desired distribution (65% Hit/26% SP/9% RP) with a bat-heavy first 8 (SP at #2 and RP #7) and SPs at 9, 10, 12, and 13.

This year I had 66/28/6 as I half-punted RP2 (Givens in 20th).

Last year it was 64/27/9.

This year it was 64/28/8.

Yawn, right?

Wrong! After my LABR draft had 14 of 15 teams go between 60-68% in hitting, only 9 of 15 teams in this league were in that range.

Four teams were between 50-59% in hitting with three under 56%  (Dan Stafford – 52%, Scott White – 55%, Anthony Perri – 56%, Charlie Wiegert – 59%).

Defending champ Ray Murphy and Michael Beller were both around 71% hit.

I don't recall ever seeing such a spread in investment but it is a natural byproduct of taking SPs in the first round and then not consciously delaying your SP2/SP3. All four of these teams took 1st round SPs and had taken a 2nd SP before I got my first SP later in the 4th round.

When SPs go quicker than usual, it would make sense that a couple of teams would veer towards the hitter values. I was well on my way (bats 1st/2nd/3rd/5th/6th) but consciously went SP/SP in 7th/8th to keep my balance.

My one piece of advice to readers is this: If you believe you have an advantage by going on the extremes for hit/pitch split, go for it. I support you 100%. But if that was not your plan and you just happened to draft to an extreme, you need to prep more for your next draft as you need to make sure you are drafting the shorted hit/pitch side correctly (IMO that means maximizing PA/IP and less prospecting)

In this draft, I know Scott White explicitly wanted to invest heavily in SP. Anthony Perri seems to feel quite confident about his squad based on his projections.

Upside vs Reliability/ Volume
Sprinkle upside picks throughout draft, veer towards reliability in early rounds. Focus on $/Game vs $.
I am pretty happy with this mix. Bellinger/Devers/Springer/Nola/Cruz represents a solid reliable core. Yordan Alvarez was tempting in the 2nd round and not sure where I would've gone if Devers was off the board.

Bo Bichette (5th), Franmil (10th), and Chavis (19th) add some upside on the bat side while Fried (8th), Heaney (13th), Bundy (15th), and Josh James (16th) add some on the pitching side.

Lorenzo Cain (11th), Jean Segura (12th), and Shin-Soo Choo (14th) are boring AF picks but are representative of the challenge with OBP. Cain and Segura are two of the few players outside the top 10 rounds that can net speed while better than average at OBP and not awful in R/HR/RBI. Choo is just the most unsung value in OBP. I feel like I draft him every year.

I went pretty boring in the reserve rounds as tempting SPs went early (May 16th, Gore 18th) and, on the hitter side, I felt Adam Frazier and Cameron Maybin provided good value vs ADP (I think both hit leadoff to start the year). I am cautiously optimistic about Kwang-hyun Kim's upside with a 25th round pick.

Tim McLeod mirrored his LABR draft with a traditional start and then nabbing many prospects in the middle rounds including Dylan Carlson (14), Dustin May (16), MacKenzie Gore (18), and Yoshi Tsutsugo (21).

Scott White likes his prospects too and generally does well with them but I don't like pairing Tucker/Adell/Hilliard on the same team, let alone one starting with SP/SP. Really could be struggling for quality PA. That said, great snag of Ryan Mountcastle in 27th round. I warmed up to Mountcastle later in the week (especially w/ Mancini news). Doh.

Ray Murphy's team looks good as always but maybe could've used a little more sizzle?

Otherwise, seems like most teams struck a solid balance.

Bouncebacks
I like them as long as health not a question mark, skills/age look positive, and properly discounted.
In my LABR writeup, I pronounced 2020 is the YOTBB (year of the bounceback)!

While I didn't go quite as heavy in this draft (sorry Giancarlo), I went with Carrasco again as my SP2 (before the mild elbow inflammation news), Edwin Diaz as RP1, and took shots on Lorenzo Cain and Jean Segura.

Adam Ronis snagged Machado at end of 4th round and Donaldson at end of 6th (though not sure Donaldson is a bounceback).

Dan Strafford smartly (in concept) went with several bouncebacks to pair with his SP-heavy draft. Funny enough – his trio of Jo-Ram, Stanton, and Daniel Murphy were all on my 2019 high-stakes auction team (spoiler: didn't go well).

No other team jumps out.

Category Balance vs Best Player Available
In a weekly league with FAAB, I prefer to come out of drafts without glaring weaknesses. So I do monitor this during draft so, everything equal, I am taking the player who provides better balance.
I accomplished what I set out to do. Strong in 8 categories, okay in SB and SV.

Scott White crushed in 4 of the 5 pitching categories and is potentially strong in SBs if he plays Mallex but looks real weak in SV/HR/RBI.

Anthony Perri leaned hard on HR/RBI with his limited hitting budget. If he actually plays SAGNOFs Dee Gordon and Jarrod Dyson, he'll give away all that strength. If not, his Runs and especially SB look rough.

Adam Ronis' team projects surprisingly poor in OBP aside from Yelich and Donaldson and has three lottery tickets for an RP2 (I did that in LABR).

Seth Trachtman did a very good job on balance.

ADP vs "Get Your Guys!"
I prefer to wait as long as possible for guys I like but adjust based on draft room dynamics.
This is a difficult exercise given ADP is typicaly 5×5 AVG vs 5×5 OBP. I don't think I reached much in this draft once you account for OBP.
I don't know where I expected Stanton to land but it wasn't the end of the 9th round. Nice value I think for Dan Stafford.

Charlie Wiegert was probably the most 'get your guys' drafter in the first half of the draft. Mondesi in the 3rd and Eduardo Rodriguez in the 7th seem a bit expensive.

Anticipate Other Teams' Picks When Prioritizing
Get ahead of position runs to minimized getting sniped.
I got sniped of my 1st choice several times (most notably Corbin in the 3rd) but that comes with the territory of trying to maximize my team by waiting until close to ADP before drafting.

There were SP runs from the 6th through 8th rounds. I got two of my targets in Carrasco and Fried.

There was a closer run starting at 9.2 that resulted in 13 RPs taken in 29 picks. I was in good position to grab one at 9.5.

Hard to judge other teams on this.
Closers
While bullpen committees are becoming more popular, identifying lower-tier closers in February has always been rough. My strategy is generally get one secure closer and then be opportunistic on RP2. Safety in numbers if grabbing speculative closers.
I was surprised when only 8 RPs were taken through 8 rounds of LABR. In this one, only 4 RPs were taken by the end of the 8th round with Hader going 5.5 and the next RPs off the board on the 7.15/8.1 turn.

I like my 9th round pick Edwin Diaz's projections for 2020 but he gives me a lot more agita than, say, Taylor Rogers.

The RP2s I could tolerate were off the board before my 14th pick so I was content using a 20th round pick on Mychal Givens and a 26th round pick on Diego Castillo. The thinking on both is the same – never trust a young pitcher who will be arbitration-eligible to close (Hunter Harvey, Nick Anderson).

As with LABR, I invested only about 6% of my draft capital on closers to focus on hitting and SP.

The room averaged about 8% of draft capital on closers. A drop less than last year's 9% but understandable given the lack of realistic 25+ save closers.

The teams at 14 (McCullough) and 15 (Stafford) invested 13% (9th/10th) and 16% (7th/8th) respectively on closers.

Everyone else was between 5-10% except Scott White who is rolling the dice on a 19th round Knitzler, 22nd round Wade Davis and 24th round Harvey. For 1.5%? Slow clap.

Catchers
I typically like to punt Catchers. The demands of the position lead to greater injury risk and more volatile offensive numbers IMO. I prefer catchers who aren't OBP sieves.
I do not like the Catcher values this year. Even more than usual and some of my 12th-15th round targets this year are weak in OBP.

So I settled for Tucker Barnhart in the 22nd and Chance Sisco in the 29th.

I do not expect much from either but, on the positive side, they are not OBP killers.

4.3% of draft capital was spent on Catchers which is identical to last year (my investment was ~0%).

Greg Ambrosius was the top investor at 9.0% with J.T. Realmuto in the 6th round (OBP discount) and Francisco Mejia in the 16th round.

My ~0% investment was the lowest.

Starting Pitchers
Draft quality and quantity. Mix upside and consistency but put a little more weight on quality vs quantity of IP. Aim for about 9 SPs.
I am quite happy with my pitching staff given the unexpected number of teams investing heavy in top 4 round SPs.

Aaron Nola's 2019 looks a lot better if you take out April and brings a false sense of 200 IP security that I need when thinking about Carrasco in the 7th.

I nabbed 10 SPs in all: Nola, Carrasco, Fried, Heaney, Bundy, Josh James, Matz, Lindblom, Kim, Smyly.

Every team drafted at least 7 SPs.

The draft capital ranged from 22% (Murphy) to 34% (Perri)…if you don't include Scott White's 44% on just 7 SPs?!?!

In all, 5 SPs were taken in the first round which is insane when I think back at getting Scherzer/Sale at 2.15/3.1 as the SP2/SP3 just a few years ago in this draft.

Speed
SBs are in such short supply that it is more important than ever to have a plan for where you can draft speed at value.
It is already hard enough to find speed without killing your HRs. It is even worse with OBP vs AVG since these are not the days of Rickey Henderson and Tim Raines.

I had no plans of crushing speed. I just wanted enough to be middle of the pack. I think Bichette + Cain + Segura maybe gets me there. I picked Maybin in the 28th round who could be a steal (pun intended) if he leads off as he has solid OBP, power, and speed.

Teams definitely spent on speed even if it meant costing themselves in other categories.

Mondesi and Villar going in the 3rd round was surprising.

Trachtman was able to build up some nice speed with an Acuna/Starling Marte start as did Greg Ambrosius with his Turner/Tatis start.