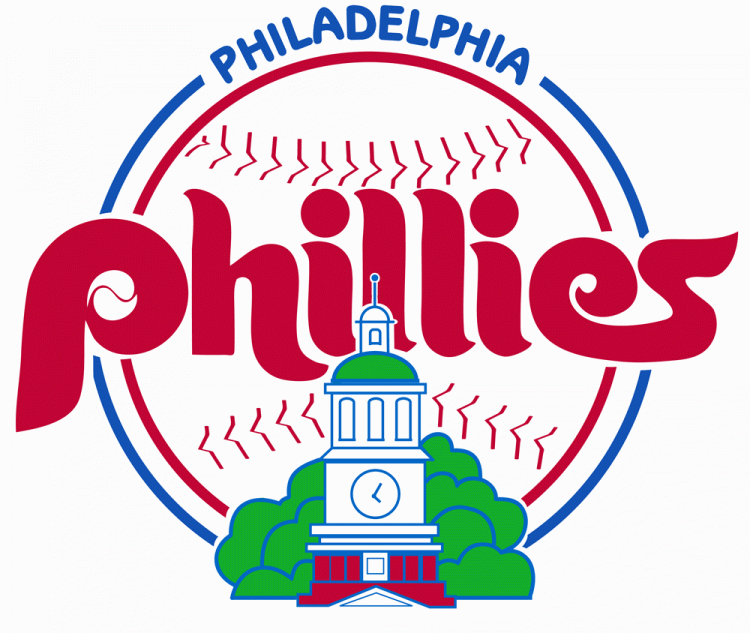 Welcome to Razzball's 2018 team previews. Over the next couple of months, we'll be previewing all of the teams and talking to writers who represent those teams around the web. We want to provide the best and most in-depth fantasy projections to go along with the asking the most useful questions to those who know their teams best. We want to talk about the players in the first half of your draft and also the deep sleepers that make you log into google and start watching Midwest Single-A ball for hours. Just kidding, don't do that, hopefully we don't go that far…
Today we are going to take a closer look at the Philadelphia Phillies. Although this team won five less games in 2017 than it did in 2016, names of the future are starting to become established and hope is starting to perk up for reasons other than an Eagles Super Bowl appearance. Aaron Nola is on the verge of being a very serviceable ace for a contender and Rhys Hoskins emerged as a late summer surprise and instilled fear with his bat. With Ryan Howard finally out of the picture, this gun-shy team even went out and spent some money in free agency. I had some questions for Paul Boye from The Good Phight and he had some great answers for me.
MB: Before we get to current Phillies team predictions and individual players, what is your favorite Roy Halladay memory?
Paul: Apart from the perfect game and no-hitter, the thing Roy Halladay will always be associated with in my mind is the 19-inning, Wilson Valdez-won artwork/atrocity at Citizens Bank Park in 2011. I was fortunate(?) enough to be there, and you'd better believe I stayed for the whole thing. Doc started and went seven. He gave up 11 hits but only three runs, which would be far from his most dominant or memorable start were it not for the 12 entire innings still to be played once he left.
Danys Baez. Ryan Howard's game-tying 10th-inning homer. Dusty Baker running Carlos Fisher's arm through a cheese grater. Valdez getting Joey Votto to fly out to the warning track. That game had it all, and Halladay kicked it all off.
MB: Maikel Franco is a very exciting player because of his HR potential. Last year, while not a disaster by any means, Franco didn't live up to expectations. Do you think with more bats around him in the lineup, he can play loose and have more success?
Paul: Franco is not now, nor will he ever be, a flawless player. His approach is probably always going to have holes, and his range at third base doesn't stand to improve much as he marches through his 20s. But! I agree that Franco is, still, a potentially exciting player. I watched what felt like an innumerable amount of hard-hit balls off his bat find gloves
MB: With the emergence of Rhys Hoskins late last summer and the addition of Carlos Santana in December, this team is going to slug the ball. J.P. Crawford is another big piece of the puzzle. He has the ability to get on base but doesn't carry a power bat. What does Crawford need to do at the plate this year to be a good offensive shortstop for the Phillies?
Paul: Exactly what you mention in the question: Get on base. The Phils do have a bit more pop than last year, but that doesn't mean we're gonna see 200 homers. This is a group that's a bit more first-to-third than home-to-home, and that's perfectly fine: Crawford fits right in there.
You could see things click in his at-bats after his first couple of games. He started working deep counts regularly, and those deep counts started turning into walks more frequently as September wore on. JPC might only be a 15-homer guy at his apex, but his ability to work counts and eventually get on base ahead of the heart of the order (hint hint) is going to be pivotal. And it'll help give Hoskins some nicer RBI numbers down the road, to boot.
MB: Aaron Nola started the season on fire, had his lumps in the middle, and was able to finish really strong in his last 3 or 4 starts of the season. He threw 168 innings last year. Do you like the prospect of Nola being a 200+ inning ace this year?
Paul: I do, or at least something close to that. I like that he stayed healthy from late May through September. His run of 10 straight starts allowing 0, 1 or 2 runs was dazzling. The only things standing between Nola and 200 are Gabe Kapler's bullpen management style (a complete unknown at this point) and whether the Phillies will still be competitive enough late in the season to warrant pushing Nola toward that mark. I think there's an excellent chance we see 180-plus innings from Aaron this year.
MB: Does the pressure on Rhys Hoskins to be the face of the franchise at 25 years old give you any inclination of a "Kyle Schwarber 2017" type of season or is this kid going to be fine?
Paul: I think Hoskins will come out of the gate a bit slowly this year, but not as a result of pressure or anything off the field. Pitchers started to figure this guy out, and now there's a book on him. At the same time, the hallmark of Hoskins's progression and ascent through the minors has been his ability to make and maintain adjustments, so if mid-April finds him hitting below .200 with just a homer or two, I'm still not panicking, because this is a guy patient enough to continue working at-bats and get back on track in the face of struggles. There are some similarities between Hoskins and Schwarber, but I think Hoskins will make more contact as a rule, and thus prevent himself from spiraling into 40 percent K rate tailspins for prolonged periods.
Remember: Even as he went homerless in his last 16 games, he still walked 11 times in 65 PA. If he gets caught in quicksand, don't expect him to try and flail his way out.
MB: 2018 prediction: middle of the NL East pack, wildcard team, or division champion?
Paul: Middle of the pack, but I'm not saying that all that confidently. There's still so much talent in the free agent pool that the Phillies, if they wanted to, could elevate themselves to legit Wild Card contender status with just another couple of moves. It's kinda wild. Assuming they don't really land any more big ticket items, though, I feel content thinking they're a third-place team, still 10-12 games back of the Nationals and neck-and-neck with one or both of the Mets and Braves.
That said…bold prediction time? Bold prediction time. I do think they spend a day in first place after May 1 for the first time since 2011. Baby steps, sure, but I can feel the end of the tunnel approaching rapidly.
Projected Starting Lineup
Projected Rotation
| Rotation | Player | Position | IP | W | SV | K/9 | ERA | WHIP | BB/9 |
| --- | --- | --- | --- | --- | --- | --- | --- | --- | --- |
| 1 | Aaron Nola | SP | 180 | 11 | 0 | 9.35 | 3.74 | 1.21 | 2.56 |
| 2 | Jared Eickhoff | SP | 159 | 8 | 0 | 7.63 | 4.89 | 1.37 | 2.96 |
| 3 | Vincent Velasquez | SP | 122 | 7 | 0 | 9.04 | 4.60 | 1.36 | 3.56 |
| 4 | Ben Lively | SP | 93 | 5 | 0 | 6.70 | 5.26 | 1.41 | 2.87 |
| 5 | Jake Thompson | SP | 45 | 2 | 0 | 6.58 | 5.40 | 1.53 | 3.93 |
Projected Bullpen
| Role | Player | Position | IP | W | SV | K/9 | ERA | WHIP | BB/9 |
| --- | --- | --- | --- | --- | --- | --- | --- | --- | --- |
| Closer | Hecton Neris | RP | 65 | 3 | 21 | 10.05 | 4.08 | 1.27 | 3.52 |
| Setup Man | Pat Neshek | RP | 65 | 3 | 12 | 9.41 | 3.93 | 1.18 | 2.32 |
*All projections are courtesy of Steamer.
Want some arrow with that Bowe? (Pronounced Bow-wee, killing the whole pun here, but whatevs.) Explore his content over on the Football side of Razz! You can also follow him on Twitter.