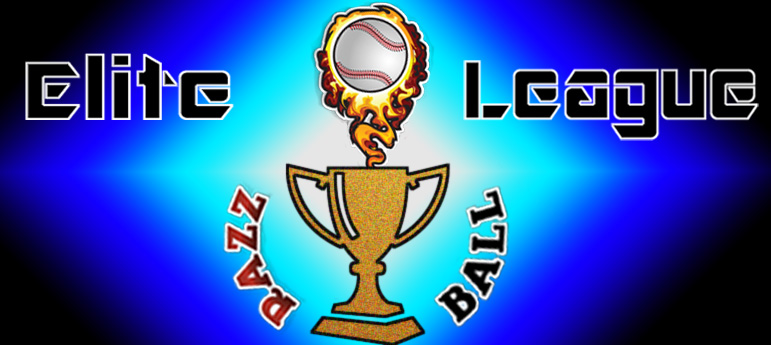 Mmmmmm, look at dem sexy graphics!
The inaugural draft of the Team-Based Razzball Elite League concluded this Sunday, full of mystery, intrigue and MURDER!  As in, I'm gonna murder the Phillies for sniping Amir Garrett at the end there, stupid rebuilding NL teams!
REL teams in the initial season began with keeping 17 players on their active roster, leaving 8 remaining spots to be filled with a $100 auction budget.  Scrubs going for mad cash!  It was a draft we're likely never going to see anything quite like again, as every following season is a 3-round supplemental snake…  I'm going to always cherish the inaugural REL auction draft!
As with the REL Hoops League, yearly winners will get their pennant retired on the footer graphic and is my new primary goal every fantasy baseball season.  Get that Brewers ink up on the rafters!  Unfortunately it's going to take a season or two of rebuilding to even be in the conversation, but I've never done a full rebuild in a dynasty before!  Should be fun…
We'll be posting updates once a week during the regular season, giving the other 29 REL GMs and myself a chance to recap their past week and explain their decisions.  We've already gotten some big trades in the NL!  Here's how the draft went down and what the REL owners think about their year one teams:
NATIONAL LEAGUE
REL Dynasty – NL + NL draft results
Jay the Wrongest
0
Waiver Adds and Prospect Callups Past Week:
FAAB Remaining:
$100
 n/a
San Fran Giants
0
Waiver Adds and Prospect Callups Past Week:
FAAB Remaining:
$100
 Kelby Tomlinson ($0)
Cincinnati Reds
0
Waiver Adds and Prospect Callups Past Week:
FAAB Remaining:
$100
 n/a
Knoche's Rockies
0
Waiver Adds and Prospect Callups Past Week:
FAAB Remaining:
$100
 n/a
Let's face it, I'm stacked with hitters having the Rockies as my parent club, but pitchers not so much. My goal in the draft was to find an upgrade over most of the Colorado starting staff, and perhaps look to pick up some injured gems(I use this term loosely) for the future. I kept Jorge De La Rosa, and Jon Gray figuring pulling 5 everyday starters would be tough, especially with all the ringers JB has brought into this league. I also kept Mcgee, Motte and Logan for Saves and Holds.

The first guy who came up I wanted to go after was Chris Heston, and since we had no concept of what to bid of $100 the budget, this one got a little out of hand and I ended up spending $46. If anyone on San Francisco's staff goes down he should be first up. Next I got Manny Banuelos for $10. He should earn a starting spot in Atlanta, and it wasn't that long ago that he was a solid prospect for the Yanks before his elbow fell off. Followed that with Tony Cingrani for $13…maybe he closes later this year, but either way should get some holds along the way. Next up was Brandon Beachyfor $16, maybe he beats Bolsinger out for starter number 5 in LA in which case this is a steal. Ruben Tejada then joined the roster for $2. I don't know what the SS situation is going to entail in Colorado. I have Reyes and Story on the roster, but didn't have room to keep Adames. I'm hoping Tejada can get some ABs until one of the other two is playing every day. I then got the long term steal of the draft in a $1 Brandon McCarthy. He won't help me much this year, but is better than anything I have going forward and is signed with the Dodgers through 2018. I then missed on Trevor Cahill, and ended up filling the roster with Felipe Rivero for $3 who should get some situational lefty holds in Washington, and Adam Morgan for $1. Morgan could get some spot starts if the Phillies have more injuries, or maybe even beat out Velasquez or Oberholtzer,  but either way is SP eligible and also could score some situational lefty holds.

All in all I was able to accomplish what I was hoping. Long term in order to succeed in Coors Field, I need to build a base of pitchers who don't pitch there. I've made at least a step in that direction.

Braves
0
Waiver Adds and Prospect Callups Past Week:
FAAB Remaining:
$100
 n/a
My keepers from the Braves active roster were (Freeman, Peterson, Johnson, Aybar, Garvia, Olivera, Inciarte, Bourn, Markakis, Mallex Smith, Teheran, Wisler, Foltynewicz, Jenkins, William Perez, Vizcaino, Grilli). The Braves junk roster made it fairly easy to decide on my 17 keepers with Manny Banuelos and AJ Pierzynski the best two options being thrown back to the draft. My goal for the draft was to land 2 younger guys with some upside who could turn into a good trade asset. I'm not entirely happy with how my draft turned out, but at least I didn't autodraft like our San Diego owner. I added Brayan Pena, Arismendy Alcantara, Aledmys Diaz, Emilo Bonifacio, Adam Warren, Seth Maness, Juan Nicasio, and Chad Qualls in the auction. A lot of bleh talent with no defined roles but maybe one or two of them fall into starting jobs. I am really high on Diaz after his torrid 2nd half last year and was happy to land him but I failed to get a second upside guy like Tommy Pham or Keon Broxton due to some poor execution. More importantly, since the draft I have traded Freddie Freeman to the Pirates and Julio Teheran to the Marlins. I wanted to get these trades done before the season so neither of them had a chance to tank their trade value and I'm pleased with the prospects I was able to add. Josh Bell from the Pirates (Freeman trade) hit .317/.393/.446 between AA-AAA last year with 65BB and 65K's in just under 600 PA's. I expect big things from Bell and was happy to swap Freeman for him 1-for-1. Bell looks like the kind of guy who could turn into Votto and go .320/.400/.550, 25HR, 5-8SB, with 100R and 100RBI in the middle of PIT lineup. Even if he never reaches Votto level, his floor looks a lot like the typical Freeman season except he will be hitting in an offense that ranked 4th in the NL in runs while the Braves were dead last. For Teheran, I brought in Brett Lilek and Stone Garrett. Lilek is a 6'4 lefty and had a 11.1 K/9 and 1.8 BB/9 as he debuted in low A ball last season after being taken in the 2nd round out of ASU. Garrett is more of a project, but is a high upside OF'er who is just 20yrs old and will be in his 3rd season of minor league ball. He slashed .297/.352/.581 in low A last year and hit 11 HR's in 222 AB's. The K's are a bit high but if he can get down to a low 20's K rate (27% last year) and keep his power he is going to be a very nice player.
J.T. Marlin
0
Waiver Adds and Prospect Callups Past Week:
FAAB Remaining:
$100
 n/a
The key to building a championship team, especially in such a deep league like this, is The ASS Factor. Without it, you're going to be scratching your head in August wondering where things fell apart. If you're scratching your head now wondering WTF the ASS Factor is, allow me to explain. The ASS Factor is composed of three elements:

an Ace

a Slugger

and Steals

It's surprising the Marlins were one of the last teams selected, considering they've got the best ASS Factor in the league with Joe Fernandez, Gian Stanton and Dee Gordon. No other team in the league has anything close to an ASS Factor like that to build around.

Going into the draft, my focus was on one player – – Lance Lynn. I wasn't too concerned about his TJ recovery since that's pretty much routine surgery now for a pitcher. What's the chance a SP like Lynn is available on the waiver wire or in future drafts? None, that's what. As I said during the draft, I would have gone to $100 for Lynn. When a mediocre scrub like Pete Alvarez goes for $93, getting Lynn at $56 was an absolute bargain. He'll slot in perfectly as a #2 starter next year behind Joe Fernandez. More importantly, he bumps Wee Chen and Tommy Koehler down to #3 and #4 starters where they're much better suited.

The rest of the draft was pretty much just sifting through rubbish. With the combination of Brett Anderson/Collmenter/Vogelsong, I'm hoping to get one somewhat serviceable starter. I'm much more optimistic about getting something productive from the relief combo of Lyons/Delgado. Andy Blanco and Aaron Hill are about as useful as pockets in underwear. They're only taking up a roster spot because league rules dictated that eight (8) players must be selected.

Following the draft I was able to acquire Julio Teheran in exchange for a pair of minor league prospects in Garrett and Lilek. Maybe this turns out to be a Jeff Bagwell-for-Larry Anderson trade, but I'm happy with it. Teheran will take the role of #2 starter while Lynn recovers.

Nationals
0
Waiver Adds and Prospect Callups Past Week:
FAAB Remaining:
$100
 Shae Simmons ($0), Trevor Gott ($0)
The only NL REL Dynasty team with two dads came into the draft with two priorities: Alexei Ramirez and relief pitching. We felt that Ramirez was the best player available in the draft due to positional scarcity and a history of solid multi-category roto contributions. We were pleasantly surprised to get him for $33, which allowed us to spend $54 on three relievers in Addison Reed, Hansel Robles, and Mike Dunn, who we feel will put up a solid combination of strikeouts and holds without hurting our ERA and WHIP. We rounded out our squad with:

OF Melvin Upton Jr. ($6): Showed signs of life in 2015 and will serve as our 5thOF with the potential to contribute cheap steals.
C Andrew Susac ($1): Always one of Sean's favorites, and a playing time sleeper if he gets dealt or Belt or Posey get hurt.
RP Chris Withrow ($1): We're bummed that he got sent to AAA the day after the draft, but he throws smoke and will compete for the late bullpen innings in Atlanta sooner rather than later.
1B Dan Vogelbach ($1): Sean wanted someone of his body type on the team, and a career .284/.382/.473 minor league batting line is worth a lottery ticket for an NA-stash prospect.

It's not all about us, so we'd like to compliment the Brewers for drafting Robbie Ray for $34 (one of the top SP on our board) and the Dodgers for snagging Pedro Baez for $10 (one of the top RP on our board). We would also like to make fun of Billy (Mets) for drafting Matt den Dekker as well as the Pirates for drafting Tyler Moore; Sean wrote notes for every draftable player, including thoughts on their draftability, playing time and upside – his notes for Tyler Moore simply read "No".

Good luck this year, everyone! If you're rebuilding and have some ML trade chips, hit us up.

Dodgers
0
Waiver Adds and Prospect Callups Past Week:
FAAB Remaining:
$100
 n/a
Pirates
0
Waiver Adds and Prospect Callups Past Week:
FAAB Remaining:
$99
 Cristhian Adames ($1), Justin Miller ($0), Dalier Hinojosa ($0)
When the timing of the draft was announced, I was a little worried I may have to miss it or ask for a new time. I had a vacation planned that ended 

on Sunday

, and I flew out at 

8 pm

. Fortunately, I was 6 time zones away, so instead I was drafting poolside, Mai tai in hand. I entered the draft with a definitive plan, which is a change for me. My keeper team is very solid, with an elite outfield, two strong sp, a top closer, and a ton of youth/prospects. Unfortunately, several of the Pirates top prospects are already on the 40 man roster, so they were in the yahoo database. I had to decide if this was a win now team, or a build for the future team. I didn't want to waste McCutcheons last few prime years, so, at least initially, I'm gonna play to win. My plan was to spend big on one of Brito, Solarte, Adams or Flores. My biggest weakness is HR, so I had to give up the fight for Brito and Solarte. I was hoping Adams was nominated early, so I would know which way to go. To me, Flores offers more upside for power at a prime position. Combine that with being the backup for wright, asdrubal, and walker, and asdrubal is already out for a short while. I guess I could have waited on Adams and saved money but no regrets. Part two was to get 3-4 sp. In a league this deep, sp are a limited resource. With a 1700 innings limit, more sp is good. 162×9 is only 1458, and there will not be a lot of streaming going on in this league. I was targeting Conley, Locke (I believe in Searage), Bolsinger, Norris, Banuelos. Conley got too expensive after I spent $48 on Flores, so I locked up (pun intended) Locke, Bolsinger, Bettis and Norris. Bettis' skill set works on road starts, so as long as I play him accordingly. And with potential ace Glasnow waiting in the wings, my sp should be strong. The final piece I wanted was John Jaso. He is a professional hitter and will be the primary 1b, platooning with Freese and Morse when Kang returns, but 400 solid ab from a lead off hitter for $6 was a no brainer. Tyler Moore was a timeout, when I was ordering another drink. Oops. He's already been dropped. So to replace Moore I traded one of my prized prospects in Josh Bell for Freddie Freeman. I need some power and a 1b and Freeman satisfies both. Bell has the upside but not sure if his power will ever come. I saw somewhere where he was compared to James Loney, and Freeman is entering his age 27 year, so he still has tremendous value in dynasty. The wrist scares me a little, but his playing time otherwise is guaranteed. For FAAB, I saw two clear cut targets. Cristhian Adames has a non-zero chance of being the starting SS for the Rockies. The Descalso injury at least could make him the utility guy. At worse, he's a easy drop if Story and Reyes are both available. Secondly, I wanted a couples more RP who were at worse 2nd in line for the job and could accumulate some holds. I think my two acquisitions can do that. Gonna be a fun year, look forward to it.
ILLadelphia
0
Waiver Adds and Prospect Callups Past Week:
FAAB Remaining:
$100
 Mac Williamson ($0)
Cubs
0
Waiver Adds and Prospect Callups Past Week:
FAAB Remaining:
$100
 n/a
Cardinals
0
Waiver Adds and Prospect Callups Past Week:
FAAB Remaining:
$100
 n/a
Diamondbacks
0
Waiver Adds and Prospect Callups Past Week:
FAAB Remaining:
$100
 n/a
Metropolitans
0
Waiver Adds and Prospect Callups Past Week:
FAAB Remaining:
$100
 n/a
Brewers
0
Waiver Adds and Prospect Callups Past Week:
FAAB Remaining:
$93
 Dilson Herrera ($3), Enrique Burgos ($2), Kyle Barraclough ($2)
Whew, what a fun first draft!  I was very happy with the end result, as I went in with a list of about 40 targets, and ended up coming home with 8 of em.

Like my esteemed colleague in the AL – the Mariners – I was the last team to win a player, waiting until the 29th player nominated to make a buy.  I had several of the first 28 nommed guys on my targets list, but they went for a lot more $ than I had projected.  I was ecstatic to see Robbie Ray last that long on the nomination board, as I'm sure my $34 could've easily ballooned to $50 had anyone pushed me.

My next buy was a guy I was hoping would stay welllllll under-the-radar, picking up Adam Ottavino for $10.  He's already on the 60-day DL, so that was a spot I could open up on my roster right off the bat.  If he recovers fine off TJ, he could easily be the set-up man behind McGee for HLD right away.

Then to my two steals – Brandon Maurer and Tyler Goeddel at $14 a piece.  My main goal was to add 2 of Ray/Maurer/Adam Conley, and I had projected that would take virtually all of my $100 budget.  Ended up only taking $48.  So to land a moderate upside starting OF with some budget to spare felt great.

I then snuck a final bid in past the Braves, having to pay up to get Keon Broxton for $22.  Had keepers been announced a day or two before the draft (rather than a week), I probably would've swapped Rymer Liriano out for him.  Liriano looks destined to be the 4th corner OF instead of getting a shot at CF.  Luckily Broxton was nominated late (92nd), so his price tag didn't get out of control and most teams were out of cash to be in the running.

Finally, I wrapped with $1 buys of Martin Maldonado (backup C and could get a ton of AB if/when Lucroy is traded), Clayton Blackburn (not a huge upside SP, but is on the Giants and seems like he could be up this year), and Michael Lorenzen (lord his elbow better heal up).  I'm not that big on Lorenzen, but he's young and I was a scrambled egg.  I had $5 left I think it was, and the Phillies were the only other team with money and they nominated Amir Garrett.  Ugggghhhhhhh!  They easily snagged Garrett after topping my max. Garrett is a tall frame, high-risk/high-reward SP prospect that converted from being a basketball player, and his stuff looks awesome on some of the film I saw.  Tough break there as he was one of my main prospect targets…

Right after the draft, I was able to make a great rebuild trade moving Jeremy Jeffress for Willson Contreras and SP prospect Oscar De La Cruz from the Cubs.  I had been talking with the Cubs asking for De La Cruz and he wanted a RP with some upside.  I lovvvvvve Jacob Nottingham who we picked up from the A's in the Khris Davis deal.  But his window is mid-2017 at the earliest, so Contreras should be a nice stopgap and/or I own dual C.

On the wire, I was pretty surprised at the lack of aggression with players being sent to the minors on several teams, opening up some roster spots.  So I'm the only team that really tapped into the FAAB, nabbing Dilson Herrera for $3 (could be 2B of the future for the Mets, he's still young despite brief callups in 2014 and 2015) and high-upside K/HLD prospects in Enrique Burgos and Kyle Barraclough at $2 a pop.  Both of em are young and shown some strikeout potential, so we'll see.  Herrera and Burgos were on my draft board as well, so I was happy to land them.

Like my big league parent team, I'm following their lead and rebuilding.  I'm likely holding Lucroy until he is traded so I can sift through the pieces of what we get for him, and probably holding Braun since I hope to be competitive while he's still playing out his contract in 2018 or 2019 (if his steroid-riddled body doesn't melt by then).  Other REL NL owners – If any of my other active team guys intrigue you (obviously not the NA guys, Arcia is minnnnnnnnneeeeeeeee!!!!!), feel free to shoot me some offers.

My next draft is a standard 12er RCL draft tonight…  Yikes, I'm not gonna be able to handle all the talent!

Good luck to everyone this year, and thanks again for joining/showing interest in the REL!
AMERICAN LEAGUE
REL Dynasty – AL + AL draft results
Athletics
0
Waiver Adds and Prospect Callups Past Week:
FAAB Remaining:
$100
 Alex Meyer ($0)
Tigers
0
Waiver Adds and Prospect Callups Past Week:
FAAB Remaining:
$97
 Shane Greene ($3)
Royals
0
Waiver Adds and Prospect Callups Past Week:
FAAB Remaining:
$100
 n/a
The Orange Birds
0
Waiver Adds and Prospect Callups Past Week:
FAAB Remaining:
$100
 Andrew Faulker ($0)
I have not participated in a league like this at all so this first year will involve a lot of learning on my part. Looking at the Orioles roster, I realized my strengths were power and relief pitching and my weaknesses were speed (which I think is a weakness for most teams) and starting pitching. As a result, I went hitter and relief pitcher heavy with my keepers and only kept 2 starters. My keeper regrets were not keeping Ubaldo and Hardy. Fowler signing with Chicago was a bummer and Pedro Alvarez signed after keepers were locked so I missed out on him. The later went for the max bid, $93, in our auction to the A's. We will find out if it was worth it.

My pre draft goals were to focus on a getting starters while grabbing whatever value I could from a list of players I liked. My first player was #11 off the board, Rick Porcello, who I ended up winning for $46. He was the most expensive SP of the draft and it was definitely an overspend, so I waited and didn't buy again until pick #50. While I missed out on some good value picks, being patient allowed me to get Michael Saunders for $21 which was a nice surprise. The rest of my picks were a $5 Graveman, $5 Martin Perez,  (hoping for them to take steps forward) $3 Danks, $1 Pelfrey (these two were depressing), $11 Tony Zych (last good reliever), and $4 Gio Urshela (prospect with some upside). Overall, I don't think I can complain  with how the draft went. I was just surprised so many backup catchers were drafted as Weiters is having arm issues this spring and I thought I'd be able to pluck one off the waivers post draft.

The waiver wire is really, really thin so I think this league will come down to whoever makes the best trades. I'm already in talks with two teams trying to acquire starters, but I don't think I know how to properly value players yet in this league. It will be a very interesting first year.

Halos
0
Waiver Adds and Prospect Callups Past Week:
FAAB Remaining:
$100
 n/a
Mariners
0
Waiver Adds and Prospect Callups Past Week:
FAAB Remaining:
$100
 n/a
Recap of my draft strategy and results. Wanted to save money towards end of draft to get a couple of listed prospects I coveted. Think I was last team to win a bid so felt good after a couple teams shot their wad early. My first auction win was 23rd player nominated.

Needs: 1B to offset Lind platoon. Targeted Montero, Singleton, Pearce and Morrison. Didn't want to pay over $10, secured Singleton for $9, he better get the nod in Houston. The other 3 went for $10+. Needs: An additional SP. Targeted Miley and was not going to be outbid. Picked him up for $31. Needs: Fill out my remaining RP slots. Wilhelmsen went off board with 2nd nomination for a bargain $7. (Wish I would have acted) Next true RP nominated was Jepsen and he was bid up to $37. Wasn't sure how rest of the RP market would shake out so I was prepared to go high teens for the players I wanted. Ended up with Sipp for a bargain $14. For my last RP slot I looked for a good reliever with SP/RP eligibility. Secured Nuno for $6. Needs: Catcher (punted on keeper list) targeted Iannetta, bid and won for $3. Needs: Decent MI with 2B/SS eligibility for depth. All available players with duel eligibility went too high to for my liking. Hard to commit $20+ for maybe 200 ABs. So I went with an extra OF in Josh Hamilton for $9. He will immediately go on my DL and I will fill his spot with back up MI off wire. By this time I had more money left than anyone and I knew I could get both prospects I wanted. Captured both Boog Powell and Matt (Astro's) Duffy. Already fielding many trade offers for Duffy. Overall very happy with draft, left $7 on table.

Draft grade: B

Team Grade: B- Should be a top 1/3 team in AL barring injuries

Head Scratchers from draft…Alvarez at $93, 18 of the first 30 picks going for $26 and up. (That was unexpected to me.) Starling and Refsnyder at $19 and paying anything for Mike Olt. But to each his own. Good luck to all.

Brett (FBV)

Minnesota Twins
0
Waiver Adds and Prospect Callups Past Week:
FAAB Remaining:
$100
 n/a
Yankees
0
Waiver Adds and Prospect Callups Past Week:
FAAB Remaining:
$100
Branden Pinder ($0)
Rays
0
Waiver Adds and Prospect Callups Past Week:
FAAB Remaining:
$69
 Tyler Wilson ($31)
Hey everyone!  Looks like we're in for a fun year!  The depth in this league is absolutely absurd…

Going into the draft, we had holes at first base, catcher, and reliever, so we immediately jump started the draft with a $5 grab of Casali.  It's a meh deal, but there's solid platoon power there.  Our next move, was definitely our biggest, and I think it set the tone for the draft.  We got into a bidding war with Slim, and won Travis Shaw for $43.  This was by far the biggest bid at the time, but we felt it was justified by his youth, power, and position.  I think that got everyone a bit panicky though, since Pedro Alvarez went for a max bid of $93 a few picks later, making Shaw look like a steal.

The rest of our draft was fairly ho-hum, so I won't bother to recap that.  This rays team will definitely be interesting in a dynasty league.  It's all youth, and the pitching depth is amazing.  Hopefully we have have enough hitting to compete.  We've been in quite a few trade talks, but it's rather difficult to trade in this league, so I'm not sure anything is going to happen until after we see who's rebuilding and who's contending.

Trade Block: (Still lookin for power)

Richie Shaffer

Blue Jays
0
Waiver Adds and Prospect Callups Past Week:
FAAB Remaining:
$100
 n/a
White Sox
0
Waiver Adds and Prospect Callups Past Week:
FAAB Remaining:
$96
 Matt Andriese ($3), Joey Butler ($1)
The Tribe
0
Waiver Adds and Prospect Callups Past Week:
FAAB Remaining:
$100
 n/a
Pedro Alverez 93 bucks (yes out of 100)…  Welcome to the REL.

I was in on the bidding till about 60.  It was something to see.  Silly is a word that was thrown around a couple of times during the draft.  This is going to be an interesting league for sure.

Well let's get on to my team.  My parent team is the Cleveland Indians so obviously I love my starters and hate my OF.  My offense in general makes me nervous but I think with a little luck I can compete this year.  My keepers from my parent team are Gomes, Santanna, Kipnis, Ramirez, Lindor, Brantley, Davis, Napoli, Chisenhall, Kluber, Carrasco, Salazar, Bauer, Tomlin, Allen, Shaw, and McAllister.  I'm a fan so let's say I'm hopeful for all of these guys except maybe Chisenhall, not a fan… should have kept Naquin instead especially since he went for 36 bucks at the draft.  I thought I could get him cheap late as I had barely heard of him but once I heard JB and Grey talk about him on the pod I thought I might have made a mistake.  It was confirmed on the chat board at the draft that the pod didn't help my cause.  I guess we'll see how it turns out but I don't think he was worth the 36 bucks.  Although they say he's looked good so far this spring.

Well who did I get…  My first pick up was Mark Canha for 9 dollars.  He was the second guy tossed out.  I did not target him I just saw 9 bucks and thought he was worth at least that and bid it.  That's were it stopped and honestly I'm fine with it.  He has Alonso and Butler ahead of him no sure things and he's 27 year old.  My most expensive player was Colby Rasmus for 58.  I know.  I had been in the bidding pretty much all the way.  I paused for a minute and was reviewing the "big" name OFers left and not much was there.  I remember seeing Beltran was next on my dollar value list for OFers and he was not a guy I wanted.  I bid 58 and it stopped.  Let's hope he hits at least 20, I need them.  I picked up 3 RP as needed 2 to fill out my roster.  I got Bruce Rondon (3), Shawn Armstrong (3), and Fernando Rodriguez (2), all high K per 9 guys.  I think Rondon and Armstrong have closer upside.  I was satisfied with these 3.  I added Paulo Orlando for OF depth for 5 bucks.  I really wanted Ackley and was in on the bidding when my computer froze up.  Hopefully that was a sign, but more likely he'll have a career year.  Looks like Orlando will get some ab's early so 5 bucks seemed fair.  My roster is rounded out by a couple long shots but hopefully can be post-hype sleepers in Jesus Montero for 10, and Oswaldo Arcia for a buck.  Both are 25 and I think both are out of options so they are either going to make the club or maybe move on to another situation were playing time might be there for them.  I remember when both were coveted prospects so maybe they can still find their way.

Should be a great year.  Go Tribe!

Power Rangers
0
Waiver Adds and Prospect Callups Past Week:
FAAB Remaining:
$100
 n/a
Red Sox
0
Waiver Adds and Prospect Callups Past Week:
FAAB Remaining:
$100
 Al Alburquerque ($0)
Astros
0
Waiver Adds and Prospect Callups Past Week:
FAAB Remaining:
$98
 Jose Alvarez ($1), Brian Matusz ($1), Mike Morin ($0), Cam Bedrosian ($0)
As you can see I am the Houston Astros and going into this year I didn't consider myself a World Series capable team.  Maybe in a year I'll have enough of my prospects up and ready to contribute, so with that said my 17 MLB keepers are, Correa, Altuve, Springer, Gomez, Gattis, Valbuena, Marisnick, Tucker, Castro, Keuchel, McCullers, McHugh, Fiers, Giles, Gregerson, Musgrove, and Feliz.  I did not keep Rasmus since I don't need any more BA drains who basically only contribute in 1 category.  I didn't keep Marwin Gonzalez, he's a good super util but I don't think he's going to be an everyday player, and the same thinking went into not keeping Singleton and Duffy.  I didn't keep Fister even though I guess he should be fine in this league, or he blows up your percents.  For my minor leaguers I left off Tucker and Cameron.  At 19 years old there is just no way they get to the majors this year and the odds of Houston trading either and me losing them seems extremely low.  My 10 milbers are, AJ Reed, Alex Bregman, Derek Fisher, Francis Martes, Colin Moran, JD Davis, Tony Kemp, David Paulino, Riley Farrell, and Tyler White.  The only one who looks like he may break camp with the team is Tyler White, and in a few weeks I hope to see Reed.  Everyone else will probably need an injury or 2 in front of them to make majors, but they all seem close and everyone of them has starter upside.

Going into the draft I had 4 targets.  Travis Shaw was the top target but alas I got outbid for him at $42 and looking back maybe I should have gone higher.  The other 3 I did manage to get in Refsnyder, Renato Nunez who I thought was the best position prospect who wasn't kept, and Guerrieri who I thought was the best pitching prospect who wasn't kept.  Since I still needed a starting 1B I went with my 3rd option in Morrison.  It could have been worse I guess.  I also drafted 2 MLB pitchers in Duffy and Milone.  Obviously neither have a starting job yet but both could be useful out of the bullpen until they are needed in the rotation, which I think both will be.  My final 2 picks were prospects who I've already dropped for RPs.

Considering how deep this league is and how we have saves plus holds as one category the relief pitchers got decimated in the draft.  For reference my top 6 starters and everyone in my projected bullpen is owned, so I have to look at other teams.  With 2 guys on my NA and 2 prospects to be dropped I had 4 moves to make.  My top choice was Jose Alvarez who along with 7 holds last year looks to be the only lefty option in the Angels bullpen.  Second was Matusz.  McFarland looks like the other possible LOOGY but Matusz is the better pitcher and assuming he's over his back issues (as has been reported) he should be a significant part of the BAL bullpen.  3rd up is Mike Morin, the 24 year old has impressed me so far.  He had a few struggles last year but managed some holds, low walks, about a 9 k/9, and in his 5 spring appearances he's allowed only 2 hits, 0 walks, 0 runs, and 4 Ks in 5 innings.  One of the stats that really jumped off the page was his 15.5 swinging strike percent.  That number is on par with guys like Kershaw, Kimbrel, Scherzer, Betances and ranks  15th overall with anyone who threw at least 30 innings last year.  With my final pickup I added Cam Bedrosian, another 24 year old fireballer from LA.  His biggest issue last year was walks, which in 6 spring outings he has a grand total of 1.  There's still a half dozen RP I like and a handful of 6th and 7th SPers that intrigue me.  Once McCulllers hits the DL I'll look to add another, although there's also a position player who has caught my attention.  It's tough to believe that in an AL only league with 375+ players owned that there's still players out there I want.  Apparently that means there is no such thing as TOO deep of a league.
Thanks again to everyone who joined the REL!  And thanks for your interest in the league, Razzball Nation!  The REL2 will have their draft recap up next week, so you can compare and contrast how teams were put together.  Good luck to everyone in their deep dynasties this year!