Greetings! Wow, my first fantasy draft of the year and the Academy Awards, all in one night! What a time to be alive! I'd like to imagine being there congratulating Leo, as I feel a certain kinship with him, as I, like him, have never been fully appreciated for my talent. I've never won any awards and am more well-known for my countless female actress/model take-downs. So what if my catches are extras and his are A-listers? "P is P, Dog!" Haha, have you ever know someone who uttered that phrase? What an embarrassment to life. If this is you, give your life to me and the Elder Gods, and we will do what we can to revitalize any hope you have of being a respectable human being. Anyway, I won't be winning many awards for this past Sunday's draft, for I was in the middle of a threesome with Christian Slater's nephew and Lena Dunham, but as always, I will compete to a grizzly, disgusting, death if that is my fate.
I know I need to put out these position groups out faster than the Kardashian sisters at a Nickelodeon Teen's choice awards after-party, so with all of our drafts are approaching, sit back, put your feet up, unzip your pants, and enjoy the show!
I am Tehol Beddict and this is Disgrace/Delight. TAKE HEED!
Want to take on Tehol and other writers in our RCL League? Join here!
Middle Infielders I Believe Will Disgrace in 2016
DJ LeMahieu – This peasant cannot truly be a top-10 2nd baseman, can he? I read that on ESPN and was debating whether I was still high off peyote and actually living in an alternate universe. I applaud the young man's effort, but somehow at 6'4″ and 215 pounds, Deej is packing the power of Bob Dole in the bedroom without his penile injection and liquid Viagra cocktail. Expect the average to drop 20-to-30 points or so, and the power will remain pathetic. Also, with Jose Reyes expected to come off the suspended list for beating women, LeMahieu may not be batting at the top of the order for much longer, which would obviously significantly lower his value. But, hey, I've been wrong before.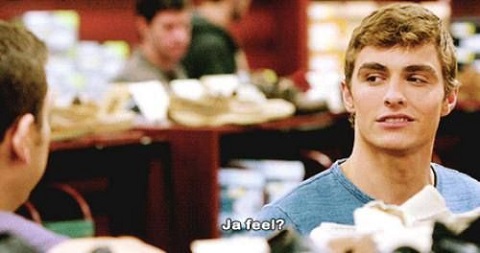 Brett Lawrie – You simply want me to trust that this tattooed pixie can stay healthy for anything resembling the entirety of the of 2016 season? My goodmen, you have to be realistic about these things, and Brett Russell Lawrie is more fragile than my psyche after an epic weekend blow-bender in the Swiss alps. You want me to be excited over 16 homers and 60 RBI? Trick, please…
Starlin Castro – I actually like Castro, but, hey, I liked anal sex before until one time I pulled out my wang and it was lathered in shizz! What happened to the steals, my goodman? You're 25-years-old, yet run like my father if my father was doped up on Oxycontin after just having a hip replaced. The upside is actually pretty solid for Castro, but I'm passing in 2016.
Kolten Wong – How much Wong can you handle, bruh? I have nothing against this fine young man, but the numbers tell me he's overrated going into 2016; 11 homers is fine, I SUPPOSE, but being caught stealing one third of the time and hitting .260 isn't my cup of tea, ja feel? Most websites have baby Wong as a top-ten second baseman, and that very well may end up being the case, but I'd rather gamble on a Lawrie or Castro later… errrrrrr, I know I just baby powder back-handed both of those men, but, seriously, I'd rather wait and take guys like that over a limited upside guy like Wong.
Brandon Phillips – Brando is older than the genital warts on Hugh Hefner's chode, but that didn't stop him from becoming the third best second baseman in fantasy last year. So why is Beddict so down on the old timer in 2016? Well, in reality, I'm not. He's on basically everyone's bust list, as it's an easy out for fantasy analysts, as the odds of Phillips repeating what he did are slim to none. STILL, at an extremely weak position, Phillips should definitely still end up in the top-10 and possibly the top-5. So why is he in my Disgrace section, you ask? Well, so that if he does disgrace, like EVERY analyst is predicting, I can say he was on my list as well, as nobody will actually go back and read what I wrote, and if he delights, then I'll just barf up some quotes where I clearly stated that he'd get loose as a goose on the juice. I can't lose. Even when I'm losing, I'm winning.
Xander Bogaerts – After two years of inhaling Bogaerts' "aura", smothered in horseradish, I've decided I'm no longer obsessed with him. I reached on him big time last year, and I refuse to make that same mistake again. I always truly believed in the power, but the metrics all show the guy is line-drive hitter and that hoping for 20 homers may be more of a lost cause than Emilio Estevez's future in film. I meeeeean, SEVEN homers and TEN stolen bases? That, my goodmen, is what I like to refer to as "peasantry". I still love the player, and deep down in my huge heart, I would absolutely to suggest drafting him again to further prove that I was correct in the past in telling you to draft early, but I'm just refusing to go there with him, as I'd rather take an Addison Russell late, who is more than likely going to give me more power/speed. Don't get caught with your pants down on this one… unless you're receiving a blow job.
Erick Aybarr – Just read that Aybar was the 12th ranked shortstop this year on ESPN… Right, Because hitting in the weakest lineup in baseball history is going to actually improve his game. My penis is also 13 inches long, flaccid, and  I once beat up Jean-Claude Van Damme. I'll pass.
Alcides Escobar – Three yack jobs, 17 stolen bases, and a .257 average? Breh, I'm straight. If you knew better, you'd do better… and knowing is half the battle.
Middle Infielders I Believe Will Delight in 2016
Jose Altuve – Was more confused than the followers of Clayton Bigsby when he removed his hood at the Klan rally last year, when Altuve was pegged as a late 2nd or 3rd rounder. Like, seriously, are you people anally inhaling horse tranquilizers? The steals were down 18, but this young Latin hunk more than doubled his home run output and still stroked wood to the tune of 200 hits. Altuve is a legit Karsa Orlong of the two-baggers in Major League Baseball. Praise him as such and draft him in the first round. WITNESS!
Addison Russell – This Cubs lineup is so stacked it makes Dolly Parton look like Keira Knightly, and I for one, fully expect young Addison to take advantage. Considering I'm expecting  a 20/20 season out of Russell, with an improved batting average, I'm reaching on him everywhere I can which still seems like a bargain based on where Bogaerts is going. Doubt you if you must, just be prepared to show your ass.
Kike Hernandez – Interesting player here, as Kike has some decent pop and should be hitting in a solid lineup. Not someone I'd depend on, but the kind of player I'd grab late or keep an eye on to see if he breaks out or not. Just some food for your thoughts.
Anthony Rendon – Anytime a player is going in the top few rounds the previous year, but is now the 13th ranked player on ESPN ONE year later, as if I was a priest and 15-year-old boy just wandered into my chambers to confess his sins. You've been a naughty boy, Anthony, but I'm gonna get your right with God! Grab that flask of wine, would you…
Domonic Brown – Is it too late for a position change? Not if you're one of the most incredible athletes to ever walk the face of the earth, it's not.
Trea Turner – I'm all about upside, and Turner is about the highest upside SS you could grab late. Imagine Correa last season, then imagine a guy not nearly as good as Correa, and then imagine how disgustingly weak the rest of the SS crop is and what a huge advantage it is to grab one with these abilities late or be the first to pounce when the Nationals announce Turner's promotion.
Jose Peraza – If he makes the big league team, Peraza will be swiping bags more frequently than a Compton base head. If you don't know who Jose Peraza is, I'd like you to first put some Icy Hot on your nut sack then itch your eyes without washing your hands. After that's over, feel free to read up on and recognize that he would immediately become one of the top base-stealers in the game. Remember how high you people were drafting Billy Hamilton? Now imagine if you could get that from second base…
Rougned Odor – Poor Jurickson Profar! First, the injuries, and now he's had his position stolen from the young legend that is Odor. The Rangers lineup should be even better this year with the pungent Odor hitting near the top of it. What an arousing Odor he is. Okay, I'll stop.
Francisco Lindor – Drafted after Bogaerts, and has superior power/speed. Which side will you choose? The call is easy for me, as I'm now enamored with Lindor after witnessing his second half surge in 2015. Someone gave me the old reach around in my Sunday night's draft and stole him from me, but I shall have him if it's the last thing I do. This, I swear to the Elder Gods.
Thank you for joining me on another edition of Disgrace/Delight. As per Usher, it's been an absolute pleasure, and I'd love to converse with you below in the comment section. I'd like to quickly shout out the fine men who dared challenge me in my first RCL league, "Enemies of Beddict", on Sunday Night, as I look forward to looking them dead in the eye while I penetrate them with my manhood. Figuratively speaking, of course. Beddict, over and out.