If you've been following along all season, you already know that this was the first year of Razzball's very own dynasty league – the Razznasty – made up entirely of Razzball writers and commenters. It was an absolute blast, and I was glad to have the opportunity to commish this one. It's a 16-team, 40-man roster, keep 30 dynasty format. This year was a battle for first place between Razzball's own J-FOH and commenter Csifu (Hannibal Montana). It was a tight race all year and at times the difference was a mere point or two. But J-FOH put his foot on the gas down the stretch and pulled away. The Hateful One did it with style by racking up top five finishes in eight of the ten categories in September, including 32 wins and 367 strikeouts over the final month. When it was all said and done, J-FOH came within four points of a clean sweep 160 for the year. Impressive stuff, and so with this final post I'm handing him the microphone so he can share a bit of his strategy and how things played out for his squad.
2015 Razznasty Final Standings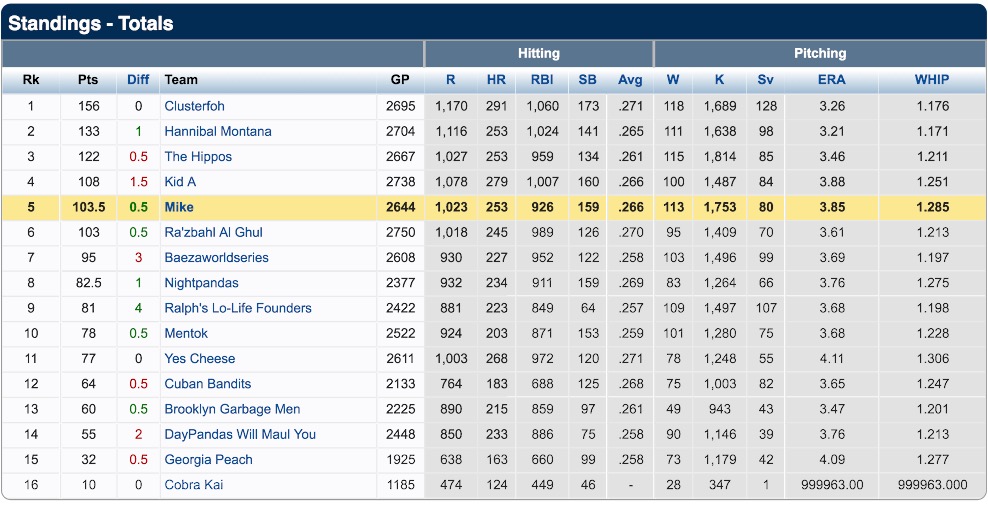 Congrats on the big win! Who were your team's MVP and Cy Young winners?
Thanks Mike, I really appreciate all the time and energy you contributed to our league. It would be easy to say Mike Trout and move on but that would be too shortsighted. When you have a guy like Trout you still need to build around him and A.J. Pollock more than anyone else was the real glue on my squad. A .315 batting average with 20 home runs and 38 stolen bases made up for Trout's career low stolen base totals while helping keep my average competitive. Hands down my Cy Young was John Lackey. Drafted in the 27th round (pick 417) he posted a 2.77 ERA with a 1.211 WHIP and led my team with 13 wins. I love a great value in a deep league as they usually lead you to a competitive finish.
How did having the first pick overall affect your draft strategy?
I don't think it changed anything. Let's be honest guys, in the first year of any league we are in it to win it. Being that this was my first ever dynasty I learned on the fly as the slow draft went along and adapted to the room. An example of this was at the first swing when I took Jose Fernandez and Javier Baez as I thought this was a good strategy for long term success. I quickly realized that this is not who I am as a player and switched gears to a more right now approach. To be honest, I got caught up in the dynasty hype and took myself out of my own game and that was my biggest error. Fortunately I was able move both Baez and JoFer along with Marco Gonzales to a "win later owner" for Kluber, Lynn and Dozier. To build on what I said above about adaptation to the room, I started to evaluate what approach other owners took as I played around their evaluations of talent and strategies.  For many of my late picks I had to decide "do I want someone that can help me win now?" or "could this guy be relevant in three years?". Obviously, I chose the former and it worked out well for me, you know, because I scored 156 out of a possible 160 points.
What was the biggest difference between this dynasty and a redraft format such as RCL?
Good question buddy! To reference the settings, this is a 16 team, 23 positions, 7 bench, 10 minor leaguers, bi-weekly waivers FAAB league. In an RCL, the two major factors for success are time and maximizing innings and at bats via rosterbating. In this format it heavily weighs on draft day roster construction and with the extra bench spots you are essentially creating your streamers. Your bench spots should be divided to a minimum of zero and a maximum of two bench bats and the rest of your bench is all starting pitching. As I would evaluate the free agents, I found you need to be more careful when it comes to paying for a hot bat or arm. You can run out of money pretty quickly playing that game. To put is as simply as possible, this format leans towards foresight over frequency.
How did you use your farm system to help you win?
Since I played to win this year, I didn't heavily invest in long term rookies on draft day because their price tag was either too high or not worth what they had shown so far. Instead I went after possibly relevant "this year" guys (Alex Guerrero and Marco Gonzales) instead of unproven above AA players. As I got into the season I added currently rising/almost MLB ready players like Grichuk, Ray and Ross. I never got married to that trio and instead viewed them as trade chips to plug the holes on my team as my end goal was winning this year. It paid off as I parlayed them into better players to fill out my team. I think I over payed for Tim Cooney but who knows, if he develops into a solid number three or four starter for the Cardinals then I got my money's worth. I love how they develop pitchers of all ages in that organization.
Give us your thoughts on trading in this format…
It's like crack mixed with red bull while having temporary amnesia. Maybe it was this group or maybe this is how it goes in dynasty but the trade partners were either hell bent on upgrading in the draft room next year or insanely greedy in their evaluation of theirs vs. your players. I didn't worry about next year's draft because with the age and talent I had assembled I wasn't concerned about my team being uncompetitive next year. My favorite trade was obtaining Kang. I was fortunate to get him right as he was getting comfortable playing every day in the bigs.
What was your FAAB strategy?
I was very conservative at first as I tried to figure out how this all works, then I saw what you paid for Grilli and realized I wasn't in Kansas any more. My top priority was finding players that might be MLB contributers this season and knew that if I got to them early then I could get them for nothing. I always paid close attention to when MLB starters would get injured because some teams will call up their closest to MLB ready arm. Please dont confuse that with best arm because they are completely different animals. When we did the slow draft, I noticed in the thousands of postings that I evaluate players vastly different than many of my competitors. I kept a lot of that in the back of my head as I would factor that in to my estimates for obtaining a player. I also targeted players that I could land for nothing or next to nothing based on previous bias….thank you Yunel Escobar! Speaking of Escobar, if I was looking for a bat I wanted multi-position flexibility when I could.
Give me one "do" and one "don't" for a new dynasty player based on your experience this year…
My "do" would be to really think about your roster construction before and during your draft. The un-sexy players (small distance between floor and ceiling) will keep your team more stable than the unpredictable upside plays (large distance between floor and ceiling). Who they could be doesn't do you any good while they go through their learning curve. My "don't" would be to play too many years ahead. Find that balance and don't be afraid of who someone else might draft and instead be focused on how you can put yourself in the best position to be competitive now and later. Most my higher picks were 28 or younger and had an element of upside to them. One pick I never bring up is Buster Posey and I want to share the thought process behind the pick. He is that unique catcher that gets enough reps at first base because the Giants want to keep his bat in the lineup. Eventually he will be their first baseman and his profile suggests a player that will age well and play a long time at a premium position.
Here's J-FOH's final roster…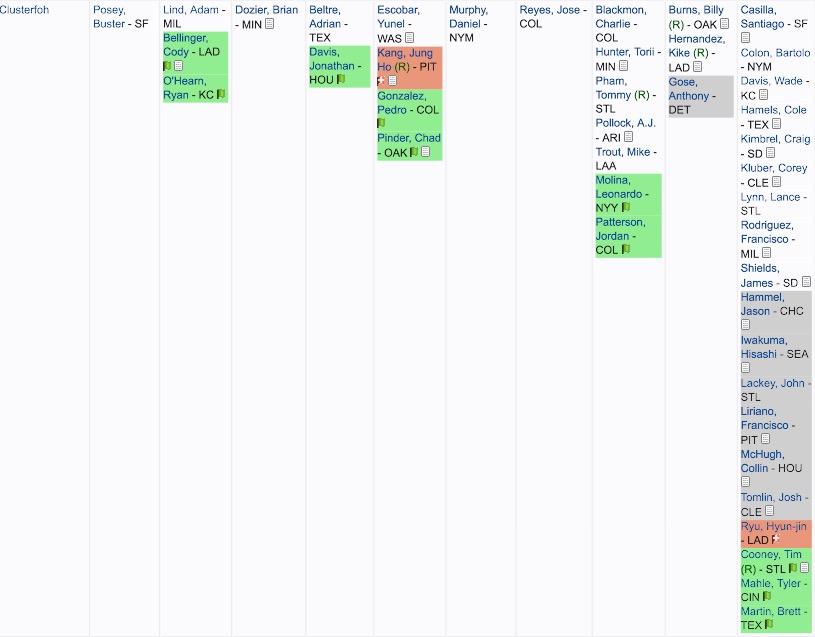 Thanks J-FOH, and thanks to all the Razznasty owners for a great year!