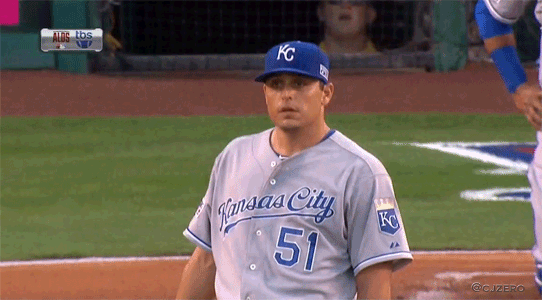 In a week where Clayton Kershaw is slated for two starts (pour one out for that first one. It should have been another epic matchup of Madison Bumgarner against King Kershaw, but alas…dirt bikes. Ugh!), the pitcher drawing the most attention, or at least the most reaction like the one above, is from none of other than the guy doing the reaction above! It's like those Gronk wearing a shirt of Edelman, wearing a shirt of Gronk, wearing a shirt of Edelman things. You'll get through this. I promise. And no more mention of anything Boston in this post. You have my word. (Still butt hurt about the Super Bowl. Always will be.)
Now, back to the matters at hand. Jason Vargas. Jason freaking Vargas. I was in an AL-Only auction at the end of March. $270 budget, 33 roster spots, 10 teams. Jason Vargas? Thrown out around #300 and went for a cool $2. I mean, who in the I want to cuss right now ever saw this coming? Certainly not ol' Vargas himself. Why? Because this version of Vargas, the 34 year-old version, is every bit the same version as last 11 years who never held a K/9 north of 7 when pitching more than 12 IP in a year. And yet, here we are in Week 4 and Vargas is the ever-deserving candidate to be highlighted leading into this week, joining the echelon previously only befitted by Kershaw and MadBum.
Paul Sporer at FanGraphs said, "Jason Vargas is pitching out of his mind right now…His velocity has always been underwhelming (~86-88 mph) and it's on the low end this year at 86.6. Vargas is using essentially the same pitch mix, too…I don't really know what to make of this." It's a fascinating article that shines some light on the deeper stats of Jason's breakout. Go nerd out for a bit after you finish here, because somewhere between his last healthy season in 2014 and now a beast has emerged. An 87 MPH beast. Can it last? Let's hope it continues for at least his next two!
(For the record, I nailed the Eric Thames Top 100 and Andrew Triggs Two-Starts highlights last week. That probably means Vargas implodes this week, haha.)
Pitchers are listed in order by rank. Colors represent 8 toughest or 8 easiest opponents according to team wOBA for last 14 days.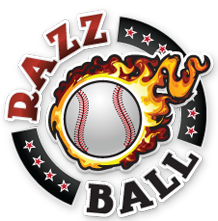 THE BEST

THE REPLICAS

THE STANDARDS
Player
Opponents
ERA/FIP
K9/BB9
Julio Teheran ATL
@NYM,

@MIL

3.52/4.16
7.04/4.30
Joe Ross WAS
@COL, NYM
3.86/3.18
9.00/1.26
Wade Miley BAL

TB

,

@NYY

1.89/3.16
11.37/3.79
Marco Estrada TOR

@STL

,

TB

2.63/3.77
9.00/3.38
Chad Kuhl PIT

CHC

, @MIA
2.60/2.84
7.27/3.63
Rick Porcello BOS

NYY

,

CHC

5.32/4.33
8.75/1.90
Matt Shoemaker LAA
OAK,

@TEX

4.98/6.26
7.89/3.74
Robert Gsellman NYM

ATL

,

@WAS

5.09/3.46
10.19/3.06
Patrick Corbin ARI
SD,

COL

3.27/3.80
6.14/2.86
Miguel Gonzalez CHW

KC

, @DET
2.84/3.79
7.11/3.32
Wei-Yin Chen MIA
@PHI, PIT
3.94/4.02
5.63/1.69
THE KNOCKOFFS

THE 

Player
Opponents
ERA/FIP
K9/BB9
Jordan Zimmermann DET
SEA,

CHW

5.94/3.92
5.40/3.78
Phil Hughes MIN

@TEX

,

@KC

5.40/4.63
6.60/1.80
Brett Anderson CHC
@PIT, BOS
4.40/3.31
6.91/3.14
Jhoulys Chacin SD

@ARI

,

@SF

4.70/3.90
5.87/3.13
Ricky Nolasco LAA

TOR

,

@TEX

4.76/5.81
6.75/1.19
Ubaldo Jimenez BAL

TB

,

@NYY

5.51/5.47
4.96/3.86
Josh Tomlin CLE

HOU

, SEA
11.68/4.44
5.84/1.46
Ty Blach SF
LAD, SD
4.76/4.31
3.18/4.76
Tyler Anderson COL

WAS

,

@ARI

7.32/5.54
7.78/3.20
Matt Cain SF
LAD, SD
3.31/5.28
6.61/4.41
Tommy Milone MIL
CIN,

ATL

5.63/4.02
6.75/0.56
Martin Perez TEX
MIN, LAA
3.60/4.40
7.20/5.40
Dylan Covey CHW

KC

, @DET
7.84/7.73
1.74/4.35
All pitchers are projected for two-starts as of Friday night.
Good luck in Week 4! Keep checking back for your weekly lineup needs. Oh, and don't be afraid to ask your questions. On life. On pitchers. On ranks. On…well, just…
DROP THOSE COMMENTS!
Follow [email protected] on Twitter at @matthayes for far more than just fantasy advice.