I awoke on Monday, still discombobulated by the fact that some individuals decided that it would be a good idea to shorten our existence on Earth by one hour, when… But Son, we get that hour back later in the year. Que? Talk about a frivolous thing to concoct. I'd rather listen to my wife talk in circles about some thing that she often talks about than try to understand why we need to do this. But…I try and leave no stone unturned, so like a good little grasshopper, I Googled why we have Daylight Savings. Mmm hmmm. Yeah. I see…..Still cockamamie. Anyways, as I was saying before I rudely interrupted myself, I received THE Razzball Son signal. If you don't know what that is, just click here. No more discombobulation. If you've ever taken Ritalin, that's what happened to my mind. If you've never taken Ritalin, do it. The mind just warps into a state of Zen-like focus.
So, Grey writes "Yo, Son. Write something on Tim Anderson." Why I ask? Grey's response…
"And while you're at it, do something on Tyler Saladino." I pondered why…
Then it hit me. The mustache. If Grey kept Saladino's player page open any longer, the CSI cleanup unit would've had to have been called in. Actually, the mere act of typing his name would've made him erupt like…
Oh, there's also that whole Brett Lawrie getting released on March 3rd thing that would open up a spot at 2B, which Saladino has a good chance of capturing.
Let me start with Anderson. In 431 plate appearances last year, he had a swinging strike rate of 14.7% and a contact rate of 70.7%. He walked 3% of the time. 3%!!! You know who also walked 3% last year? Grey's love child, Rougned Odor. Grey be loving those hackers, which means he probably loves the Chinese and Russians, which means that he's probably a Commie!!! USA! USA! Ok, that joke is probably not a good one to be using in this current environment. Oh, did I forget to mention that he struck out 27% of the time? Now, I get it. He could go 10/20 and has appeal if he hits second in the order. As Grey wrote, the White Sox are going to be terrible, so they are probably going to run a ton in order to manufacture offense. The acquisition cost is also very low. I usually shy away from the low-walk, low-contact guys, but if you need some power/speed guys later in the draft, Anderson is a decent option.
Now to the Mustache Man, Tyler Saladino. He's a low-walk, high-contact guy. Swinging strike rate was 7% with a contact rate of 84%. He only walked 4% last year, but struck out only 19% of the time in 319 plate appearances last season. He doesn't have as much power and speed as Anderson, but could also go 10/20. The one aspect of Saladino that makes him sexy, besides his facial hair, is his versatility. He can play every position, even catcher. He's currently eligible at 2B and SS, but there's an "asteroid-hitting-Earth" chance that he gets more. Hey, talk to an old dinosaur about that happening. Oh wait, they are all dead from….an asteroid hitting Earth. I'll parse over the fact that you probably couldn't talk to one anyway.
Now, for the wild card in the equation….Yoan Moncada. What if he tears up the minors? It's within the range of outcomes that he does get called up to the majors sometime this year. All indications have him playing second base, which would bump Saladino down to a super-utility role. But, what if Anderson struggles? In that scenario, Moncado would play second and Saladino could play short. Anderson? The bench or minors.
While Anderson does have a little more upside, Saladino is not far behind and possesses a better hit profile. In addition, the multi-position eligibility is a bonus. This is probably Grey right now….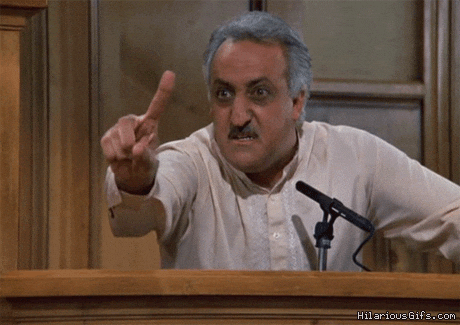 Son. Out.