I'm participating in one NL-only and one AL-only league this  year.  I already covered the AL-only draft – this post covers the NL-only one.
This 12 team NL expert league is hosted by our friends over at KFFL – named, of course, after the Kentucky Flag Football League that won $1 in an  antitrust suit with the NFL when the judge realized that a game in which Derby jockeys play with a football coated in the Colonel's finger-licking grease is awesome.
Participants include a couple of KFFL folks including Nick Minnix whom I competed against last year in an NL-only league, RJ White of AOL Fanhouse whom I know fr0m Fantasy Razzball the past 2 years,  the Fantasy Baseball Sherpa who seems to be in every league I participate in, and representatives from MLB.com, USA Today, and RotoWire.
This 12 team NL-only draft – and league for that matter – isn't nearly as difficult as my AL-only league.  Why?  Glad I asked.  Two reasons:
The two extra teams in the NL means 16 more starting hitters, 10 SPs, 2 closers….so huge.
This league has 1 catcher (vs. 2), no MI/CI and only 4 OF (vs. 5).  The smaller rosters means that the FA/waiver wire includes weak starting position players and some platooned players where my AL-only has absolute bupkus.
Another difference from a standard NL-draft is this was a snake draft vs. auction draft.  I would've preferred an auction but at least the snake draft format ensures I'll get two top 20 players (I usually get outbid in auction leagues on these guys).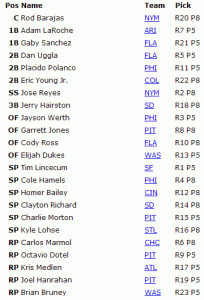 For full draft results, click here.
I drew the 5th pick in the draft and went in the draft with a preranked top 5 of Pujols, Hanley, Braun, Utley, and Lincecum.  I was really hoping one of those top 4 would make it my way as I NEVER end up with these guys but no dice.  I liked both Fielder and Howard but felt that the lack of a CI would mean I could get a solid 1B later in the draft (see LaRoche in the 7th round).
Offense:
Given I only invested 3 of my first 6 picks on offense and only one of my first 4 picks has even 25+ HR power (Werth), you would think my offense would be below average.  But I think it's deceptively strong.  The league seemed to overvalue AVG and I was able to get productive hitters throughout the draft like Dan Uggla (Round 5), Adam LaRoche (7), Garrett Jones (8), Cody Ross (10), and Polanco (11 – who'll be my 3B once he gets eligibility).  With Reyes (a potential steal at #20), Werth, and a stashed-away Eric Young Jr., my SBs have above-average potential.  So the offense has its risks – some of which have already exploded in my face (friggin' Dukes) – but I think it has 40-45 points (average is 32).
Pitching:
My team is built to be above-average in all 5 pitching categories.  Love Lincecum and thought I got fantastic value in landing Hamels with the 44th pick in an NL-draft.  After picking those two, I snagged 2 closers (Marmol and Dotel) that, assuming health and relative success, should be plenty since the average team only has 1 closer.  With a strong ERA/WHIP base, I then focused on SP depth to help with Wins and Ks.  I think Homer Bailey and Charlie Morton have nice K upside while Kyle Lohse and hodgepadre Clayton Richard can hopefully contribute some Wins and Ks with close to league-average ERA/WHIP.  I was also psyched to pick up Kris Medlen in the 17th round as his K rate is fantastic as a reliever (more than 1 an inning) and will be a solid starter if moved out of the 'pen.  My goal is to get at least 45 points out of my staff and possible 50+ (averaging 3rd across all 5 categories).
Overall:
I like my team's chances.  You can't win a league on draft day but you can lose one.  And I definitely didn't do that…