Happy 2019 everyone. It seems like like just last year it was 2018. How time flies.
As most of you know, my 2019 fantasy baseball projections (collaboration with Steamer) and rankings went up about a week ago. You can use the top menu (Player Rater and Projections) to access that or use the link earlier in this paragraph to access all the Razzball rankings pages. These will be updated all the way up to opening day. I stop then because it gets progressively easier after that date and I like a challenge. I prefer to focus on Rest of Season projections at that point.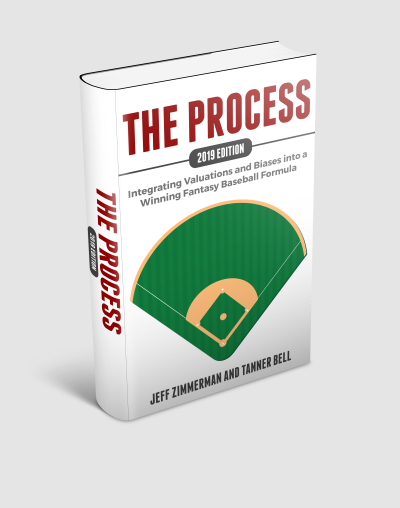 Two industry colleagues of mine – Jeff Zimmerman and Tanner Bell – wrote a fantasy baseball e-book in the offseason called The Process and were nice/smart/foolish enough to ask me to read it before they saved it to PDF. I liked it enough to write a blurb. You would think Grey would have asked me to write a blurb for one of his e-books but he deemed it redundant since we both outsource most of our content to the same farm of 13-year old boys working out of a Dubai business park. Now show me your ankles!
Jeff and Tanner's book focuses on something near and dear to me – formulating a process to improve one's season-long fantasy baseball performance.
I am a firm believer in process. It is what I do. All the Razzball projections, player pages, etc. are just a series of processes. While there are parts to my process that are germane to being a blog co-owner (e.g., running projected values for way more formats than I play), their book did get me to think about the common denominator between the processes I use for the tools, for my teams, and my guidance for how our readers should run their teams.
Here are some vaguely organized thoughts on the book and my own process:
You should read the book. I think it will help most of you. Even if it just inspires you to improve one or two parts of your 'game', it will be well-worth the price.
Preseason Projections – There is some good info on this. That said, I am going to pour some ice water on it. My advice – figure out what parts in the player projection process, if any, that increase your chances of winning. I will say this once but it applies to every part of your process – you are either adding value or adding work. Former>latter. Once you identify a step that you are going to repeat in the future, figure out a way to streamline it. My POV is that building your own projections is a bad ROI. It takes a ton of work and you have less underlying data at your disposal than others who publish it. Lest you think this is my ego and self-interest talking, it is worth noting that I began collaborating with Steamer at the beginning of this decade because I surmised they were better at estimating underlying rates for players (e.g., HR per Plate Appearance) than I ever could be. I determined the value I add is in playing time projections. As Steamer got more sophisticated (notably, hitter projected splits against RHP and LHP), my process got more sophisticated to leverage this data. Either through necessity or opportunity, I also supplemented context-based (vs 100% skill-based) stats like Saves, Holds, and Quality Starts and started projecting my own Runs and RBIs since I was building my own projected lineup distributions for players (note: Most volume stats can be adjusted up/down based on PAs but R/RBI are different as their projection varies depending upon lineup. It is an example why those adjusting projections at home are at a disadvantage.) I could not justify this work (nor afford the underlying Steamer stats) if it were not for Razzball. Now one area I can get behind if you have the time is trying to hunt down the player projection anomalies – guys who the projections are more likely to get wrong for some reason like previous season injuries, change in plate approach, etc.
Player Rankings/Values – Jeff and Tanner wrote a solid overview of the SGP (Standings Gain Points) methodology that predates the methodology I developed for our Player Raters  (aka Point Shares). I would say my methodology is like a cousin of SGPs. I like mine better but I am not publishing my code so this is the closest thing to a cheat code if you were looking to build your own. This is clearly an area where I feel I add value. Whether this is an area where you should invest your time, I would lean towards no unless you play in a league with an odd format.
Draft Prep/Strategy – This is one of two areas (see #6) where I have had the most personal improvement in recent years and recommend investing more time. There is a whole section on "Draft and Auction Strategy" and I am sure there is at least some advice here that will inspire you to make some improvements. Like with player valuation methodologies, this does not necessarily lay out how I attack a draft but follows similar philosophies. One major advantage I have learned about draft prep is that if you mock draft enough (or, in my case, use ADP to identify likely draft scenarios), you can anticipate the handful of tough decisions caused by your projections/rankings and answer those pre-draft instead of while on the clock. You will also be able to identify any systemic issues in your rankings / preferences and adjust accordingly – e.g., are you too hitter vs pitcher heavy?, did you draft enough speed?
Draft War Rooms – If you have Excel skills, I recommend building your own War Room vs a program to customize it to your tastes. Unfortunately, no step by step instructions in the book on building your own War Room. A bit surprising since Tanner lives/breathes Excel. If you do not have the Excel skils, better to use one than not (note: we have a free war room on the site that will be updated after Grey finishes his preseason rankings). I think the main keys to an effective draft war room are: a) You are keeping track in the draft how your team is shaping up across each category (I prefer using my $ vs adding up stat projections as it puts all categories on the same metric but to each their own), b) You do not waste time on how other teams are doing from a stat perspective (just mark guys as drafted), and c) You have some ADP in there to make sure you are not reaching on players.
In-Season Strategy – Streamonator and Hittertron are obviously key to my in-season strategy. Jeff and Tanner share some solid in-season management advice. Again, it is about the process. While I have used the Razzball tools for years, I found building a process for weekly FAAB bidding a couple years ago led to marked improvement. If I had begun my current process in 2015 vs 2017, I feel I would be the 4-time defending ToutWars Mixed Draft champ (I won 2017/2018, 2nd in 2015/2016). My philosophy is to ABF – Always be FAABing. You try to find little improvements every week. My goal is to get players on the cheap 1-2 weeks before they become must gets. Sometimes this involves some luck – e.g,. I did not know Whit Merrifield would have an amazing 2H 2017 when I got him for $1. It all started with a good matchup week and my current guy at MI was weak. As for leagues with daily roster changes, I think playing a season in our Razzball Commenter Leagues is the best education you will get in that format and using Streamonator/Hittertron are table stakes.