Looking for the Razzball Podcast? TOO BAD! It's now Razzball Radio, and you can check out all the episodes here!
Welcome to another weekly recap of your Razzball Commenter Leagues. I'm Jay, your host. Also, I'm known as Admiral Obvious, since my intro basically promoted me from Captain. Questions remain though, like, for instance, what kind of hat should I wear? Also, do I still have a ship? Or is this, like, an armada situation? More ships the better, but then, wait, what about all the decisions after that? Do I want pirate ships? Or maybe aircraft carriers? Wait a sec… I should get a aircraft pirate carrier full of parrots, swashbucklers, rail-guns, and Somali's. Wait, that doesn't sound as cool as I thought it would. And I might have just described the plot of Captain Phillips. So yeah. What were we talking about again? Oh, right, RCL's. Let's just get to this week's theme, and that's trades. More specifically, this is pretty much a lede that allows me to talk about some of the interesting trade offers I've received in my 10 RCL's. And apparently, also to talk about pirates on aircraft carriers. I love this job.
The RCL Top 10
Why the top-10? Because they're the top-10 teams out of 1,000+? And that's pretty amazing? I'm Ron Burgundy? Simply put, they're the best of the best of the best, and I think they deserve a little bit recognition. BUT NOT TOO MUCH. Just a taste.
The RCL Round-Up
So while this focus' primarily on my teams, and my leagues (which still encompasses 90 different people, which seems cool when you think about it. Like I should start my own religion, because tax breaks bro), I want you to be involved as well. If there's something 'trade-wise' you'd like to share, go forth and use the comment section. In the mean time, here are some offers I've received, and while I will keep the other team's identity private for the sake of the fact that it's never wise to tough-talk your own readership, I will say that some of these offers are… fascinating? Yeah, fascinating. Perfect descriptor.
My Jose Abreu for their David Price — This was May 7th, and even if you offered me this today, I don't see how you could do it. Don't get me wrong, I like Price, and I think he's going to regress as the season moves along, but, sans the DL stint, Abreu has been a top-10 hitter, arguably top-5. I just don't see any reason to sell at this Price. HAHA, get it? You knew it was coming.
My Jose Abreu for their Hisashi Iwakuma — I kinda get it. Based on the offer above, I'm sure non-Abreu owners are hoping that there's perhaps some doubt in Abreu's skill-set. Even then, anything less than a top-15 pitcher seems unbalanced…
My Giancarlo Stanton for their Andre Ethier and Jered Weaver — LOL.
My Giancarlo Stanton and Koji Uehara for their Nick Markakis, Buster Posey, Junichi Tazawa, and Jon Lester — Ah, yes, the beauty of the chump dump. The strange thing is, at first, you're like, eh, that's not that bad of an offer. Until you realize you could easily drop Markakis and Tazawa and pick them back up a week later. So it comes down to Lester and Posey, which shouldn't be enough to land Stanton without Uehara, much less with him.
My Chris Davis for their Jon Lester — Again, this is a good thing to try and do, sell-high, buy-low. Always encouraged. But you just can't do this if you own Davis. Obviously, their seasons's so far have been diametrically opposed, but it's still not close for me.
My Giancarlo Stanton for their David Price — Nope.
What are some of the RCL trade offers you've see out there? TELL ME EVERYTHING.
The RCL #1
The RCL #1, which sounds like a RCL made for 2001: Space Odyssey (Grey notified me that RCL #1 isn't related to a space shuttle, but is meant to be said like The Iron Sheik.  RCL #1! RCL #1! RCL #1!), is the Friends & Family league that Grey created so we could all be his fantasy baseball punching bags. Actually, maybe not so much punching bags as mustache combs. Seems more Grey-ish to me.
Regardless, this league stars myself, Rudy, Tehol the Elder God, Prospector Scott, Paul, the Sing(ing)man, Nick the Podcast Host, and Sky… err, the Blue? We need to find you a better title buddy. But that's us, that's the family. Which, I can assure you, I'm already filing paperwork to gain emancipation. The friends are Dalton Del Don from Yahoo, Brad Johnson from FanGraphs, Ryan Carey of Mastersball, and Tim McLeod of RotoRob.
The Standings: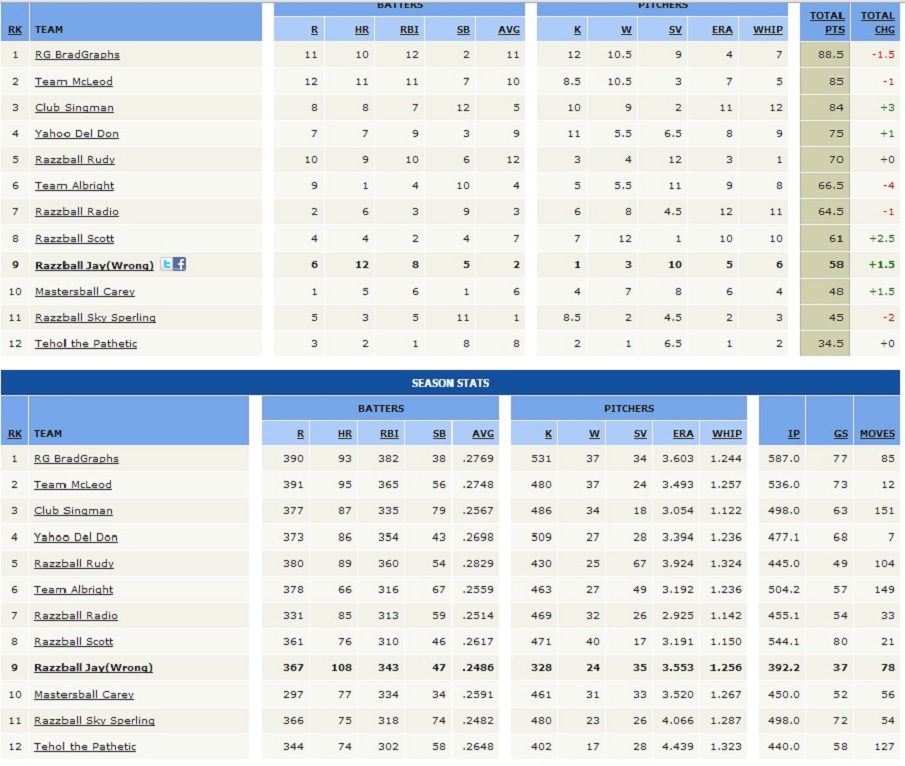 Want more of the Jay? Don't we all folks? Don't. We. All. Well, you, in fact, can have more. AMAZING. I know. You can find Jay enjoying his new dig's running the Football side of Razz.