It was quite the week for trading in the Razzball Commenter Leagues this week as we saw 16 trades completed, several of which caused some commotion and consternation.  Those 16 trades don't include the several vetoed trades (looking at you Cougs R Us) nor the few trades that were accepted Sunday but won't be processed until Monday.   Those will be included in next week's data.
Mike Maher and myself got the party kicked off last Tuesday morning, a couple hours before last week's update hit.  You may have seen last week's comments filled with talk of Bryce Harper.  In the deal I sent Mike Ryan Braun ($19.0), Miguel Sano ($18.7), Dallas Keuchel ($16.0) and Travis Shaw (-$10.2).  In return I received Bryce Harper ($38.0) and Carlos Santana ($20.0).  Those values in parentheses are the Rudy/Steamer Rest Of Season values as of Monday afternoon.  That comes out to (ignoring Travis Shaw, who was a throw in) $53.7 for Mike and $58.0 for myself.  At the time of the trade Ryan Braun wasn't on the DL yet so his value was a bit higher.  This also doesn't take into account the lineup flexibility I gain from the deal.  For example, I was able to add Alex Wood, who could end up being this year's Dallas Keuchel circa 2015 if the Dodgers don't yank his chain too much as well as a streaming spot for hitter/RP/streaming starter.  Grey was chirping and the consensus was that I had ripped off poor Mr. Maher.  In fact, Tehol posted two days AFTER the trade processed that the league should "do the right thing" and veto the deal.  This led Mike (who you should totally follow on Twitter – @mikeMaher) to break out the following Twitter Poll.  Only 4 out of 20 of Mike's Twitter followers seemed to think I won that deal, with one Twitterer going on to say it wasn't even close (which Mike agreed).  So, what does the rest of Razzball nation have to say about this deal?  I hate to make the entire lede about a deal that involved my team, so let's bring this back to trades in general.  I'm entirely anti-veto.  Unless there's money on the line and something can be proven that two parties are conspiring with one another to win a league and split the prize, I say let the deal stand.  In general, these RCLs are filled with people who don't really know each other, just like a public league on any other site.  The only thing most of us have in common is reading Razzball.  Bryce Harper could snap any number of tendons tomorrow and then I'm left standing in the rain, cold and sad.  Managers evaluate talent differently, what you view as a good deal, I might not.  It's your team though, so you do you, I'll do me and we'll ridicule your trade in the court of public opinion in the comments below.
Each week we'll peek in at our resident 'perts to see who is laying claim to best "expert" RCLer in the land.  We'll take notes, check the standings and generally stalk them.  The heading is also hyperlink, so feel free to follow along as we go.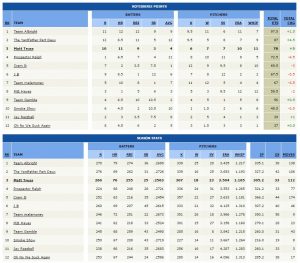 Just call Grey butter because he's on a ROLL!  A week after leading the league in points gained with 17, Grey does it again with a 19 point gain.  He can't be stopped.  Last week Grey finished 3rd in the TOW standings, this week, as an encore, he finished 10th.  Team Albright only hit 9 HRs, but his team scored 59 Runs, hit .298 and pitched 61 innings of 2.07 ERA while garnering 7 wins.  Streams of Jeff Samardzija, Jake Odorizzi, Trevor Cahill and Kenta Maeda helped boost starts by Cueto, Shoemaker and McCullers for another impressive week.  All this makes week 3 and Grey's 57 points seem like ancient history.  40.5 points and a move from 9th to 1st in just 3 weeks is the stuff of legends.  
On the flip side, Ralph was the biggest loser this week, dropping 15.5 points and falling from his first place perch, all the way to 4th.
TOP 10
For those too lazy to check the MASTER STANDINGS, I present to you, the current top 10
Another week passes and still the robotic duo of Rudy is Snooty and Grey is Bae remain atop the Master Standings.  I must say, the roboteams are amazingly consistent, if only their league's LCIs were higher.
Pancake Riot jumps one spot this week to third overall as Team Craig slips to 7th.
Returning Champ (where did he ever go?) checks into the top 10 this week, up from 17th last week.
Rakers Nation (aka Mad Beach Bums) represents those leagues with high LCIs as his squad uses every bit of that 104 LCI to move from 7th to 5th.
Three newcomers to the top 10 finish out the list with High on Semien (13th last week), Hollywood Knights (29th last week) and Team Dingerz (15th last week) checking in as Grey is Fae, Vottoman Empire and 70 MACH 1 check out.
Cram It still lurks in 11th overall for the second straight week.
TRADES
All the trades that have gone down in the past week.  Public ridicule is not only allowed, but encouraged.
As I alluded to above, some funky stuff is going down in Cougs R Us.  It seems some trades gone sour have really thrown a wrench into what is perennially one of the top 5-10 RCLs.  Trades got vetoed, team names were changed to things like "Don't Have To Cheat" and "Legal Roster" and there is a lot of bad vibes being thrown around on the message board.  Hopefully cooler heads prevail, but it's a damn shame considering this is also one of the money RCLs in addition to the 105 LCI I mentioned above.
Something Clever 'n Funny got burned bad, trading for a world class closer, only to lose him for at least a month just 3 days later…ouch.
One Eff Jef and Grimey completed a nice little trade.
As did Rudy and Tehol.  In fact, on the ROS Player Rater Desmond is valued at $19 and Billy Hamilton is valued at $18.9.  Still, I'd much rather have Desmond there.
WEEKLY LEADERS
The best of the best from the week that was.
R – 63 – LA Royals (Viz Versus The Commenters)
HR –21 – MPH MPH (The Humidor)
RBIs – 69 – MPH MPH (The Humidor)
SB – 15 – Team Ticky (Beddict Believers), Poison Control (Take on the Jay 2) & All Is Number (My Nightly Fantasy)
AVG – .358 – B.J. and The Bears (We're All Winners)
K – 100 – Calgary Cannons (My Nightly Fantasy )
W – 9 – Team Murakami (EuroRazzball2017) & Benintendi'd Consequences (The Giant and the Jew)
SV –  12 – Each hit And I (The Camp Fire) & Big Chuck Machine (Keepin it Real)
ERA (Min. 40 IP) – 1.20 – Florida IBWIP (Prospector Ralph's Cavern) (in 52.1 IP)
WHIP (Min. 40 IP) – 0.78 – BackBroke Valley (Jay's here until Football Starts) (in 46 IP)
Nine wins tied this year's weekly record.  Three teams now share this honor.  
It was a big week for MPH MPH, leading both HR and RBIs.  They finished the week second in TOW honors.  Had their pitching been a hair better, they'd have taken the prize.  Better luck next week!
Calgary Cannons is still doing Calgary Cannons things, leading the RCLs in Ks for the 2nd time in 6 weeks.
TEAM OF THE WEEK
Our weekly shout out to the team that killed it the previous week.
Team: B.J. and The Bears
League: We're All Winners Standings
Stats:   H/AB: 100/279, AVG: .358, R: 54, HR: 19, RBI: 56, SB: 5
IP: 72.1, ERA: 2.86, WHIP: 1.30, K: 69, W: 7, SV: 4
Summary: I can't see this team name without breaking into "Benny and the Jets" for some reason.  B.J. and the Bears are doing their best to take down one of the members of the robot army, Rudy is Booty.  With the stellar week they now sit a mere 5.5 points behind the bot.  Big weeks from Keon Broxton, Michael Conforto, Buster Posey, Joey Votto and Bryce Harper helped lead the way as did some quality innings from Marcus Stroman, Dallas Keuchel, Joe Biagini, Zack Greinke, John Lackey and Gerrit Cole.  The Bears are sitting with 90.5 standings despite a "1" in stolen bases.  Get this squad some steals and that robot will be shaking in it's software.  Good luck and deity-of-choice-speed in your battle against the machine.
Want to be Matt's Twitter pal?  That's kinda creepy, but you can follow him here: @MattTruss