As the air starts to turn a bit cooler, the calendar flips to September and a large group of fantasy baseballers turn their attention to fantasy football.  There are only five weeks left in the fantasy baseball season but what an important five weeks they are.  As the rest of your league checks out to go play the fantasy sport that requires only one day of roster setting (or as I like to refer to it, chess vs. checkers) the true competitors remain to grind it out for Razzball Commenter Leagues glory.  Cram It remains atop the Master Standings, but his lead got a little slimmer this week, down to 1 point from 1.5 last week.  Returning Champ is making their presence felt.  A couple of Cram's biggest competitors took a tumble this week, but a lone bot has picked up the slack.  We'll take a look this week at the year long RCL records and what teams have a shot at setting new ones.  Does your team have a shot at the RCL record books?  Find out this and more in the week that was, week 21:
The Razzball Commenter Leagues for Fantasy Football are now open! Take on your favorite writers and other readers of the site for a chance at prizes!
Each week we'll peek in at our resident 'perts to see who is laying claim to best "expert" RCLer in the land.  We'll take notes, check the standings and generally stalk them.  The heading is also hyperlink, so feel free to follow along as we go.
The Master Standings show Grey and Ralph in a dead heat with 100 points each.  However, that data pull was before Sunday night's events transpired and Grey took a 3 point loss.  Things sit at 99.5 to 97 in favor of Ralph at the moment.  It should be noted that Ralph will be getting Kershaw back this week as well.  There are an easy 2 points to be gained in WHIP for Ralph that could create some more space between him and Grey.  Don't sleep on Cram It here either.  After gaining 4.5 points last week, Cram added 7.5 this week to pull into the 90s, 90.5 to be exact.  Cram's been on fire the past few weeks thanks in large part to Byron Buxton, who's tires I would enjoy slashing.  I held Byron for 2.5 months, I believed in Byron and this is how he repays me?  In the 2.5 months I owned Buxton I got 2 HRs, 9 SBs, and a sub .200 batting average.  In the 7 weeks Cram has owned Buxton he's provided 8 HRs, 8 SBs and a .300+ batting average.  I hope he sits on a tack, or better yet, steps on a LEGO in the middle of the night!  He's dead to me.  Good for Cram though, really (#notbitter).
Cram was tied with [email protected] for the biggest point gain in the 'Perts League this week.  Jay, who has most definitely moved on to football (BTW – Go sign up for a Football RCL, or better yet, sign up to be a commish.  Us RCLers need to stick together.  Besides, Jay is giving away Tees like his name is Kenneth Cashman over there. [Promo Code: SAGNOF or RAZZBLITZ] /endshill) had the biggest drop of the week with 5 points, followed by me with 4.5.  Bryce Harper cannot get healthy fast enough.
TOP 10
For those too lazy to check the MASTER STANDINGS, I present to you, the current top 10
As mentioned in the opening it's Cram and Returning Champ once again on the 1s and 2s.  
Jumping up from 6th this week is Team Studer in 3rd place and moving from 5th to 4th is Rudy is Snooty.  Each team jumped over last week's 3rd and 4th place teams, Team Albright (5th) and Vottoman Empire (13th).  Grey and Vottoman each stumbled this week and each fell to second in their respective leagues.
Prospector Ralph moves up one spot from 7th to 6th and is right on Grey's heels (though he's actually ahead of him at the moment).
Gomes' Gnomes moves from 10th to 7th this week and the Mount Fupa Squat Cobblers move back into the top 10 after a three week hiatus and into 8th place overall.
It's been my goal all season to get a team in the top 10 and I finally made it.  My previous high water mark was 13th.  I'll look to stick around and hold off Vottoman Empire as we battle it out in DFSers Anonymous.  I have a feeling that league is coming down to the final week.
Finally, rounding out the top 10 is Hollywood Knights.  The knights took two weeks off, but are back in the top 10 this week.
WEEKLY LEADERS
The best of the best from the week that was.
R – 64 – Rudy is Snooty (Take on [email protected] 3)
HR –28 – Lindor Truffle Shuffle (Take on the Jay)
RBIs – 73 – Up North (Take on the Jay 5)
SB – 14 – 3 Teams Tied
AVG – .383 – Gang Gang (Take On [email protected] 1)
K – 112 – Grey is Bae (Sons of Beddict)
W – 10 – El Macho Borracho (ECFBL)
SV –  19 – Florida IBWIP (Prospector Ralph's Cavern)
ERA (Min. 40 IP) – 0.99 – Team jones (Insert League Name Here) (in 54.1 IP)
WHIP (Min. 40 IP) – 0.75 – Gomes' Gnomes (Johnson's Ornithology E.O.D.) (in 62.2 IP)
Rudy is Snooty did the Bots proud this week, racking up the most runs thanks in part to maximizing those ABs.
Another week, another team hits 28 HRs.  We now have a 5 way tie for the weekly record.  Someone please hit 29 this week.  Sell out, go for the HR glory!
We have a new weekly record in batting average thanks to Gang Gang.  The Gang knocks out Team McClintock and their .374.
One week after adding their name to the weekly record book via the HR, Florida IBWIP rips the saves record away from the duo of robot teams, Grey is Fey and Grey is Bae.  All it took was a closer stable of Osuna, Knebel, Ramos, Rodney, Rivero, Greene and Treinen to get the job done.
YEARLY LEADERS
The best of the best from the year that has been.
Here is a list of the Yearly RCL Records, so we all know who we're chasing:
| | | | | |
| --- | --- | --- | --- | --- |
| CATEGORY | STATS | TEAM | LEAGUE | YEAR |
| R | 1283 | Backdoor Sliders 1 | FCL | 2016 |
| HR | 377 | Vinyl Ross | 2016 Shades of Grey | 2016 |
| RBI | 1213 | Vinyl Ross | 2016 Shades of Grey | 2016 |
| SB | 270 | MaxPlanck 1 | RCL European Division | 2014 |
| AVG | 0.297 | Team Thompson | Razzball Roto League | 2012 |
| K | 1801 | Rudy is Booty | Baba Booey | 2016 |
| W | 122 | Samuel Colt Debate Team | DFSers Anonymous | 2016 |
| SV | 250 | Colicky Fuddruckers | The Razzies Challenge | 2015 |
| ERA | 2.57 | John Boccabellas | The Downward Spiral | 2015 |
| WHIP | 1.001 | Anabolic Agents | Dr. Bosch's Anti-Agers | 2015 |
And here are how each category currently stands for 2017 along with the pace:
From the looks of things we are going to blow away the previous power records and Tehol is going to be in the RCL record books not once, but twice.
Rudy is Snooty is chasing last year's bot's strikeout record and looks to be coming in just short while another bot is chasing the saves record.  Collicky Fuddruckers is 100% human by the way.  Crazy how many saves he had despite that.
Something that may be interesting to only me, but there's something in the water in regards to chasing Wins in DFSers Anonymous.  I'm currently trying to run down MauledByPanda's record that he set in DFSers just last year.  Perhaps us DFS players know a thing or two about sniffing out those valuable Wins.  Or maybe it's just pure luck.
We aren't even coming close to touching the ERA and WHIP records.  Which makes sense when you think about ERAs in general this year.
TEAM OF THE WEEK
Our weekly shout out to the team that killed it the previous week.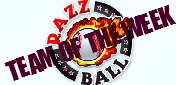 Team: The Sneetches
League: Razzers Not Brazzers
Stats:   H/AB: 96/364, AVG: .264, R: 52, HR: 21, RBI: 62, SB: 10
IP: 94.1, ERA: 2.48, WHIP: 0.93, K: 84, W: 6, SV: 14
Summary: I almost feel guilty about this one.  This league is almost entirely dead.  I'm pretty sure I'm the only one that's made a move in a month.  I was able to add Rhys Hoskins back when he only had 8 HRs and there's a plethora of offensive options in the free agent pool.  I am able to regularly stream the likes of Jeff Samardzija, Colin McHugh and Charlie Morton.  The only starter I actually own is Danny Salazar.  There are closers just floating out on the wire so when I'm not streaming starters, I can swap in for some saves.  It's really a drag.  Even with 108 league points the LCI is so low I have no shot at the top 20 overall, so I'll just ride this one out and accept a little TOW love from myself.  Self love baby!
Want to be Matt's Twitter pal?  That's kinda creepy, but you can follow him here: @MattTruss