I need to rant for a bit.  Can we, as a group, talk about how ridiculous it is that Anthony Rizzo is about to gain 2B eligibility in both ESPN and Y!?  He's already gained the eligibility in CBS, but who plays there anyway?  If you're not privy to this info, go check the "ELIGIBILITY" tab on your RCL team page if you're a Rizzo owner.  I've got Rizzo on a couple RCL teams and I even think this is beyond silly, so don't confuse this with being #notbitter.  This is more about how Joe Maddon is ruining fantasy baseball.  First it was batting Schwarber leadoff and Ben Zobrist at clean-up, now it's making Javier Baez cover first while Anthony Rizzo perches on the infield grass awaiting a bunt attempt.  This isn't playing second base, this is fielding a bunt while the second baseman covers first.  I hate every second of this.  Giving Rizzo second base eligibility is the equivalent of instant replay to me.  The game is simple, it's not meant to be scrutinized down to the last iota.  This seems like a classic case of, "use some common sense", but that's just me.  Don't get me wrong, I'll be putting Rizzo in my 2B slot here shortly, moving Odor to MI and throwing Whit Merrifield/Tim Anderson/Tim Beckham back into the FA waters, but I'm not going to be happy about it…OK, maybe a little.  I'm still allowed to think it's silly though.  It's going to be very strange looking through the RCL teams and seeing Rizzo sitting at 2B, but what an advantage that is for the lucky ones that drafted him.  Thanks for hearing me out, I look forward to chatting with everyone in the comments about this atrocity.  Now, here's what happened in the Razzball Commenter Leagues in the week that was, week 10:
Each week we'll peek in at our resident 'perts to see who is laying claim to best "expert" RCLer in the land.  We'll take notes, check the standings and generally stalk them.  The heading is also hyperlink, so feel free to follow along as we go.
Another week passes and despite missing out on Lewis Brinson, Grey remains in the catbird seat.  Let's face it though, if you're in a league with Prospector Ralph, you're not getting your mitts anywhere near Lewis Brinson.  Unlike Grey, I wasn't drinking wine and eating lobster claws on Saturday night.  I glanced at my phone at 6:05 PM EST and saw the callup note.  Prospector Ralph picked him up in all 5 leagues I'm in with him…at 6:02 PM EST.  My deity of choice man!  I thought losing out on Bellinger was bad, I'm making a two Ralph RCL minimum next year.  I don't have 100+ category points to fall back on like Grey does though.  He continues to run away with this thing and even crawled up into 7th in the Master Standings.  Quite the season so far for Mr. Albright.
This week was all about team Malamoney though.  Malamoney led the league in points gained (11.5) and standings positions gained (3) as he jumped from 9th to 6th.  Malamoney's squad went slam and legs crazy, knocking 18 HRs and swiping 11 bags all while hitting .333.  Not a shabby week at all.
On the negative side, Smokey gave back 6.5 of the 13.5 points he gained last week and slipped all the way back to 8th place.  Tough luck Smokey.  Also of note, Tehol posted a 6+ ERA for the second straight week (it was an 8.50 last week).  That's good for a 4.45 ERA on the year and dropping to dead last in ERA and WHIP in the league.
TOP 10
For those too lazy to check the MASTER STANDINGS, I present to you, the current top 10
The humans are really kicking it up a notch now.  Only one bot remains in the top 10 overall and Rakers Nation (frequent commenter, Mad Beach Bums) takes over the top spot.  Mad Beach Bums now has 112 league points in the Rio Ruiz Super League.  Those 112 points, coupled with the 105 LCI is enough to earn MBB the top spot.  The Swamp Donkeys are feeling the effects of the 99 LCI in Straight Cash Homie as their 110.5 league points only earns them a 4th place position.  Returning Champ jumps from 6th to 2nd this week as Cram It remains in the three hole.  Vottoman Empire turned their week of trades a couple weeks back into a jump from 12th to 5th overall.  I'd say those trades have worked out OK.  Our lone top 10 bot falls from 4th to 6th this week and Grey is nipping at his heels in 7th.  The South Side Hitmen and Team Dingerz remain in the top 10 for another week and FIP U Guessed It jumps back in this week to round things out.
TRADES
All the trades that have gone down in the past week.  Public ridicule is not only allowed, but encouraged.
A quiet week of trading this week, and nothing too major to report.
I like the buy-low on Villar and Desmond by the Internet Trolls.  For reference, the Trolls are in 5th place currently and Pops is in 3rd.  The Trolls need to make up about 10 points to move into the top 3 and have a 4 in Steals at the moment while leading the league in HRs and RBIs.  Good deal Trolls.
Nick The Dick is kicking some butt in the FCL right now.  He's got no lower than a 9.5 in every category…except saves.  It's a great deal any time you can swap a waiver wire OF for a closer.  Look for NtD to move into the top 10 in the overall standings here soon, he's currently lurking in 11th.
WEEKLY LEADERS
The best of the best from the week that was.
R – 74 – Rube Waddell's Shiny Objects (Frequent Commenters League)
HR –23 – Number One Stunna (La Cheesearie)
RBIs – 72 – Number One Stunna (La Cheesearie)
SB – 21 – Seager Brothers On This Team (Make RCL Grey Again)
AVG – .353 – Rakers Nation (Mad Beach Bums) (Rio Ruiz Super League)
K – 107 – Take Heed! (Sons of Beddict)
W – 10 – Muskogee Wharf Rats (It's Time For Dodger Baseball!!)
SV –  14 – High Desert Bridegrooms (Straight Bestbuy Homie)
ERA (Min. 40 IP) – 1.20 – LA Lil' Chucks (Jobu Needs A Refill) (in 52.1 IP)
WHIP (Min. 40 IP) – 0.62 – Fishing For Condiments (Take On [email protected] 2) (in 40.1 IP)
A few more 2017 weekly records fell this week.  I beat my own Runs record with a different team this week.  If you're not familiar with Rube Waddell by the way, I suggest you dig into the ARCHIVES and get educated.  You'll also find in the comments there a young(er) hippo reaching out to Paulie Allnuts and the beginnings of what has become a great friendship between the two of us.  Rube Waddell brings people together.
Mike Maher checks in this week with a new weekly steals record.  21 steals was the high water mark all of last year, so this record might stick for a bit.  Mike had, as you likely guessed, Cameron Maybe chipping in 19 (give or take) of the 21 steals this week and Eduardo Nunez pitched in 4 as well.  Nice work Mike!
Fishing For Condiments gave us a new WHIP record for the week with a tidy little 0.62 in just over the minimum number of required innings pitched.  Well done.
You can see some of the reason for Mad Beach Bums' climb to the top overall position.  Hitting .353 for the week never hurt.
TEAM OF THE WEEK
Our weekly shout out to the team that killed it the previous week.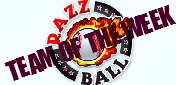 Team: Number One Stunna
League: La Cheesearie
Stats:   H/AB: 94/302, AVG: .311, R: 67, HR: 23, RBI: 72, SB: 4
IP: 67.1, ERA: 2.67, WHIP: 0.89, K: 73, W: 5, SV: 6
Summary: As much as I would have loved to put my FCL team in as the TOW, Number One Stunna beat me out by about 8 points.  Not to mention, just looking at the numbers, this week looked better on paper.  The Stunnas led the RCLs in HRs and RBIs and pitched to a sub 1.00 WHIP.  A boatload of Yankees (Sanchez, Castro & Hicks) and a stacked rotation (Darvish, C-Mart, Cueto, Stroman & Nova) helped the cause.  The Stunnas now sit in 3rd place in La Cheesearie and just a handful of points out of first place.
Want to be Matt's Twitter pal?  That's kinda creepy, but you can follow him here: @MattTruss