Looking for the Razzball Podcast? TOO BAD! It's now Razzball Radio, and you can check out all the episodes here!
Look, it's not that I want to talk about all the injuries going on in baseball ad nauseum, but another baker's dozen of arms, obliques, and ankles died this past week, and seemingly has turned everyone's RCL team page into a mix of names, stats, and the color known as 'Tears of Blood and Screams of Death' red. My favorite Crayola color next to Razzmatazz. Both of which, coincidentally, only work when doing Jazz hands. Whatever that means. Listen, I'm not a god-fearing man, but I hope she's hot when I'm finished reincarnating a couple times. Also, the problem here might be the lack of a DL graphic that CBS uses, which is a red box with a white cross in it… but I understand that this might be problematic for the vampire population. Or maybe the cross wouldn't help because maybe our team's now require priests and injury protection amulets to activate the cross-box? Religion still uses amulet's, right? And what's the patron saint of fantasy baseball anyhow? Alex Rodriguez's 2007 season? Rickey Henderson talking? John Rocker jumping off a three-story building? Who knows, but I'm willing to try anything at this point to part the sea of red that are now all of my RCL team's. Get it? Moses! Yul Brynner? Meh, who cares, it wasn't even that funny anyhow. Regardless, I think it was a great step this season to move to two DL spots instead of one. However, with the data we have now, I think we should go ahead and expand it next year to 32 DL spots. It's a good middle-ground.
The RCL Top 10
Why the top-10? Because they're the top-10 teams out of 1,000+? And that's pretty amazing? I'm Ron Burgundy? Simply put, they're the best of the best of the best, and I think they deserve a little bit recognition. BUT NOT TOO MUCH. Just a taste.
The RCL Round-Up
– So, because I find the whole exercise fascinating (not to be confused with finding exercise fascinating, which I don't), I wanted to check-in with some of the top teams in the 'transactions' category. Or what I like to call 'hey, bro, got ADHD?'. I say 'some' teams, but there are really only two: NIK @Nite from the ECFBL RCL, and Farquar? I'd Barely touch'er from the RCL Champions League. And it's because they are the only RCL teams with more than 300 moves (Nik has 362 and Farquar has 326) and the next nearest team is the Belligerant Azz Clowns of the Diamond Bags RCL, and he's not particularly close with just 232. To put that into context, I've been pretty active (at least I think I have) in the RCL#1 league, and I've only had 52 transactions. Tehol leads the league with 114… so let's call these two the uncontested experts of the add/drop button. Oh, and in case you want to see the complete waiver list for these teams, here's Nik's and here's Farquar's. It's interesting if only to see how fast you can scroll down the entire list. My fastest time was 18 hours. And for the record, NIK @Nite… the strategy has yet to bear any fruit, as he sits 697th overall, and 10th in the ECFBL league, which is a shame. Really could use some pineapple over here. Farquar? I'd Barely touch'er… working out a little better, as the team sits at 182nd overall, and third in the Champions League. Which basically has informed me that a strategy of making 24 moves a day works all the time, some of the times, except for the times it doesn't work. Totally makes sense.
– It's random-team time, because I have no idea what else to write about! WOOOO! Can you tell I'm excited? The anticipation is palpable! So, just like your mom, I scrolled down a few inches with my eyes closed, and clicked on a random team. Sure, the first few times, I accidentally clicked on my Dota 2 and Mass Effect 3 icons… but third time's the charm… and the winner is Vegas Fatboys, from the RCL FIPping the Bird, which pretty much describes the comment section of FanGraphs.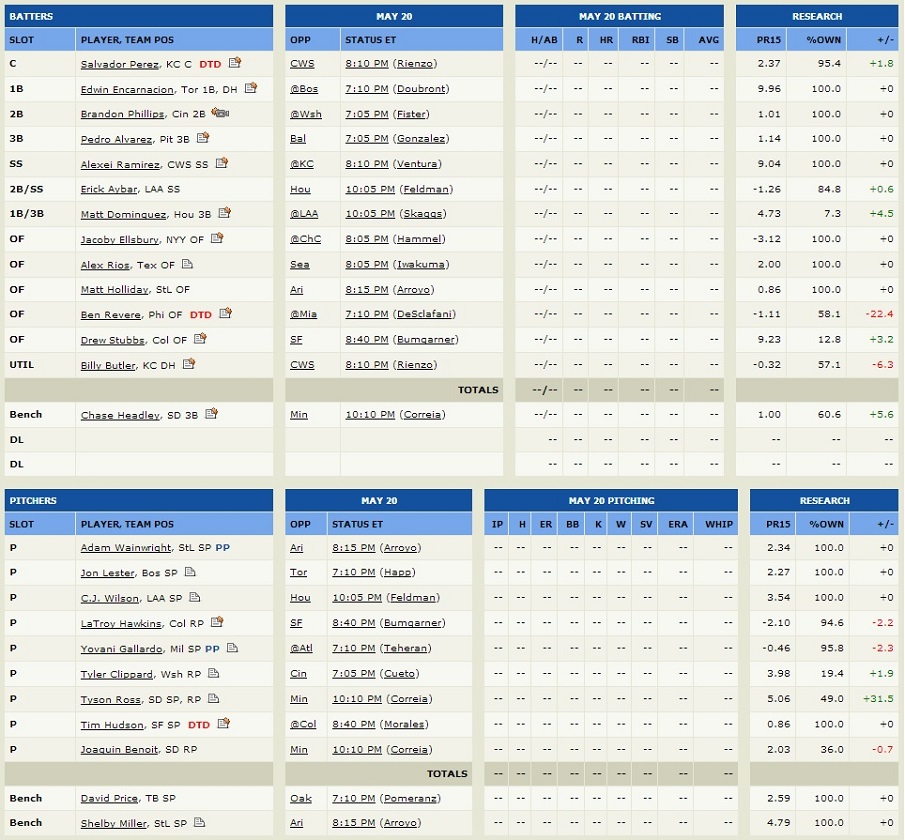 – This league appears to have been created by Razzball's own Dan Pants… unless there are two Dan Pants, which seems impossible as the world would implode on itself if such a thing were to occur.
– I have a couple issues with this team, and they are named Matt Dominguez and Drew Stubbs. The team is last in runs and home runs, and only has 3.5 points in RBI and 5 points in average. (Yet, the team is still in sixth place… amazing.) But, really, this is nitpicking, as I really do love this team. Why? Chase effing Headley. That's why. *Drops mic, exits stage.
The RCL #1
The RCL #1, which sounds like a RCL made for 2001: Space Odyssey (Grey notified me that RCL #1 isn't related to a space shuttle, but is meant to be said like The Iron Sheik.  RCL #1! RCL #1! RCL #1!), is the Friends & Family league that Grey created so we could all be his fantasy baseball punching bags. Actually, maybe not so much punching bags as mustache combs. Seems more Grey-ish to me.
Regardless, this league stars myself, Rudy, Tehol the Elder God, Prospector Scott, Paul Singman, Nick the Podcast Host, and Sky… err, the Blue? We need to find you a better title buddy. But that's us, that's the family. Which, I can assure you, I'm already filing paperwork to gain emancipation. The friends are Dalton Del Don from Yahoo, Brad Johnson from FanGraphs, Ryan Carey of Mastersball, and Tim McLeod of RotoRob.
The Standings: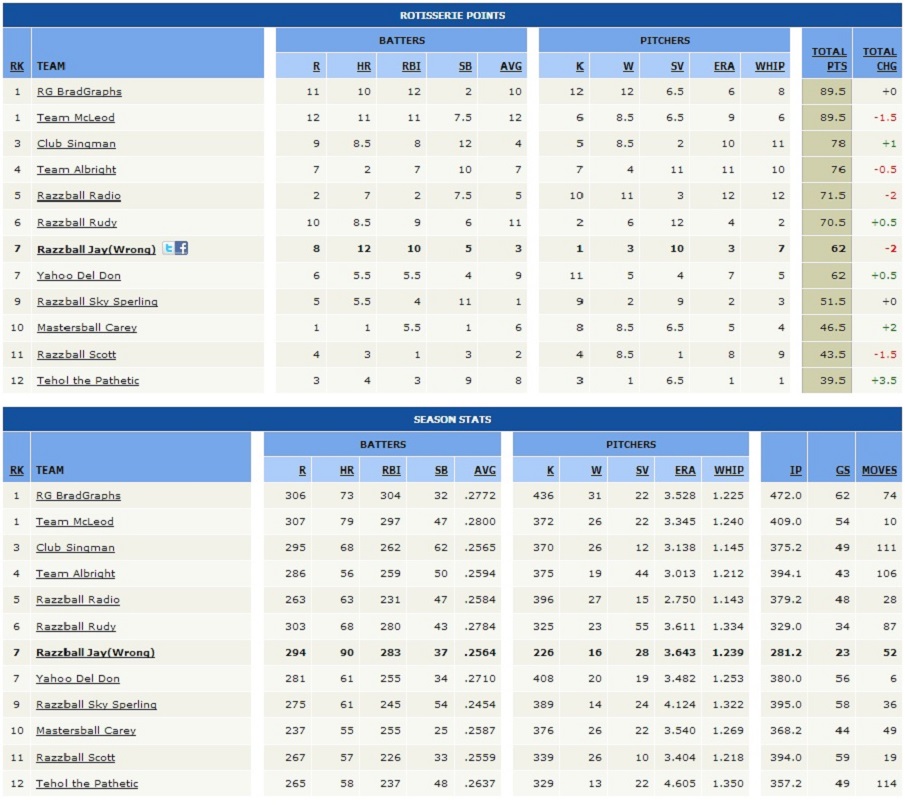 Want more of the Jay? Don't we all folks? Don't. We. All. Well, you, in fact, can have more. AMAZING. I know. You can find Jay enjoying his new dig's running the Football side of Razz.