And why wouldn't I? As the District's most profound half-Irish/half-Korean bachelor, I'm a pretty decent fish in this pretty swampy pond. Razzball Commentator J-Money knows this. How does he know this? If you missed last week's Razzball Podcast, Nick the Podcast Radio Host announced the first 32in32in32 Tour contest. The first person to find my OkCupid dating profile would win two free tickets to the tour and get a beer from each of us. To be honest, I figured it would take longer then a span of four hours, but I didn't realize plenty of clues were left during my long tenure here at Razz. Also, I didn't realize you guys could do stalker so well. MORE OF YOU NEED TO BE WOMEN. That's the lesson here. Regardless, since it is public record and has been discovered, yes, my dating profile is now available to the Razz-community. Please share it with your sisters and/or mothers. For research I guess. Speaking of research, here's an online dating pro-tip: Stay away from profiles that have buzz-phrases like… I love to laugh. Really… who doesn't love to laugh?  I'm a down-to-earth kind of girl. Yeah, gravity will do that to ya. I like going out with friends. No sh*t. I'm looking for a real man. Yeah, all those mannequins dressed up as Joe Manganiello must take up a lot of square footage. Oh, and last one, if they mention drama free or no drama anywhere on their profile, it means they are at the center of it. And we're talking about a hurricane-rash on Jupiter sized level of drama. Rash's are contagious. Remember that.
Sooooo, baseball much?
The RCL Top 10
Why the top-10? Because they're the top-10 teams out of 1,000+? And that's pretty amazing? I'm Ron Burgundy? Simply put, they're the best of the best of the best, and I think they deserve a little bit recognition. BUT NOT TOO MUCH. Just a taste.
– The top-10 standings are toight. Toight like a tiger. Only three points separates all ten teams. Since I don't math well, fear not, that number is correct, as I double-checked it with Rudy…….'s kid.
– I doubt you really are in Arizona, Arizona Au Shizz, as being in a league that has a Spanish name means a visit by the Sheriff's office. My recommendation? Have your long-form birth certificate on stand-by. HAHA, just kidding, they won't care.
– I like that a league is called Legion of Doom. It really kinda puts a picture in my mind of big purple monsters with laser eyes and, you know, a big hammer, with ooooo, burgundy capes and maybe a half-lion, half-lizard thing with walrus teeth. Exactly.
– Grey slipped a little, but is still lurking in the top-50 at the 43 spot. He had no comment for me this time, but the mustache twitched three times in my general direction, which I think means that summer will start three weeks late.
The RCL Round-Up
– Chicks dig the long-ball. So someone told me one time. It wasn't a chick, but that statement sounds accurate. I can't imagine they love a short-ball. AHHHthankyou. And so I guess baby chickens are in awe of The Dynasty, part of the Flatpoint High RCL. He leads all RCL teams in home runs with 64. Not only that, but his team is 2nd in runs, 1st in RBI's, 3rd in SB's, and 2nd in BA in that specific league. And he's done that with Billy Hamilton taking up a spot on his roster. BOLD STRATEGY. So what does such a prolifically balanced offense look like?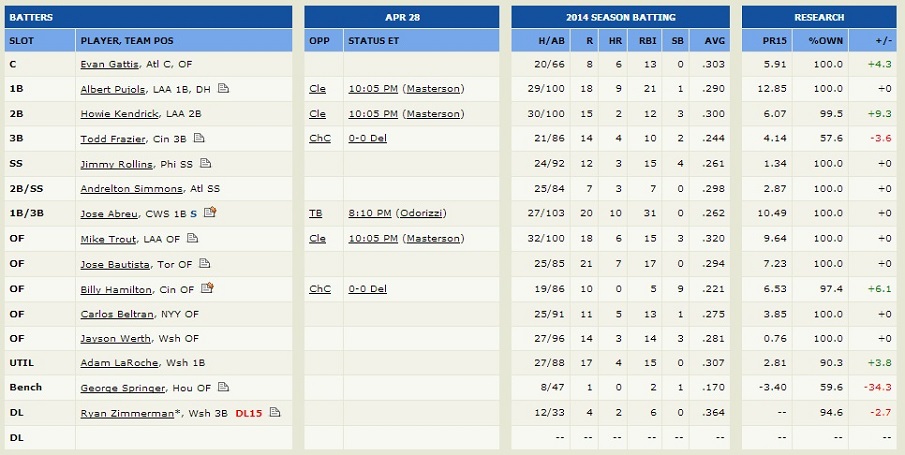 – So, we've taken a look at the offense, what's going on with the flip-side of that equation? Let's take a look at one of the best pitching RCL teams, and it just so happens we're going to look at one of my many RCL's… Take On The Jay(Wrong) Ver. 4. Ranked 5th in the entire RCL universe in K's, Mendoza Mashers are ranked 1st in K's, W's, ERA and WHIP, and tied for 3rd in saves in my league. Silver lining? He's +84 starts over the limit so far. Trade me half that staff, bro.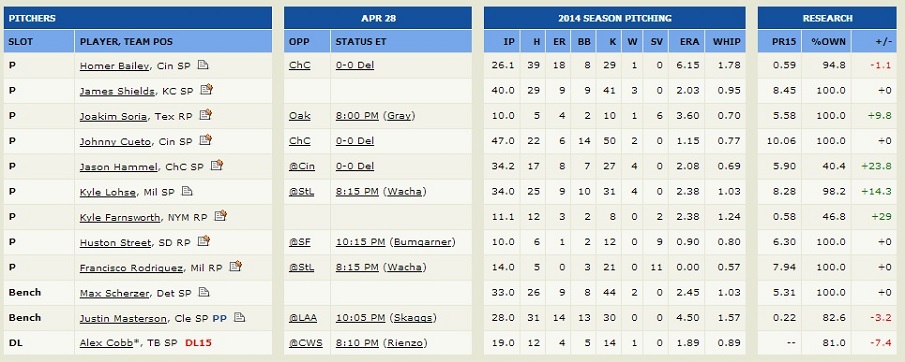 The RCL #1
The RCL #1, which sounds like a RCL made for 2001: Space Odyssey (Grey notified me that RCL #1 isn't related to a space shuttle, but is meant to be said like The Iron Sheik.  RCL #1! RCL #1! RCL #1!), is the Friends & Family league that Grey created so we could all be his fantasy baseball punching bags. Actually, maybe not so much punching bags as mustache combs. Seems more Grey-ish to me.
Regardless, this league stars myself, Rudy, Tehol the Elder God, Prospector Scott, Nick the Podcast Host, and Sky… err, the Blue? We need to find you a better title buddy. But that's us, that's the family. Which, I can assure you, I'm already filing paperwork to gain emancipation. The friends are Dalton Del Don from Yahoo, Brad Johnson from FanGraphs, Ryan Carey of Mastersball, Paul Singman of Baseball Prospectus, and Tim McLeod of RotoRob.
The Standings: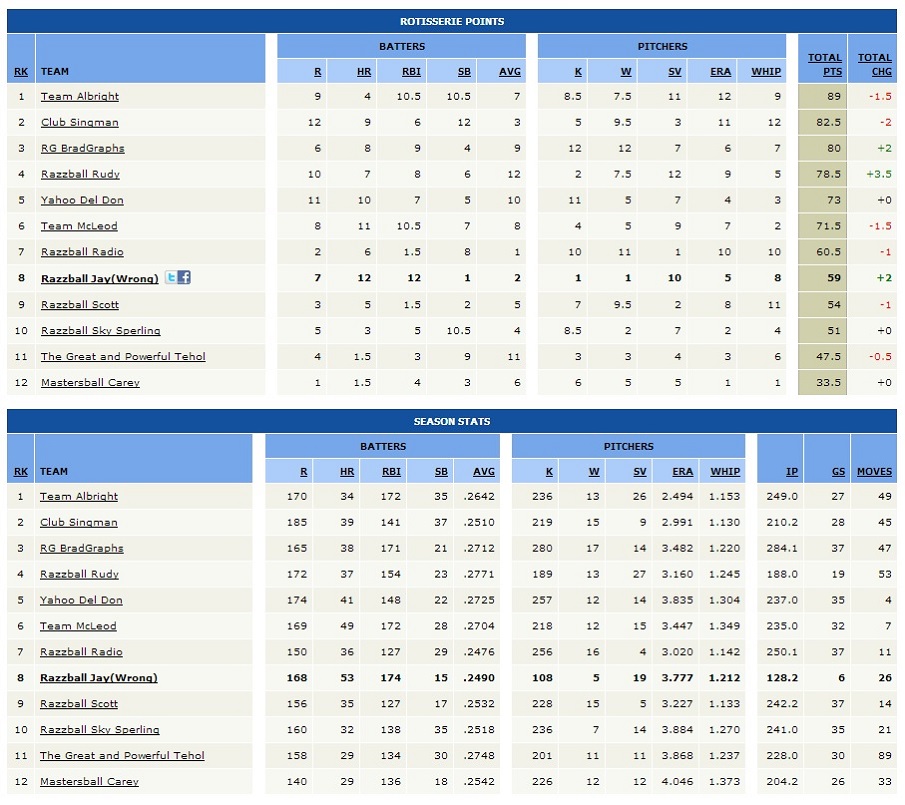 – Grey still in the lead… nothing to see here, move along.
– I do find it disconcerting that Sky has double my innings, yet only two more wins. I sense that his pitching staff is the Arizona Diamondbacks…
Want more of the Jay? Don't we all folks? Don't. We. All. Well, you, in fact, can have more. AMAZING. I know. You can find Jay enjoying his new dig's running the Football side of Razz.