We've now officially reached the second-half of the baseball season, even though we officially reached that mark more than two weeks ago, according to the math. But since I get along with numbers about as well as I get along with asparagus, we apparently have two official second-half beginning points. I mean, we could have 80, but why? So yeah, the All Star break is now behind us, and we can now begin to get an idea if our teams have what it takes to either win a championship or, you know, not win a championship. And I know the general feeling around this time if your team is in the bottom-half of the standings is to throw in the towel. But you should try to fight that urge. Remember, there is still enough time to make a difference. How do I know that? Because it took all this time for you to get to arrive at this crucial juncture. And by that logic, there is an equal amount of time (sans two weeks) where anything can happen. Murphy's Law yo. Your team could go on a tear while teams ahead of you collapse… things like this happen all the time, 50% of the time, some of the times.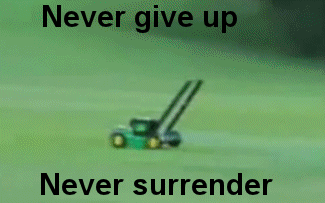 Be that lawnmower people. Be the hope. Be the dream. Never give up, never surrender. Or, you know, just start your fantasy football research by heading on over to Football.Razzball.com. That works too.
The RCL Top 10
Why the top-10? Because they're the top-10 teams out of 1,000+? And that's pretty amazing? I'm Ron Burgundy? Simply put, they're the best of the best of the best, and I think they deserve a little bit recognition. BUT NOT TOO MUCH. Just a taste.
– The top-10 tastes good, but could use a little less wood. Probably more salt too.
– Just a reminder folks, this is what you're playing for: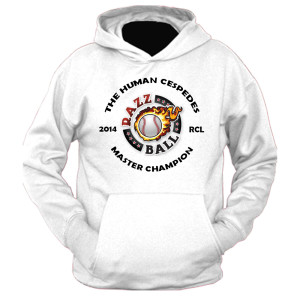 Carrot on a stick baby. Could use a little less carrot and more chocolate cake though…
The RCL Round-Up
– So it saddens me to say, but I will be turning in my RCL Round-Up card to Grey after this post. Football season is approaching, and I'll be pumping out content ad nauseam at that end of the spectrum. That's what she said. So if you play fantasy football, be sure to keep an eye on our 2014 Fantasy Football Draft Kit, which is growing larger every day. (She actually did not say that.) And if you've never played fantasy football before, I have just the thing for you– A Beginners Guide to Fantasy Football, if you will. And you should, because we're going to have some pretty fun prizes for the Football RCL leagues. So stay tuned, all that info will be out next week. In the mean time, I'll be handing over the RCL reigns to J-FOH. I would tell you to be nice, but that's not really possible with him. A jerk I tell ya! A jerk! (Not really, he's a great human being. Unlike that Sky f*cker. Which is actually a good Game of Thrones name for him.)
– I recieved this trade confirmation in my box earlier today. I obviously try not to wax something poetic about the 67,000 RCL's I've hosted this season, as there would be an obvious bias at play (has nothing to do with my teams doing so badly in them, nothing at all), but I found this trade both interesting and ballsy. Just like your sister.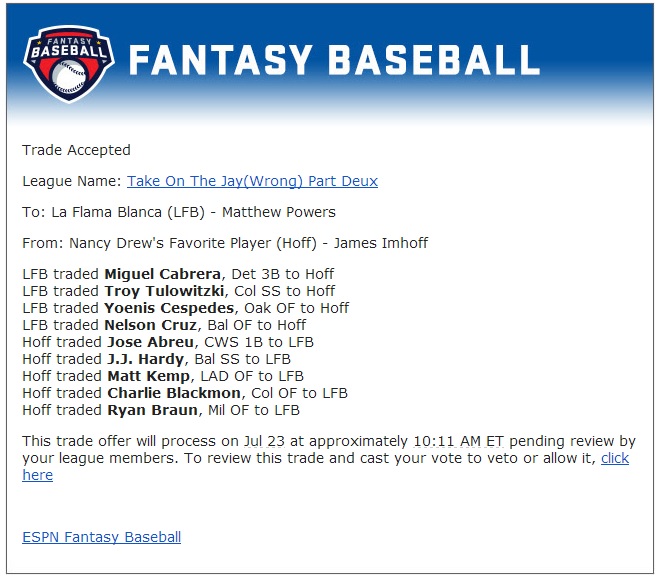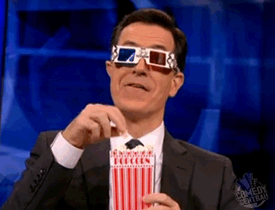 – For context, La Flama Blanca is in second place, and Nancy Drew's Favorite Player is in ninth. (Link.) On the surface it looks fair and very lateral, but I can see how this might provide coverage at certain positions. But you very rarely see so much star power exchanging hands, and that in-of-itself fascinates me. Gentleman, you had my curiosity, now you have my attention.
The RCL #1
The RCL #1, which sounds like a RCL made for 2001: Space Odyssey (Grey notified me that RCL #1 isn't related to a space shuttle, but is meant to be said like The Iron Sheik.  RCL #1! RCL #1! RCL #1!), is the Friends & Family league that Grey created so we could all be his fantasy baseball punching bags. Actually, maybe not so much punching bags as mustache combs. Seems more Grey-ish to me.
Regardless, this league stars myself, Rudy, Tehol the Elder God, Prospector Scott, Paul, the Sing(ing)man, Nick the Podcast Host, and Sky… err, the Blue? We need to find you a better title buddy. But that's us, that's the family. Which, I can assure you, I'm already filing paperwork to gain emancipation. The friends are Dalton Del Don from Yahoo, Brad Johnson from FanGraphs, Ryan Carey of Mastersball, and Tim McLeod of RotoRob.
The Standings: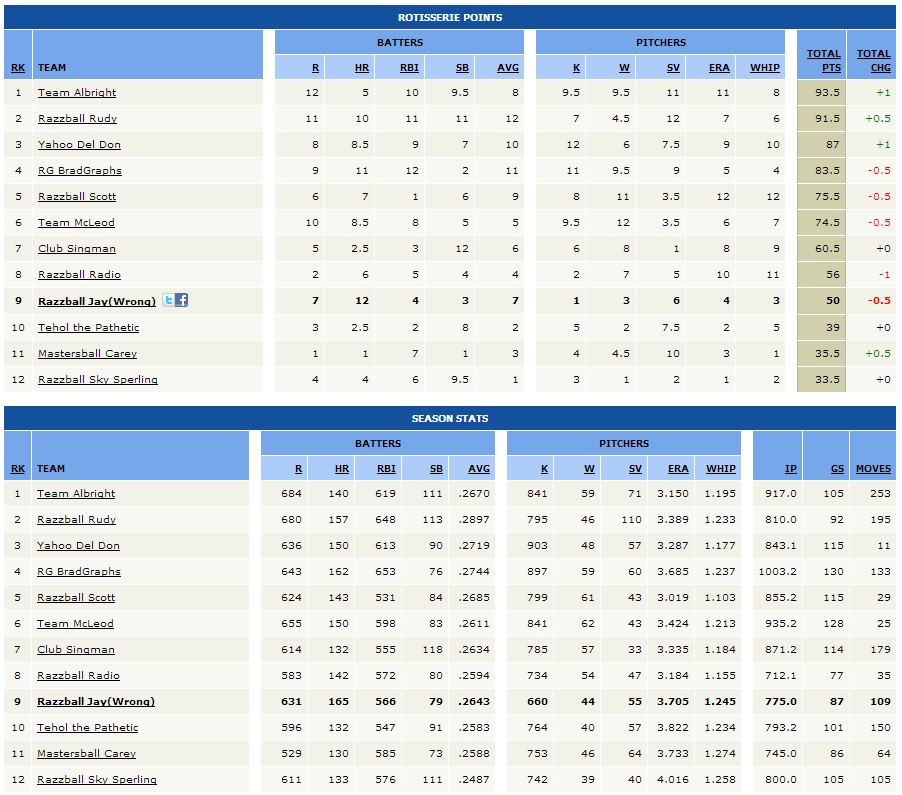 – Seems to be a Grey and Rudy party, and none of us are invited. Not cool guys. Not cool.
– Tehol has managed to finally get off the wasteland known as last place, with Sky ready and willing to set up camp. I heard the view of shattered dreams and lost souls is a tourist trap, so I'd steer clear.
Want more of the Jay? Don't we all folks? Don't. We. All. Well, you, in fact, can have more. AMAZING. I know. You can find Jay enjoying his new dig's running the Football side of Razz.