Note: If you play fantasy football, our rankings are being released as we speak. Well, not really as we speak, as I'm typing. But you get the point. Not really the point of a spear, this isn't Game of Thrones. But you get the idea. Unless it's running. Okay, I'm just going to stop now.
After witnessing the death of Edwin Encarnacion's hamstring this past weekend, my first reaction was this:
And then my next most immediate reaction was this: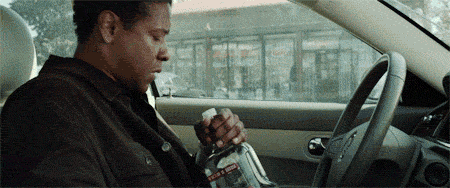 While this is what I usually call Friday night, I'd be lying if I said this didn't hurt. I essentially own E5 on 170% of the 13-15 teams I have this year. Just forget about those numbers for a second, since they make no sense. The only number that matters is one. And that's the loneliest number. Coincidentally, that's also how many operational hamstrings Encarnacion has at the moment. Fast-forward to yesterday, the news obviously wasn't as horrific as the actual injury looked, and at an optimistic four week time-table, it shouldn't be a season-killer. But why did it have to happen in the first place, is what I want know. Haven't we already had enough oblique and shoulder explosion this season? The entire MLB is committing seppuku this year, and there appears to be no end in sight. Anyways, let's get to your RCL tidbits… mmmm, tidbits…
The RCL Top 10
Why the top-10? Because they're the top-10 teams out of 1,000+? And that's pretty amazing? I'm Ron Burgundy? Simply put, they're the best of the best of the best, and I think they deserve a little bit recognition. BUT NOT TOO MUCH. Just a taste.
– So Big League Wood once again finds itself atop the leaderboard for the 345th straight year. Listen, bro, I don't judge, but I think that Viagra addiction might be something we have to talk about down the road.
– Militant Vegans… probably the most oxiest of oxymoron's ever.
The RCL Round-Up
We have a special treat for you today. And no, it's not edible, if that's what you were thinking. Unless you want to take a bite out of your computer or handheld device, but then people will just assume you are experiencing an amazing acid trip. But yes, the treat I speak of is not even from me. Nope. It is from my RCL predecessor, reader favorite, VinWins. Because Vin never loses. DUNH DUNH DUUUUNNHHH! So yeah, what is this treat that I have been speaking of but not revealing? Vin went through all the RCL's and created and excel that reveals every single trade that has taken place so far. AMAZING. Even more amazing is when you wonder how he did such a thing. I have no idea, so I'm just assuming dark wizardry is at play here. If so, I have +5 to magic missile, so you better watch yo self.
You can find the entire list here, but I'd like to list some trades that caught my eye:
On the surface, and at the time of the trade, you could make the argument for the side getting Chris Davis, but it wouldn't be a very strong one. While Shields is looking more like a broken Shield…Â does that not work? I think it does. But Davis really hasn't shown much compared to last season, which makes it a bit more lopsided.
You've seen trades that work out for both sides. Now see the opposite at play.
Obviously, the best player in this deal is Mike Trout, but I think this is still an overpay.
But why?
– See a trade that's yours? Have any trade commentary? SHARE EVERYTHING WITH ME.
The RCL #1
The RCL #1, which sounds like a RCL made for 2001: Space Odyssey (Grey notified me that RCL #1 isn't related to a space shuttle, but is meant to be said like The Iron Sheik. Â RCL #1! RCL #1! RCL #1!), is the Friends & Family league that Grey created so we could all be his fantasy baseball punching bags. Actually, maybe not so much punching bags as mustache combs. Seems more Grey-ish to me.
Regardless, this league stars myself, Rudy, Tehol the Elder God, Prospector Scott, Paul, the Sing(ing)man, Nick the Podcast Host, and Sky… err, the Blue? We need to find you a better title buddy. But that's us, that's the family. Which, I can assure you, I'm already filing paperwork to gain emancipation. The friends are Dalton Del Don from Yahoo, Brad Johnson from FanGraphs, Ryan Carey of Mastersball, and Tim McLeod of RotoRob.
The Standings: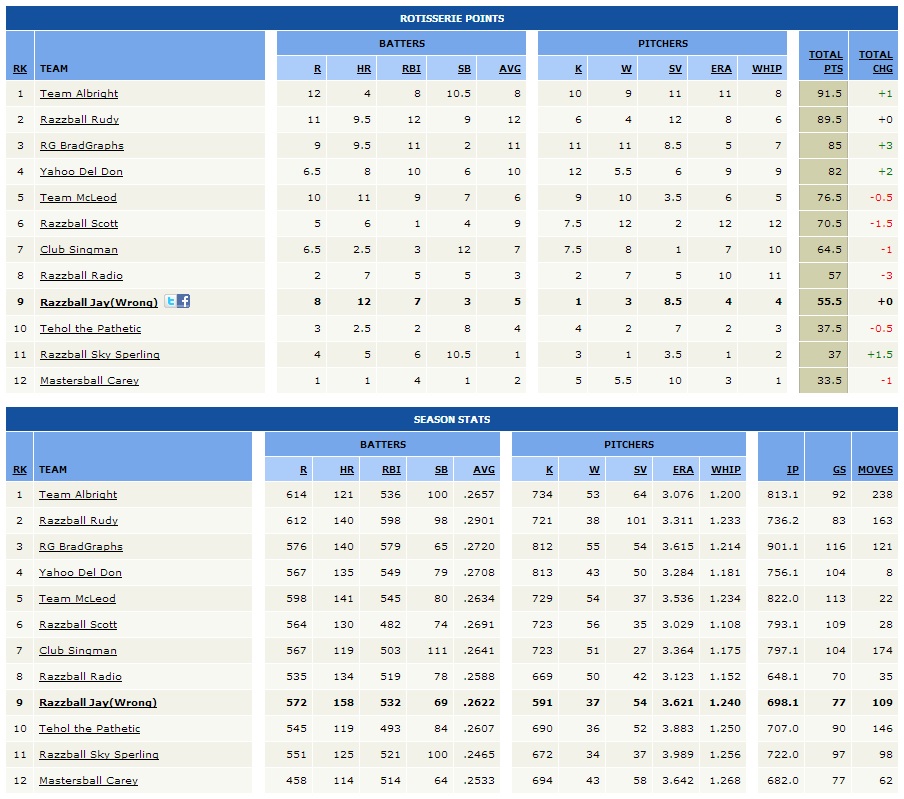 – With Rudy in second place, you could sort of say that he's in a grey area. [Farts, leaves room.]
Want more of the Jay? Don't we all folks? Don't. We. All. Well, you, in fact, can have more. AMAZING. I know. You can find Jay enjoying his new dig's running the Football side of Razz.