Note: If you play fantasy football, our rankings are being released as we speak. Well, not really as we speak, as I'm typing. But you get the point. Not really the point of a spear, this isn't Game of Thrones. But you get the idea. Unless it's running. Okay, I'm just going to stop now.
That's right folks, today we (probably just me!) celebrate the 100th anniversary post that has been authored by yours truly. Well, technically, it's my 144th post if you include our Football site, but I'd like to keep them separate, if only for the fact that I would have nothing to write about in this lede. I mean, who celebrates their 144th anniversary? Put your hand down Bartolo Colon. That being said, my goal here is not to draw attention to myself (I do that plenty elsewhere), but to reminisce on how fantastic it is to write for a brand that understands and supports poop jokes. (Also, how the heck has Grey and Rudy allowed me to write for so long?) And while the number "100" probably doesn't hold any particular meaning in the grander scheme of things, except the zeroes looking like boobs, it does trigger some feels, ya know? I'm coming close (that's what she never says) to the four year mark of being part of the site and the community, and I can't imagine my daily grind without Razzball. Helping to provide the readership, (that's you guys), an entertaining product, and to work with so many great contributors is a privilege and honor. And you should know that. So on this day of self-awesomeness (is that a thing?), I guess it's nice that I've reached the 144 100th-post mark. But what's better than that, is I've reached that mark with these group of fantastic people: Grey, Rudy, Nick, Smokey, Mike, Sky, Tom Jacks, JB Gilpin, Guru, Dan Pants, Tehol, Paulie, J-FOH, Dano, Pete, Schlurr, Jeremy, Seth, Chris, and Paul… you guys make it about the journey, not the destination. So thanks for that. Now, hurry up and get your post's in so I can add an egregious amount of comma's to them.
The RCL Top 10
Why the top-10? Because they're the top-10 teams out of 1,000+? And that's pretty amazing? I'm Ron Burgundy? Simply put, they're the best of the best of the best, and I think they deserve a little bit recognition. BUT NOT TOO MUCH. Just a taste.
– So that's about 54 weeks that Big League Wood has been in first. (I don't do numbers well.) Seems like, at some point, we should have, I don't know, a different team at first? You guys should work on that.
– When I saw the RCL named Thunder Down Under, I instantly thought of this, and I have no idea why. They are totally unrelated, but if that's wrong, I don't want to be right…
The RCL Round-Up
So, speaking of the other writers, they actually have a league. CRAZY, I know. And it's not that I've forgotten, it's just that, well, yeah, I sorta forgot. What can I say? I'm a busy guy, with all this fantasy baseball stuff going on in my mom's basement. Why would I let anything else get in the way of my strenuous schedule of eating bear claws, frequenting Redtube, and doing Jäger shots? My 31-year-old self has not realized this is a 20-something thing to do. SHHHHH, don't tell him.
The teams and writers are as follows: Deep Schmidt – Mike, Dan Pants' Pants – SPOILER ALERT! Dan Pants, Spanking Marv Albert – J-FOH, Guru's Dirty Turban – The Guru, Rudy's F#ckHole – Tehol, yeah, who else would it be?, OPS!…I Did It Again – Tom Jacks, Sky's Wrecking Balls (which I heard worked overtime this weekend by smothering a few lego blocks) – Wang Chung (who is Sky… how many alias' do you need bro?), Talk About The Wrong Stuff – Me, Smokey . – Smok (as he spells it, Smokey as I spell it), Juuuuusst a bit outside – The Commish (who actually isn't the commish, he's just the lead mod over at the Fantasy Baseball sub at Reddit), Baseball Man – Scott Evans, and Razzball Radio – Nick Capozzi. And here's how everything stands so far: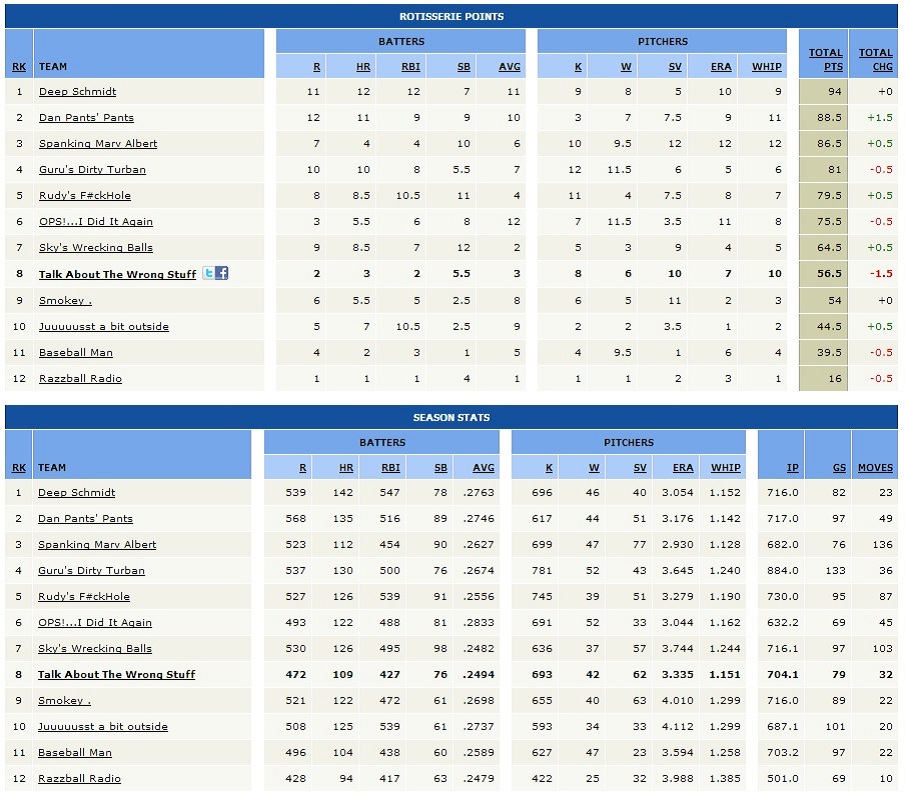 The RCL #1
The RCL #1, which sounds like a RCL made for 2001: Space Odyssey (Grey notified me that RCL #1 isn't related to a space shuttle, but is meant to be said like The Iron Sheik.  RCL #1! RCL #1! RCL #1!), is the Friends & Family league that Grey created so we could all be his fantasy baseball punching bags. Actually, maybe not so much punching bags as mustache combs. Seems more Grey-ish to me.
Regardless, this league stars myself, Rudy, Tehol the Elder God, Prospector Scott, Paul, the Sing(ing)man, Nick the Podcast Host, and Sky… err, the Blue? We need to find you a better title buddy. But that's us, that's the family. Which, I can assure you, I'm already filing paperwork to gain emancipation. The friends are Dalton Del Don from Yahoo, Brad Johnson from FanGraphs, Ryan Carey of Mastersball, and Tim McLeod of RotoRob.
The Standings: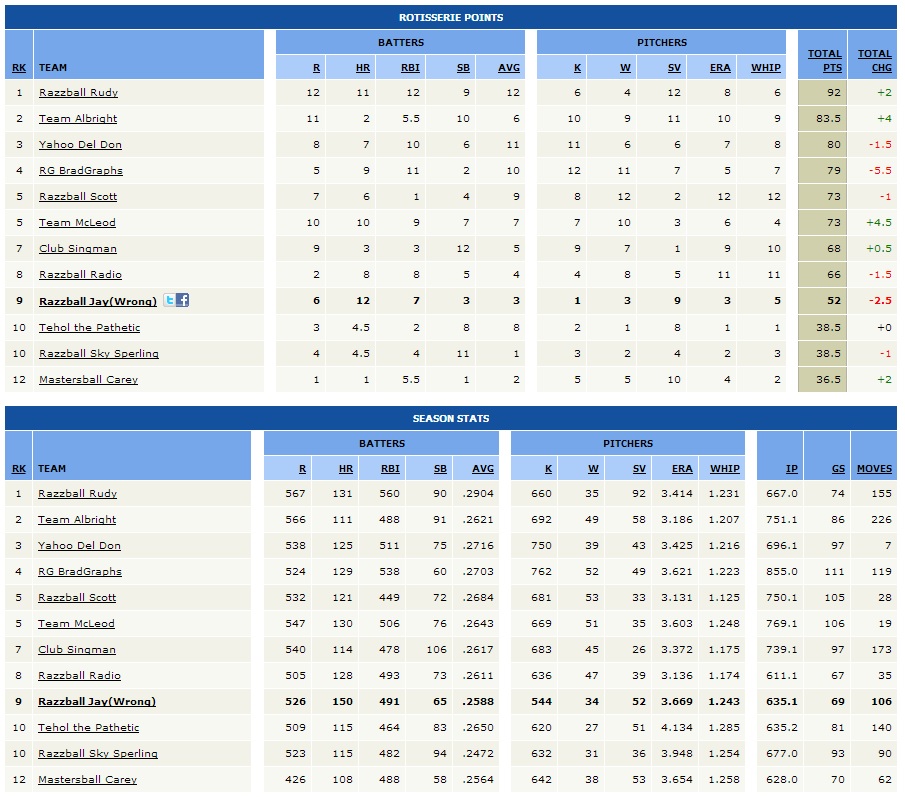 – Rudy has taken over the lead, and that probably has something to do with the fact, that unlike me, he knows how numbers work with plus and minus signs and what not. As of now, his team leads the entire RCL universe in batting average with 0.2915. The teams behind aren't particularly close either, with La Flama Blanca (which translated into english means: "the tree's of the white forest are scrumptious yet stir-fried"… I think) in the Take On The Jay(Wrong) Part Deux (my league!) sitting at 0.2879. What did Rudy have to say during his humble-brag sesh with me?
"Helps when you drafted 4 of the top 9 AVG guys (Altuve, Beltre, V-Mart, Trout)… it is more of a proxybrag. So much easier when you're top draft picks perform and you hit on a few late picks. If I'd only drafted F-Her instead of Verlander…"
– He even calls it a proxybrag. Grey and I are already planning a Christmas gift for you. Hint: It's a lifetime supply of pocket protectors.
– In other RCL #1 news, Scott traded me Hyun-Jin Ryu for Mark Melancon, and I pretty much had to. If people want to keep trading me starters for relievers like this, I'm all for it.
Want more of the Jay? Don't we all folks? Don't. We. All. Well, you, in fact, can have more. AMAZING. I know. You can find Jay enjoying his new dig's running the Football side of Razz.