Here at Razzball, we usually try to take the outlandish approach whenever possible. Quite frankly, I'm not sure what the alternative is. So when my favorite player of all-time sucumbs to cancer, I just simply have no idea how to react in this medium. Well, I do have one immediate reaction. Cancer… I'm gonna need you to drive over to my house and put your hands behind your back so I can punch you as hard as possible in the d*ck. But beyond that, what else is there to do? Yes, you'll find many remembrances, comments, and stories about the life and times of Tony Gwynn (all done by much better writers than myself), but I feel like I have to try and briefly add my two cents to the conversation. Because I'm cheap and don't have three cents.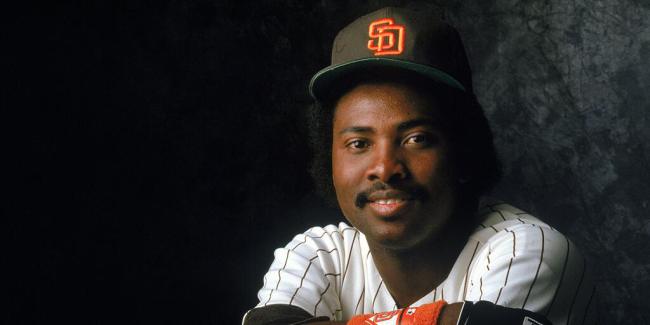 We all know the player he was, the accolades, the stats, the records. But I want to focus on something entirely seperate, and that's the fact that I miss my dad. I lost him about eight years ago, and as time passes, I realize how much he affected my life and was such an integral building block of who I am today. And my fondest memories are as a kid at the ballpark. The Padres were our shared interest, more specifically, the Tony Gwynn, Ken Caminiti, Steve Finley, and Trevor Hoffman Padres. Basically the team in the 90's. No Mark-Paul Gosselaar, get back in your box. You have no power here. There was nothing better than smelling the grass at Jack Murphy. Nothing better than getting chocolate malts in the 6th inning. Nothing better than just hanging out with my dad in our right-field seats (Plaza 39, most of the time) and watching Tony Gwynn and the Padres do their thing. Which was usually losing (sans 1996 and 1998), but there were some amazing things we saw. What I'm trying to say is, when I think of Tony Gwynn, I think of my father, and I get all sentimental and emotional, like your mother when she does the dishes. And so when we lose such a great player, such a great person, I'm only reminded of my own loss. So it's like Double Dragon, but if the dragon's are Tony Gwynn and my dad.
Tony Gwynn was the greatest hitter I have ever seen. And I got to watch him with my dad. And those memories are what makes times like this okay. But yeah. F*ck cancer.
The RCL Top 10
Why the top-10? Because they're the top-10 teams out of 1,000+? And that's pretty amazing? I'm Ron Burgundy? Simply put, they're the best of the best of the best, and I think they deserve a little bit recognition. BUT NOT TOO MUCH. Just a taste.
– There's a lot of ties going on here. Which means you have to kiss your sister. Better idea! It means I have to kiss your sister.
– Big League Wood has been in the top spot for quite a while now, showing that this wood has some stamina. Yes, there were several things I could have done with that, but I just wasn't in the mood and went with the easiest.
The RCL Round-Up
Yup, we're going to be playing our favorite game of scrolling the standings and picking a few random teams to spotlight.
– Today's first winner are the Nepalese Box Scorers, from The Lords of Sarcasm RCL, proving that there is such a thing as Nepalese people, and on top of that, they are official box scorers. That's amazing.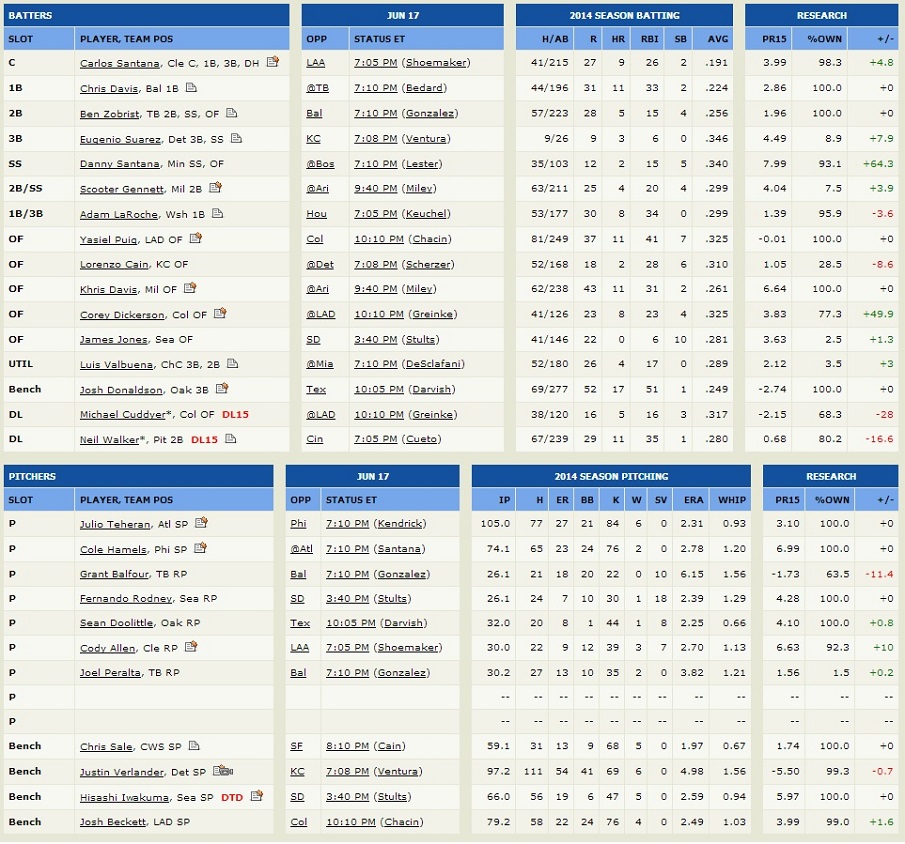 – It's alright, I give you permission to drop Grant Balfour. So it was said, so it shall be done. Uhh, am I supposed to do the sign of the cross now or something?
– Not that this team doesn't have star power, but I had to Google half the infield. You have some starters to trade… nudge-nudge, blink-blink. Thumbs high. I'm saying make a trade, if you didn't realize it. You probably do now. Unless you're blind. Then whoever is around, please read this out loud. The nudge-nudge is crucial here because they won't see you blink-blink. So… what were we talking about again?
– The next team, I Profar Dos Equis (I do too! I actually Profar, ahem, prefer alcohol over pretty much anything…) is from the Hakuna Machado (SO MANY PLAYER PUNS GUYS) RCL. And this team is not doing well. I can say that, because 92.568% of my teams are doing worse.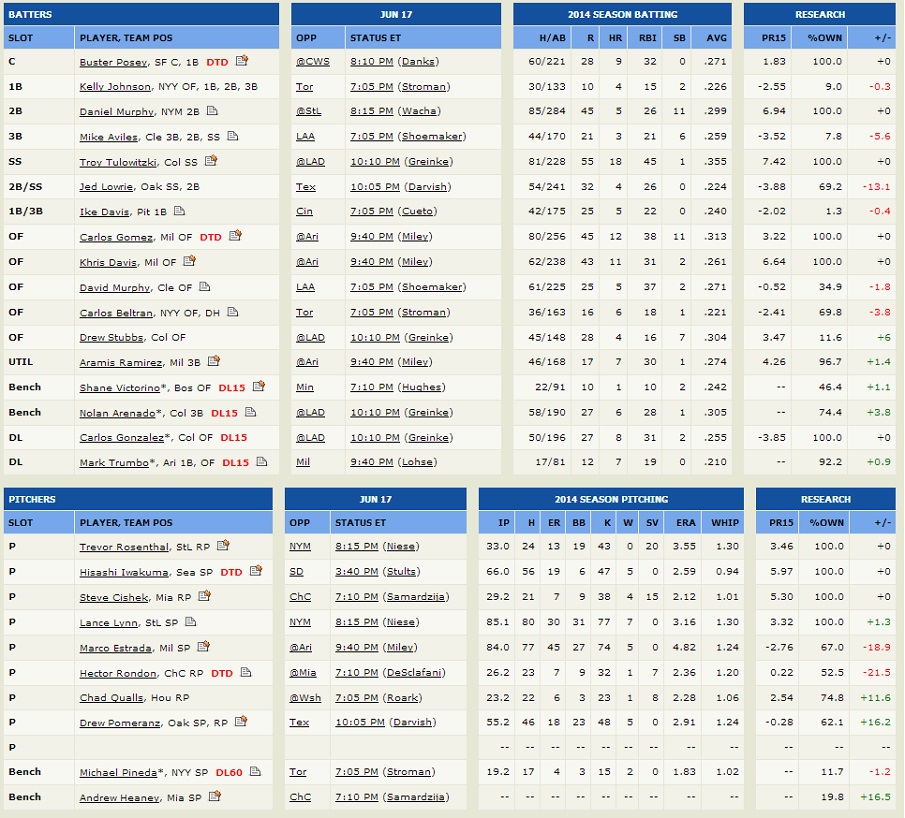 – Okay, so first off, there's a lot of red here, so maybe someone should see if Ray Lewis has an alibi. Secondly, Ike Davis. Ike Davis. I say his name twice just to make sure you know he's on your roster. Other than that, this team should rebound as some personnel returns. Don't hit the panic button yet friend! Also, Ike Davis. Really?
The RCL #1
The RCL #1, which sounds like a RCL made for 2001: Space Odyssey (Grey notified me that RCL #1 isn't related to a space shuttle, but is meant to be said like The Iron Sheik.  RCL #1! RCL #1! RCL #1!), is the Friends & Family league that Grey created so we could all be his fantasy baseball punching bags. Actually, maybe not so much punching bags as mustache combs. Seems more Grey-ish to me.
Regardless, this league stars myself, Rudy, Tehol the Elder God, Prospector Scott, Paul, the Sing(ing)man, Nick the Podcast Host, and Sky… err, the Blue? We need to find you a better title buddy. But that's us, that's the family. Which, I can assure you, I'm already filing paperwork to gain emancipation. The friends are Dalton Del Don from Yahoo, Brad Johnson from FanGraphs, Ryan Carey of Mastersball, and Tim McLeod of RotoRob.
The Standings: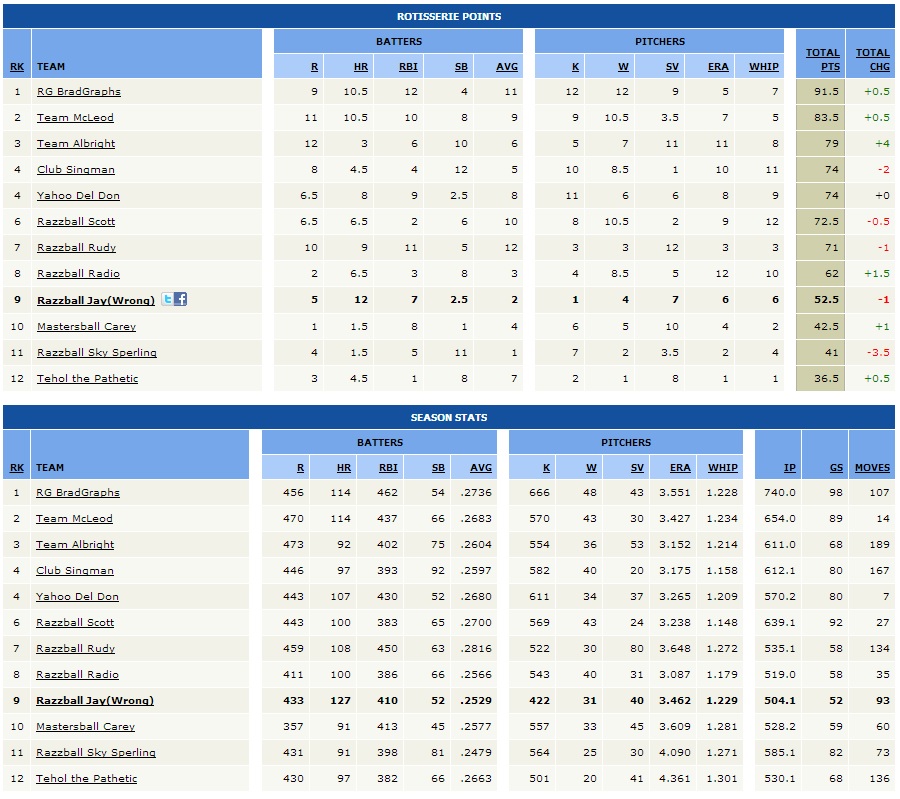 Want more of the Jay? Don't we all folks? Don't. We. All. Well, you, in fact, can have more. AMAZING. I know. You can find Jay enjoying his new dig's running the Football side of Razz.