All nine wild and crazy weeks are in the books and they sure did feel like a year.  I've said it many times, but I never expected us to get to this point.  Call me a cynic, but I obviously underestimated the power of the almighty dollar.  Things looked pretty rocky when we didn't even make it two weeks before the Marlins were on hiatus, and look at us now, the Marlins are a playoff team!  *Eyeroll*  As wonky as this season was, we still have a Razzball Commenter League champion to crown.  It's not who you might think either…without further ado, I present to you, our 2020 Razzball Commenter Leagues Champion…Team DFresh!  I may have jinxed Team Tokyo last week, but I really thought they had this thing wrapped up.  I should have known, with this only being week nine, that huge swings could still happen and they did.  DFresh got hot at the right time, jumping from 21st to 2nd last week and taking the top spot this final week thanks to another five league points gained, bringing their total to 116.  That's a hard total to top, especially combined with a LCI of 114.  With that, Team Tokyo ends up with a hard-luck second overall.  DFresh really rakes it in, winning themselves a $250 Best Buy gift card!  More importantly though, DFresh gets a Razzball T-Shirt and RCL glory.  Who can put a price on that?  Oh, it's $25, well then, moving on.  DFresh comments around the site from time to time, so the next time you see a comment (likely in this post) be sure to heap on the praise and congratulations.  They fended off some very tough competitors this year to claim the RCL crown including last year's top finishers, Backdoor Cutters and Fat Fuckin Babies.  This is DFresh's moment though, so hopefully they pop in, take a bow and soak it up, they earned it.  
Here's what else what happened this year and this final week of the RCLs:
Each week we'll peek in at our resident 'perts to see who is laying claim to best "expert" RCLer in the land.  We'll take notes, check the standings and generally stalk them.  The heading is also hyperlink, so feel free to follow along as we go.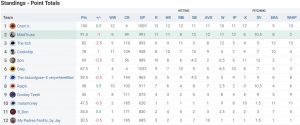 I did not succeed in jinxing Cram It, however much I tried.  I gave it a valiant effort, but in the end Crammy was just too far ahead.  This is the first time Cram has been able to claim 'Perts League glory (he did win the overall championship in 2015 though), congrats my friend.  Cram had a stellar short season, leading the league in Runs, Homers, RBIs and Strikeouts while finishing second in Steals and Batting Average, good for 58 total offensive points.  Cram also finished with the most pitching points, nabbing 48 there, adding up to 106 league points, good for a top ten overall finish as well!  Heck of a season Cram It!
This is the third straight season I have finished second in the 'Perts League, a league I am yet to win.  
Rounding out the podium finishers this season was newcomer to the league, The Itch!  Jay missed the IP minimum by 9 innings and found his way to the bottom of the barrel, beating out B_Don for the dubious honors.
Each week we'll also take a look at the top ten overall standings in our other Razzball sponsored league, the RazzSlam.  This is our NFBC Best Ball league with managers from all across the industry, from content providers to fans and readers just like you.

Ray Butler's lead was safe as he took the RazzSlam down in a rout.  Ray finished 110 points up on the nearest competitor and led the standings since week four.  
Derek Rhoads, in second since week seven finishes with the silver medal while Greg Fishwick jumps up five places the final week to nab the bronze.
Keith Willingham moved up four places this week to sneak into fourth, pushing John Cristopher to fifth and Rob Sherwood to sixth.
Joseph Bond tumbled four spots the final week to settle in seventh while Razzball's own, Dan Richards, claimed eighth overall.  Nice work Dan!  Dan was also in Ray Butler's league, so good luck to anyone who was in that league this season.
Rounding out the top ten is the same as last week with Rick Garlinghouse and Brent Franey holding down ninth and tenth.
Coming up clutch the final week was Clark Olson who gained the most points (133) to finish inside the top 100 in 83rd overall.  There weren't many big jumps in the standings this week, the largest was just 12 places by Nick Marchesano.
TOP 20
For those too lazy to check the MASTER STANDINGS, I present to you, the current top 10
I'm expanding the top 10 to the top 20 for the final standings.  Stand up and give a hearty pat on the rear end to your end of season top 20.  Most of these teams made an appearance in the top 10 at some point this year and it takes some serious effort to make the top 20 at season's end.  The end of season IP penalties shook up the LCIs quite a bit, causing a stir, so be sure to check out where everyone finished:
| RK | TEAM | LEAGUE | RCL PTS | LG PTS | LG INDEX | MASTER PTS |
| --- | --- | --- | --- | --- | --- | --- |
| 1 | Team DFresh | RCL 2020 (#66) | 129.7 | 116 | 114 | 117.9 |
| 2 | Team Tokyo | Cougs R Us | 125.8 | 105 | 119 | 115.2 |
| 3 | Savages in the Box | Night of the Living Zombinos | 124.8 | 102 | 120 | 114.2 |
| 4 | Backdoor Cutters | Night of the Living Zombinos | 123.1 | 102.5 | 120 | 110.3 |
| 5 | In a Ditch | RCL 2020 (#76) | 120.9 | 107 | 112 | 114 |
| 6 | Gunk Squad | RCL 2020 (#64) | 120.7 | 103 | 116 | 113 |
| 7 | Mow the Grass | DFSers Anonymous | 119.2 | 105 | 113 | 112.1 |
| 8 | Cram It | PERTS LEAGUE | 119.2 | 106 | 113 | 111.2 |
| 9 | Fat Fuckin Babies | Cougs R Us | 115.9 | 95.5 | 119 | 107.7 |
| 10 | SUMMER THUNDER 3 | RCL 2020 (#54) | 115.1 | 103 | 112 | 108.8 |
| 11 | Stl Squat Cobblers Tres | RCL 2020 (#59) | 114.4 | 107 | 105 | 113.4 |
| 12 | Astro Zombies | RCL 2020 (#49) | 113.9 | 103 | 109 | 110 |
| 13 | DFresh | Frequent Commenters League | 113.9 | 106 | 106 | 112.4 |
| 14 | Team rusty42 | RCL 2020 (#63) | 113.5 | 93.5 | 117 | 107.7 |
| 15 | In a Ditch | RCL 2020 (#63) | 113.1 | 94.5 | 117 | 105.5 |
| 16 | Capital Offense | ECFBL | 112.3 | 98 | 115 | 104.1 |
| 17 | Mattys Super Twos | RCL 2020 (#3) | 112.1 | 117 | 97 | 113.2 |
| 18 | Vottoman Empire | RCL 2020 (#61) | 111.4 | 99.5 | 113 | 103.6 |
| 19 | Every Day Pain | RCL 2020 (#58) | 111.3 | 97 | 112 | 107.2 |
| 20 | Wharf Rats Jr. III | RCL 2020 (#14) | 110.5 | 110 | 100 | 110.6 |
Again, DFresh claimed the top spot, let's take a quick peek at his team here, shall we?  Here's how DFresh started their draft this year: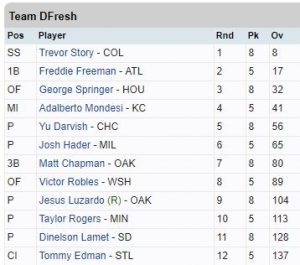 Story, Freeman and Mondesi all ended up in the top 25 on the Player Rater and Darvish and Lamet were both top 10 pitchers.  That's about as good as you can hope for I'd say.  Victor Robles was pitiful, but you can't win them all.
Team Tokyo led the way in weeks five through eight, only slipping in the final week, sad times.  They deserve some love here too, they led most of the way with the following draft: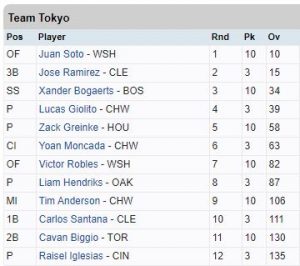 Soto, Ramirez and Bogaerts all finished in the top 30 on the Player Rater, not too shabby, however Giolito topped out at 18th among starters.  Team Tokyo cobbled together some serious pitching this season, recovering from a so-so draft on that front.  That takes some expert streaming and I respect that, nice work!  Interesting that both these teams drafted and recovered from Victor Robles.
Night of the Living Zombinos is one of our best legacy leagues.  It's a $100 buy-in league with some great competition.  They proved that this year by putting two teams in the top five.  Interestingly, the Cutters won the league with 102.5 league points (a 14 point gain in the final week to win the thing!) but Savages in a Box beat them out in the overall standings.  What a finish in a great league!
In a Ditch moved up three spots this week to finish the season in the top five while Gunk Squad fell three places to land in sixth.
Mow the Grass took down another money league, DFSers Anonymous and ended up falling one place in the Master Standings to seventh while Cram It's big win moved him up one spot to eighth overall.
FFB falls from fourth to ninth as COUGS R US also puts two teams in the top 10 overall.
Rounding things out, we have Summer Thunder 3 who leap-frogged Summer Thunder 2 to finish in the top ten for the year.
The remainder of the top 20 includes The Squat Cobblers, another DFresh team, another In a Ditch team and the ECFBL winner, Capital Offense.  In other words, some of the best in the game, nice work everyone!
WEEKLY LEADERS
The best of the best from the week that was.
R – 69 – Team nobloodysocks (RCL 2020 (#41))
HR –21 – Team nobloodysocks (RCL 2020 (#41)), Israel Olympic Baseball (RCL 2020 (#64)) & TeamSmellTheRoses (RCL 2020 (#57))
RBIs – 62 – phenoms (RCL 2020 (#22))
SB – 14 – Stl Squat Cobblers Deuce (RCL 2020 (#58)) & Team Lipmanpike (RCL 2020 (#47))
AVG – .360 – Team nobloodysocks (RCL 2020 (#41))
K – 145 – Team KumaDeviL (RCL 2020 (#64))
W – 10 – Laura Holt (RCL 2020 (#7)) & Sheltering Schmohawks (RCL 2020 (#49))
SV –  7 – 5 Teams Tied
ERA (Min. 40 IP) – 1.28 – Team ZRob1220 (RCL 2020 (#15)) (in 56.1 IP)
WHIP (Min. 40 IP) – 0.755 – Rain Dogs (RCL 2020 (#32)) (in 46.1 IP)
With everyone maxing out their IP this week, I thought for sure we'd see strikeout and win records, but all we got was strikeouts with KumaDeviL taking the weekly record crown.
Team nobloodysocks was an offensive wrecking crew this week, leading or co-leading the RCLs in three categories.  What a finish!
WEEKLY RECORDS
The best of the best from the weeks that were.
R – 74 – Oaktown Dingers (RCL 2020 (#58))
HR –30 – Team Rmuzz55 (RCL 2020 (#27))
RBIs – 77 – Vottoman Empire (RCL 2020 (#61))
SB – 16 – Crows (RCL 2020 (#26))
AVG – .361 – Odio Retirado (Original Recipe) & CFofGravity_Brad (RCL 2020 (#8))
K – 145 – Team KumaDeviL (RCL 2020 (#64))
W – 11 – In a Ditch (RCL 2020 (#76))
SV –  11 – FANTASY ICON 5.0 (RCL 2020 (#59))
ERA (Min. 40 IP) –  0.85 – Donkey Teeth (PERTS LEAGUE) (in 42.1 IP)
WHIP (Min. 40 IP) – 0.654 – Team farley101 (RCL 2020 (#25)) (in 44.1 IP)
These are the best weekly outputs in each category from the year that was.  If you would all stand up to receive a round of applause, that would be lovely.
TEAM OF THE WEEK
Our weekly shout out to the team that killed it the previous week.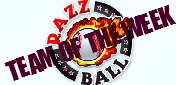 Team: Licketty Splits
League: RCL 2020 (#43)
Stats:   AVG: .299, R: 56, HR: 13, RBI: 40, SB: 7
IP: 123.2, ERA: 3.35, WHIP: 1.197, K: 127, W: 8, SV: 2
Summary: Licketty Splits went when ham this week, racking up innings pitched like a boss and doing a much better job of it than most of my teams this week.  I always get a little nervous when the top TOW team has a ton of IP, but Splits also Licketty'd on offense!  Vlad Jr. saved his best effort for the final week of the season and led Licketty's offense while Brandon Woodruff and Drew Smyly did their thing on the pitching side.  Unfortunately, it was too little, too late for the Splits, who managed to get their way to fourth place in league #43, up from fifth place last week.  Maybe another week or two like this would have had them near the top, but we don't have time for that.
TEAM OF THE WEEK OF THE YEAR
I thought it would be cool to look back at each TOW from this past season and see which week was the best week.
We got a late start collecting data and MLB got a late start in general, so we only have six weeks to look at, but Team hsclegend was our best performing TOW team.  Team DFresh really used that week eight TOW week to slingshot into the overall title and In a Ditch was TOW in week seven, also pushing themselves into the top ten overall.
YEARLY LEADERS
The best of the best from the year that was.
R – 501 – Lucky Bucky (RCL 2020 (#40))
HR –167 – The Iron Horse (RCL 2020 (#29))
RBIs – 500 – SUMMER THUNDER 3 (RCL 2020 (#54))
SB – 86 – EdgE IV-4 (RCL 2020 (#24))
AVG – .291 – Team Lipmanpike (RCL 2020 (#47))
K – 703 – The Hippos (ECFBL)
W – 49 – Capital Offense (DFSers Anonymous)
SV –  58 – Team DFresh (RCL 2020 (#1))
ERA (Min. 360 IP) – 2.66 – Team CobraKaiMeansNoMercy (RCL 2020 (#50)) (in 476.1 IP)
WHIP (Min. 360 IP) – 1.007 – Team PJF311 (RCL 2020 (#59)) (in 380.1 IP)
IP – Team Mattheb9 (RCL 2020 (#45)) – 571.2
K/9 (Min. 360 IP) – Team CobraKaiMeansNoMercy (RCL 2020 (#50)) – 11.7
Worst Place – Park Barkley (RCL 2020 (46)) – 13.7 RCL Points
I debated long and hard (OK, about five minutes) about whether or not to include the ratio stats in the RCL record book.  I assumed that with the shortened season we'd have a new record for batting average, ERA and WHIP.  As it turns out, we didn't set new records in any of them, so I didn't even need to spend those five minutes wondering about it.  If you're interested in seeing the RCL history, you can click HERE and head to the "Records" tab.  There you'll see we came within .006 points of a new WHIP record and .09 points from a new ERA record.  Both those records were set in 2015.  We were also .006 points from a new Batting Average record that has been held since 2012.
I usually include moves on this list, but we had 24 teams reach the 185 move limit.  In a typical season with a 500 move limit we have less than ten hit the allotment.  Apparently more managers realized the importance of counting stats in a short season.
Special shout out to Park Barkley who somehow managed to make one move, give themselves an illegal roster and collect no stats for the season, completely breaking the standing's math in the process.  Nicely done!
TOP LEAGUES
I've mentioned in the past that I have a bias for high LCI Leagues.  I've played in several and commish one of the best, so naturally I want to give them their due.  Here are the top 10 leagues in order of LCI:
Night of the Living Zombinos – 120
Cougs R Us – 119
RCL 2020 (#63) – 117
RCL 2020 (#64) – 116
ECFBL – 115
RCL 2020 (#66) – 114
DFSers Anonymous – 113
PERTS LEAGUE – 113
RCL 2020 (#61) – 113
RCL 2020 (#76) – 112
RCL 2020 (#54) – 112
RCL 2020 (#58) – 112
RCL 2020 (#60) – 112
There you have it, the top ten (plus ties) most competitive leagues.  Well done leagues!  I love that so many of the "regular" leagues are making these lists.  Granted, most of these are our $10 or $20 leagues, but still.  Up until last year these lists were always filled with our legacy leagues, now, it's about even.  Still, the legacy leagues reign supreme.  NOTLZ and COUGS led all leagues in every counting stat category  with NOTLZ taking Runs, HRs, RBIs, SBs and Saves and COUGS taking Wins, Ks and topping all leagues in IP and total moves.  The winners of all these leagues deserve major kudos.  It's not easy winning an RCL and certainly not one with an LCI north of 110.  Take note of the league names and maybe reach out next year when the time comes if you want to play in one of the top leagues.  We're always looking for managers, just ask!  I played in eight of the 13 leagues listed above and each one was a total blast.  I used to cruise to wins in the RCL money leagues, but lately, I've had to scrape and claw for every point, I love it!  
Speaking of money leagues: FanTrax finalizes their stats on Friday (October 2nd).  Why it takes this long to finalize things, I have no idea.  I can't allocate payments until the standings are finalized.  That means it will likely be some time Saturday that you see the money in your FanTrax account.  If Monday roles around and you don't see anything, come back to this post and drop a comment, or DM me or Razzball on Twitter and we'll get you sorted out.
It has been an absolute pleasure bringing you these updates every week.  Thanks to everyone who read, lurked, commented and/or gave a kind word.  A million thanks go out to Rudy for collecting data behind the scenes and making my job easy as well as Donkey Teeth for editing these bad boys!   I love these crazy, time-consuming leagues, I love the daily moves and the competition it creates and I hope that was evident in my weekly reports.  Is it perfect?  Nah, but darnit, it's fun as hell.  I like to think of it as the daily fantasy of season long.  I also love the community it brings together, pitting commenter against commenter, 'Pert against random lurker.  Is there another place on the interweb where you can play against 900+ other people all with weekly Master Standings updated as well as a weekly report on the goings ons?  I think not.  Thank you to Grey and Rudy for creating this beautiful monster known as the RCLs.  Let's hope next season is a little more normal.  Stay safe out there everyone and enjoy your winter of hibernation.  See you all you crazies next year.
Want to be Matt's Twitter pal?  That's kinda creepy, but you can follow him here: @MattTruss