Well, that's a wrap everyone.  Twenty-Six weeks down and now we have 26 more until the start of next year's fantasy baseball season.  It's perfect symmetry, because fantasy baseball is the perfect fantasy sport. The Fighting Hams weren't perfect, but they were good enough to squeak out an overall Razzball Commenter League Championship over 1-800-BETTSOFF.  The Fighting Hams won by just 0.2 RCL points, the closest mark since 2014 when Colicky Fuddruckers won by just 0.05 RCL points. The Fighting Hams hung around the top 20 most of the season, entering the top 10 in week 14, but falling back out the following week.  The Hams re-entered the top 10 in week 19 in 4th place overall and wouldn't fall below 5th for the remainder of the season. In week 23 they took the overall lead and held it for the final 3 weeks to win the title. The Fighting Hams really rake it in, winning themselves a $250 Best Buy gift card!  More importantly though, the Hams get a Razzball T-Shirt and RCL glory. Who can put a price on that? Oh, it's $25, well then, moving on. I don't believe The Fighting Hams have checked in via comments at all this year, but I could be wrong. Now would be a fine time to do so either way. It's time to heap on the praise and accept your congratulations.  The Hams fended off some very tough competitors this year to claim the RCL crown. I gave it a run, LauraHolt was pushing for a top spot for awhile there and Backdoor Cutters and STL Squat Cobblers are some of the best RCL players I've played with in my time. This is The Fighting Hams' moment though, so hopefully they show up, take a bow and soak it up, they earned it.  
Here's what else what happened this year and this final week of the RCLs:
Each week we'll peek in at our resident 'perts to see who is laying claim to best "expert" RCLer in the land.  We'll take notes, check the standings and generally stalk them.  The heading is also hyperlink, so feel free to follow along as we go.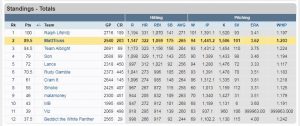 We can make it official, congratulations to Ralph Lifshitz aka Vanguard aka Prospect Jesus!  If you haven't heard the news, Ralph is moving on to a new venture over at ProspectsLive.  He'll still be around these parts and I think he'll be back in the 'Perts League next year, but if not, what a way to go out.  It was a pretty dominate season for Ralph who took the lead week 3 and never let it up. Grey and I tried, but failed to make a run at the top.  Ralph was a worthy victor with 54 of 60 possible hitting points and nearly winning the pitching as well with 46 points to Lance's 46.5. Ralph finished the year with the third most IP (1391.1) but led the way in Wins (101) and strikeouts (1,520).  Impressive stuff. The even 100 league points combined with the 'Perts League LCI of 103 helped Ralph finish at number 23 in the overall RCL Standings. Once again, nice work Ralph!
I'm pretty happy with my second place finish considering this team was autodrafted (I did set my rankings though) and I started the season with a slew of pitchers that were not great, but not bad enough to drop and exactly zero closers.
Grey ended the season in third after coming oh so close to first back in week 23.  He just peaked a little too early.
Finally, all's right with the 'Perts League world once again as Tehol ended the year in 12th place.
TOP 20
For those too lazy to check the MASTER STANDINGS, I present to you, the current top 20
I'm expanding the top 10 to the top 20 for the final standings.  Stand up and give a hearty pat on the rear end to your end of season top 20.  Most of these teams made an appearance in the top 10 at some point this year and it takes some serious effort to make the top 20 at season's end.
More on 1-800-BETTSOFF comes below, but let's just say, they had quite a final week jumping up from tenth to second overall.  Nicely done, despite stealing the spot from my Starfish & Coffee squad who finished the year in third overall.
LauraHolt gave it a ride but came up just short.  Still, a VERY impressive season from Razzball's deep league star.  She's clearly more than a one trick pony and I can't wait to face off with her next year in the 'Perts League!
MCC gained 7.5 league points in the final week to jump from 30th to fifth!  There were some big final week jumps.
Backdoor Cutters moved up one spot to sixth while Lickety Splits moved up four from eleventh to seventh.
Turd Fergusons and Stl Squat Cobblers each dropped four spots to finish up in eighth and ninth.
Rounding out the top ten is Old Navy 2, who moved up from 17th to pass their other squad, Old Navy 3.  That gave them two teams in the top 20, an impressive feat. I managed to get two teams in the top 20 as well with a big final couple weeks from my Fantasy Baseball Chuck Norris squad.  Thanks to Kenny at Rotowear for that nickname.  Go buy yourself some sweet gear with all your end of season winnings!
The rest of the top 20 features several familiar names from the top 10 updates throughout the year.  Congrats to all on a heck of a year!
WEEKLY LEADERS
The best of the best from the week that was.
R – 65 – A really old team (RCL 2018 (#34))
HR –25 – Free Shoeless Joe (RCL 2018 (#68))
RBIs – 73 – Free Shoeless Joe (RCL 2018 (#68))
SB – 18 – 4 Teams Tied
AVG – .346 – Old Mate (RCL 2018 (#5))
K – 139 – Lyons Den (RCL 2018 (#73))
W – 11 – 1-800-BETTSOFF (RCL 2018 (#66))
SV –  10 – Croix de Candlestick (Crab Army #2)
ERA (Min. 40 IP) – 0.85 – Brooklyn Bullet Dodgers (Night of the Living Zombinos) (in 42.1 IP)
WHIP (Min. 40 IP) – 0.811 – Loose Cannon (RCL 2018 (#68)) (in 49.1 IP)
With a lot of folks running up their IP the final week I thought we might see the strikeouts or wins weekly record fall, but we came up just short.  Actually, all of the outputs were great the final week. 4 Teams nearly took down the SB record, the HR record almost fell and the Runs record was only 4 runs from falling.  In the end though, the current records stood. Speaking of…
WEEKLY RECORDS
The best of the best from the weeks that were.
R – 69 – BJ Miketron (Crab Army)
HR –26 – Team namelessNsilent (RCL 2018 (#73))
RBIs – 80 – The Iron Horse (Crab Army #2)
SB – 19 – Backdoor Sliders (Frequent Commenters League)
AVG – .386 – Turd Fergusons (RCL 2018 (#8))
K – 148 – Clobber Clan (RCL 2018 (#59))
W – 14 – Vin (DFSers Anonymous)
SV –  16 – Chicago Mark (RCL 2018 (#71))
ERA (Min. 40 IP) – 0.41 – FANTASY WIZARDS (RCL 2018 (#71)) (in 43.2 IP)
WHIP (Min. 40 IP) – 0.567 – Smoke ('Perty Perts) (in 42.1 IP)
These are the best weekly outputs in each category from the year that was.  If you would all stand up to receive a round of applause, that would be lovely.
Crab Army is well represented in the weekly records, as is RCL #71.  Nice work to everyone that made the list, these are some impressive marks.
TEAM OF THE WEEK
Our weekly shout out to the team that killed it the previous week.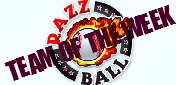 Team: 1-800-BETTSOFF
League: RCL 2018 (#66)
Stats:   AVG: .271, R: 42, HR: 13, RBI: 45, SB: 10
IP: 137, ERA: 2.50, WHIP: 1.175, K: 137, W: 11, SV: 2
Summary: When you're already in the top 10 and you have the best final week of any team in the RCLs, good things will happen.  Had BETTSOFF been a hair better on offense this week, they may have won the overall championship. They finished just 4 HRs behind the league leader.  Five more HRs would have given them 2 more league points and given how close things were at the top, I think 114.5 league points would have done the job.  You play all season and it comes down to 5 HRs. Still, it was a pretty awesome week for BETTSOFF. Throwing 137 IP and staying under a 3 ERA is really difficult, but BETTSOFF did it with ease, with a nice, even 2.50.  It was all good enough to whoop RCL #66 and almost enough whoop everyone. Nice work BETTSOFF!
TEAM OF THE WEEK OF THE YEAR
I thought it would be cool to look back at each TOW from this past season and see which week was the best week.
As it turns out, 1-800-BETTSOFF had the best week of all the best weeks.  Nice work! Nothing like saving the best for last!
Last year 4 managers made the list multiple times, but this year no team managed the feat.  We did have at least one manager make the list with two unique teams though. Nice work to Bag Stealn Wheelin Dealin Son Of A Guns.

DFSers Anonymous and RCL #3 each placed three teams in the TOW ring of honor while RCL #4 had two teams make the list.  Nice work everyone!
YEARLY LEADERS
The best of the best from the year that was.
R – 1241 – Moneyball (Night of the Living Zombinos)
HR –374 – Fantasy Baseball Chuck Norris (Crab Army)
RBIs – 1218 – Backdoor Sliders (Frequent Commenters League)
SB – 219 – MattTruss223 (DFSers Anonymous)
AVG – .284 – RAC/RIZZO (RCL 2018 (#41))
K – 1679 – Texas Aardwolves (RCL 2018 (#67))
W – 112 – Im in a Ditch (RCL 2018 (#44))
SV –  209 – The Sneetches (RCL 2018 (#51))
ERA (Min. 1000 IP) – 2.72 – Old School Brother (Frequent Commenters League) (in 1088.1 IP)
WHIP (Min. 1000 IP) – 1.06 – On Tapia Mom (RCL 2018 (#75)) (in 1031.1 IP)
IP – Lickety Splits (RCL 2018 (#44)) – 1444.1
K/9 (Min. 1000 IP) – Texas Aardwolves (RCL 2018 (#67)) – 11.3
MOVES – 500 – Kris Kross (Cougs R Us), Moneyball (Night of the Living Zombinos) & NYC Sturgeon King (RCL 2018 (#40))
Worst Place – Team BigDaddyWhite (RCL 2018 (#51)) & Team delux269 (RCL 2018 (#61)) – 11.1 RCL Points, 11.0 League Points with a League Index of 93 and 90 respectively.
With the new RCL rules I expected numbers to be down across the board and they were.  The IP limit obviously limits pitching numbers and the moves limit handicaps the uber active teams that stream offense daily.  Despite no new records being set, we weren't that far off the old numbers. We came up 42 Runs, 40 HRs, 21 RBIs and 51 SBs short of new offensive records and 122 Ks, 10 Wins, and 49 saves short of new pitching marks.  That's not as bad as I thought they might be.
The legacy leagues are well represented here with the FCL placing two teams in the yearly record book.
I managed to make the list three times, leading the way in Slams and Legs as well as flexing my SAGNOF muscles with the Sneetches.
Three teams maxed out on the 500 moves, but a couple more were right there with 499 and 491.
Finally, a quick shout out to Team BigDaddyWhite and Team delux269 who managed the feat of finishing DFL in the Master Standings.  BigDaddy was in one of my leagues, he made two moves in the preseason before we got our FanTrax things sorted out and had an illegal roster for the entire season, collecting no stats.  I have no excuse for delux269.
TOP LEAGUES
I've mentioned in the past that I have a bias for high LCI Leagues.  I've played in several and commish one of the best, so naturally I want to give them their due.  Here are the top 10 leagues in order of LCI:
Cougs R Us – 108
ECFBL – 107
Night of the Living Zombinos – 106
RCL 2018 (#33) – 105
RCL 2018 (#62) – 105
RCL 2018 (#59) – 104
FCL – 104
RCL 2018 (#64) – 104
There you have it, the top 8 most competitive leagues.  Tenth place was an 11-way tie, so they didn't get listed.  Well done leagues! It's the usual suspects in the top 3. Cougs, ECFBL and NOTLZ are perennial top LCI leagues and this year is no different.  This is only the second time since 2011 that ECFBL hasn't finished first in LCI, so major props to Cougs R Us for taking the throne as toughest league.  Cougs were dominate too, they led in every offensive counting category, plus strikeouts, IP and Moves. ECFBL was the co-leader in Saves and finished top 3 in every other counting category.  RCL #62 led all leagues in Wins with 1034.
The winners of all these leagues deserve major kudos.  It's not easy winning an RCL and certainly not one with an LCI north of 103.  Take note of the league names and maybe reach out next year when the time comes if you want to play in one of the top leagues.  I played in two of the top eight this year and each one is a total blast.  
It has been an absolute pleasure bringing you these updates every week.  Thanks to everyone who read, lurked, commented and/or gave a kind word. A million thanks go out to Rudy for collecting data behind the scenes and making my job easy!   I love these crazy, time-consuming leagues, I love the daily moves and the competition it creates and I hope that was evident in my weekly reports. Is it perfect? Nah, but darnit, it's fun as hell.  I like to think of it as the daily fantasy of season long. I also love the community it brings together, pitting commenter against commenter, 'Pert against random lurker. Is there another place on the interwebs where you can play against 700+ other people all with weekly Master Standings updated as well as a weekly report on the goings ons?  I think not. Thank you to Grey and Rudy for creating this beautiful monster known as the RCLs. Let's dedicate this season to Rudy's 3rd cousin, once-removed, Oscar Gamble, RIP and enjoy our winter of hibernation. See you all you crazies next year.
Want to be Matt's Twitter pal?  That's kinda creepy, but you can follow him here: @MattTruss