Well, that's a wrap on the Razzball Commenter Leagues everyone.  Twenty-six weeks down and now we have twenty-six more until the start of next year's fantasy baseball season.  It's perfect symmetry, because fantasy baseball is the perfect fantasy sport.  Speaking of perfect, Returning Champ went near perfect on us in route to an overall Championship.  This ties for the second highest finish in RCL history with Rank Railheads of 2012 Championship fame.  Returning Champ really rakes it in, winning themselves a $250 Best Buy gift card!  More importantly though, Returning Champ gets a Razzball T-Shirt and RCL glory.  Who can put a price on that?  Oh, it's $25, well then, moving on.  I don't believe Returning Champ has checked in via comments at all this year, but now would be the time.  It's time to heap on the praise and accept your congratulations.  Personally, I've been curious all year where the Champ has returned from.  Is this a previous RCL winner or were they just lost at sea?  I have questions!  Either way, Returning Champ fended off some very tough competitors this year to claim the RCL crown.  Cram It gave it a run, Grey was pushing for a top spot for awhile there and an army of RCL robots invaded the standings as well.  This is Returning Champ's moment though, so hopefully they show up, take a bow and soak it up, they earned it.  Here's what else what happened this year and this final week of the RCLs:
Each week we'll peek in at our resident 'perts to see who is laying claim to best "expert" RCLer in the land.  We'll take notes, check the standings and generally stalk them.  The heading is also hyperlink, so feel free to follow along as we go.
Seven.  That is the number of weeks that Grey finished the week not in first place.  That's pretty darn close to a wire to wire run.  Once he hit the 90s in week six, he would never fall below 94.5 league points.  All of that is a long-winded way to say, Grey owned the 'Perts League this year.  After finishing runner-up last year, Grey left nothing to chance, finishing with an 8.5 point lead.  It could have been an even bigger gap, but Grey played it safe to finish things out, leaving an easy 2.5 points on the table in Ks and Wins in order to preserve his ratios.  Grey only used 146 GS and still finished with 50.5 of a possible 60 pitching points.  It should also be noted that Grey drafted Rougned Odor in the second round and Johnny Cueto in the seventh.  Of course, Corey Kluber in the fourth round didn't hurt any.  Either way, it's an impressive victory in a league that finished with an LCI of 108.  Nice work 'Perts on keeping that LCI high.  The 108 LCI was enough to push Grey and his 102 league points into 4th place in the Master Standings.  Grey finished 8th overall back in 2015, so this format clearly suits his style.  Nice work Fantasy Master Lothario.
Ralph made things interesting at times, but in the end, came up short.  That's nothing to scoff at though, it was still a heck of a season for the Prospector.  Ralph's the best of the worst!
Nice work by Cram It making Ralph sweat a little at the end there.  Cram moved from 78.5 points in week 19 up to 91.5 to close things out.  Talk about finishing strong.
Rudy displayed the power of his rankings with a 4th place finish despite auto-drafting this squad.  Well played.
Finally, we all bust on Tehol plenty, but I have to give props where they're do.  Tehol actually played this season out and beat me in the process.  I now have some serious soul-searching to do this winter.  Nice work playing it out this year Tehol, no more Tehol jokes from me until I can actually finish ahead of him in league.  I'm a humbled hippo.
TOP 20
For those too lazy to check the MASTER STANDINGS, I present to you, the current top 20
I'm expanding the top 10 to the top 20 for the final standings.  Stand up and give a hearty pat on the rear end to your end of season top 20.  Most of these teams made an appearance in the top 10 at some point this year and it takes some serious effort to make the top 20 at season's end.
Team Studer held firm while others faltered and was left standing in second overall.
Gomes' Gnomes and Grey both jumped up two spots to take third and fourth respectively.
In Fifth we have our highest ranking robo-manager, Grey is Bae.  Only four humans bested the machine.  Well played bot, well played.
Cram It dropped two league points the final week to fall to sixth overall.
Vottoman Empire and myself had an epic battle in DFSers Anonymous.  While I won the league and the glory there, Vottoman gets some solace in finishing ahead of me in the Master Standings despite the 1.5 point gap in the league standings.  Either way, we both made the top 10, which is pretty awesome.
Rudy is Snooty is our second place robot, but is technically disqualified due to league settings.  Take on [email protected] 3 was set-up to have 200 GS instead of the RCL mandated 180.  Tough break for RiS, but at least it didn't cost them an overall championship.  Gotta check those settings commishes!
SWALLOW MY NUT picked a good week to debut in the top 10, peaking at number nine when it matters most.  They were 24th just three weeks ago.  Clutch.
The rest of the top 20 features some familiar Razzballers including Nick the Dick (J FOH) in 12th, my ECFBL team (16th), The Big Yabu (Backdoor Sliders) in 18th and Team AL KOHLIC (19th).  Take your victory lap fellas.
WEEKLY LEADERS
The best of the best from the week that was.
R – 58 – J FOH (Rio Ruiz Super League) & NO PEPPER (The Prospect Podcast League)
HR –25 – Build a great great wall (Great Knocks 2)
RBIs – 66 – Prague Defenestrators (BATTAMANIA )
SB – 14 – # Sozo (Cougs R Us) & Lamb Chop Suey! (Viz Versus The Commenters)
AVG – .372 – The People's Champ (DFSers Anonymous)
K – 175 – Beni's Chainz Bind Me (Benintendi Erection Club)
W – 15 – Ralph Ruiz (Rio Ruiz Super League)
SV –  15 – The Sneetches (Razzers Not Brazzers)
ERA (Min. 40 IP) – 0.64 – Portland Zoo Keepers (Gasoline Suits Standings) (in 42 IP)
WHIP (Min. 40 IP) – 0.79 – DAPL Protesters (Show Me The malamoney) (in 40.1 IP)
The final week saw a few records fall, some in spectacular fashion.
Always nice to see J FOH make an RCL Update appearance.  Nice work Nick!
The real story here is Ralph's big week of pitching stats.  Just last week Ralph's Beni's Chainz squad took over co-ownership of the weekly wins record with Johnny Utahs, each scoring 13 wins.  This week the Beni squad obliterated the previous weekly high in Ks of 153, held by Calgary Cannons.  With 175 in the final week, Ralph takes the weekly record as you'll see in the next section.
Not finished there, Ralph's Rio Ruiz Super League team stole the weekly wins record from his own Beni's Chainz team, upping the win record to 15.  Impressive finish Ralph!
The Portland Zoo Keepers snuck in under the gun this week to snake the ERA record from Team Burakoff by 0.02.
WEEKLY RECORDS
The best of the best from the weeks that were.
R – 74 – Rube Waddell's Shiny Objects (Frequent Commenters League)
HR –28 – florida illini (High Desert Baseball), Talk Dirty Thome (Make RCL Grey Again), Emperor Beddict (Sons of Beddict), Florida IBWIP (Prospector Ralph's Cavern), Lindor Truffle Shuffle (Take on the Jay) & Team foul balls (Daniel Murphy's Porn Stash)
RBIs – 79 – Milo the Cat (Night of the Living Zombinos)
SB – 21 – Seager Brothers On This Team (Make RCL Grey Again)
AVG – .383 – Gang Gang (Take On [email protected] 1) & Team Sullivan (Great Knocks 2)
K – 175 – Beni's Chainz Bind Me (Benintendi Erection Club)
W – 15 – Ralph Ruiz (Rio Ruiz Super League)
SV –  19 – Florida IBWIP (Prospector Ralph's Cavern)
ERA (Min. 40 IP) – 0.64 – Portland Zoo Keepers (Gasoline Suits Standings) (in 42 IP)
WHIP (Min. 40 IP) – 0.64 – Sleeper Waives (Great Knocks) (in 48.1 IP)
These are the best weekly outputs in each category from the year that was.  If you would all stand up to receive a round of applause, that would be lovely.
No one answered my plea to hit 29 HRs in a week and so we ended with a six way tie.
Florida IBWIP is the only team to make it on the list twice, although Ralph managed to separate teams onto the list.  Nice work to you both.
TEAM OF THE WEEK
Our weekly shout out to the team that killed it the previous week.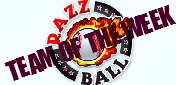 Team: Drago On the Treadmil
League: ECFBL
Stats:   H/AB: 72/270, AVG: .267, R: 48, HR: 14, RBI: 49, SB: 4
IP: 151, ERA: 2.98, WHIP: 1.14, K: 144, W: 10, SV: 1
Summary: Yes, this is a fourth Ralph-led team to make this RCL Update.  Ralph mentioned in a podcast earlier this year that he judges he self-worth based on RCL Update mentions, so his cup should overfloweth with self love this week.  Three of Ralph's teams were in the top 5 of TOW scoring this week.  Interestingly enough, the other two teams in the top 5 this week were Nick the Dick led teams.  Nice showing by the Crab Army finishing the year strong.  Kudos.  This wasn't just a pure volume based TOW win either, 151 IP and a sub 3.00 ERA is the stuff of legends.  So many things have to go your way to pull of numbers like this.  To make matters even more impressive, there were 3-4 other teams in ECFBL streaming their collective buns off to finish the season with 188 GS and as many Ks and Wins as possible while also not destroying their ratios.  Ralph finished with 176 GS and streamed right to the last day of the season where he managed 39 IP, 48 Ks and 5 Wins.  ECFBL was so tight in scoring that Ralph had fallen to 6th place to start the final week.  This barrage of pitching vaulted him up 10.5 points and into 3rd place.  Impressive finish Ralph.
TEAM OF THE WEEK OF THE YEAR
I thought it would be cool to look back at each TOW from this past season and see which week was the best week.  We didn't have the stats-grab automated until week 3, so that's where we start:
As it turns out, Calgary Cannons had the best week of all the best weeks.  Nice work!  The Cannons also made the list twice, a feat duplicated by the bots (Grey is Bae), and Razzball's own, VickyB (Victoria's Siegrist) and myself (The Sneetches).
Ralph, the bots and I made the list with two unique teams.
Sons of Beddict and Cougs R Us each placed two teams in the TOW ring of honor.  Take On Jay is actually two separate leagues with the same league name, confusing I know, but I'll help you through it.
YEARLY LEADERS
The best of the best from the year that was.
R – 1278 – Grey is Bae (Sons of Beddict)
HR – 414 – New York Dahls (Keepin It Real) – A NEW RCL RECORD (Beating Vinyl Ross (2016 Shades of Grey) 2016 record of 377 Home Runs)
RBIs – 1239 – The Sneetches (Razzers Not Brazzers) – A NEW RCL RECORD (Beating Vinyl Ross (2016 Shades of Grey) 2016 record of 1213 RBIs)
SB – 232 – The Iron Horse 2 (EuroRazzball2017)
AVG – .293 – Team Longfellow (Take On Jay)
K – 1690 – Cram It (Sponge-worthy Anti-Dentites)
W – 121 –  Drago On the Treadmil (ECFBL)
SV –  258 – Rudy is Booty (We're All Winners) – A NEW RCL RECORD (Beating Colicky Fuddruckers (The Razzies Challenge) 2015 record of 250 Saves)
ERA (Min. 1040 IP) – 2.95 – Rudy is Booty (We're All Winners) (in 1336 IP)
WHIP (Min. 1040 IP) – 1.12 – Gomes' Gnomes (Johnson's Ornithology E.O.D.) (in 1349 IP)
AB – Malibu Deadbeats (Cougs R Us) – 8360
IP – Cram It (Sponge-worthy Anti-Dentites) – 1576
K/9 (Min. 1040 IP) – WarDam Fantasy (Razzers Not Brazzers) – 10.8
K/GS (Min. 1040 IP) – ABQ Roadrunners (High Desert Baseball) – 11.69
K/GS (Min. 160 GS) – Weird Balls (The Prospect Podcast League) – 9.47
MOVES – Grey is Fey (Take On Jay) – 3246
Worst Place – The Big Hurt (The Pete Rose Integrity Society) – 16.9 RCL Points, 18.5 League Points with a League Index of 95
Do you suppose offense was up this year?  The RCLs set new records in Homers and RBIs.   I would have suspected that Strikeouts would have a new record as well, but alas.
Rudy is Snooty did finish the year with 1851 Ks, however, due to their league rules being set for 200 GS, they were disqualified, giving Cram It the RCL lead for the season.
The bots still made an impact though, with Grey is Bae pacing everyone in Runs.  They still came up 5 runs short of Backdoor Sliders' record from last season.
I thought Tehol and I were battling it out for the HR crown, but New York Dahls snuck in there and beat me by one dinger.  At least they've got a good team name.  My Sneetches still pulled out the RBI record, so it's all good.
Look at Jay making it into the record books!
Ralph had the top three teams in wins this year, so see him next year about what middle relievers to stream.  Still, Ralph came up 1 win shy of tying the RCL record set last year by MauledByPandas.
Last year's robo-manager came up 10 saves shy of the all-time record, this year, they blew it away.
Malibu Deadbeats led all RCLers in ABs.  Maximizing ABs is paramount to succeeding in the RCLs but even that wasn't good enough to win the competitive, Cougs R Us.  Congrats to Team Frost on that achievement.
We all know how active Cram It is and he led the way in IP, streaming every last middle reliever he could.  Nice job Cram!
I harped on K/GS back in the preseason as a stat that I felt was more important than simply K/9.  I feel like K/GS is a much better indicator of where you stand within your league since the RCLs have a GS limit, not an IP limit.  ABQ Roadrunners  topped the RCLs in the stat but only used 112 GS.  Still, they met the minimum for IP to qualify with 1142 IP.  If you want to look at those teams that did maximize their GS, Weird Balls and their 172 GS managed a 9.47 K/GS.  I typically shoot for right around a 9, so these managers really nailed it this year.
Finally, a quick shout out to The Big Hurt who managed the feat of finishing DFL in the Master Standings.  
TOP LEAGUES
I've mentioned in the past that I have a bias for high LCI Leagues.  I've played in several and commish one of the best, so naturally I want to give them their due.  Here are the top 10 leagues in order of LCI:
ECFBL – 111
Cougs R Us – 109
Razzball 'Perty Perts – 108
DFSers Anonymous – 107
FCL – 107
Night of the Living Zombinos – 106
Rio Ruiz Super League – 106
Razzball Writers League – 105
Original Recipe – 104
South Side Titans – 104
Tater Time – 104
There you have it, the top 11 when you include ties.  Well done leagues!  I love seeing the 'Perts League up there, nice job 'Perts!  ECFBL is once again at the top of the heap in LCI.  ECFBL led the leagues in every offensive category except for steals, where Cougs R Us won by 22 (ECFBL was 2nd).  On the pitching side they led in IPs, Ks, and Wins ('Perts League won the Saves crown).  The ECFBL is one tough cookie, so it feels pretty awesome to have won that for the second time in four years.  The winners of all these leagues deserve major kudos.  It's not easy winning an RCL and certainly not one with an LCI north of 102.  Take note of the league names and maybe reach out next year when the time comes if you want to play in one of the top leagues.  I played in seven of the top eleven this year and it was a total blast, each and every one.  
It has been an absolute pleasure bringing you these updates every week.  Thanks to everyone who read, lurked, commented and/or gave a kind word.  A million thanks go out to Rudy and Malamoney for collecting data behind the scenes and making my job easy!   I love these crazy, time-consuming leagues, I love the daily moves and the competition it creates and I hope that was evident in my weekly reports.  Is the format perfect?  Nah, but darnit, it's fun as hell.  I like to think of it as the daily fantasy of season long.  I also love the community it brings together, pitting commenter against commenter, 'Pert against random lurker.  Is there another place on the interwebs where you can play against 800+ other people all with weekly Master Standings updated as well as a weekly report on the goings-ons?  I think not.  Thank you to Grey and Rudy for creating this beautiful monster known as the RCLs.  Let's dedicate this season to Yordano Ventura, RIP and enjoy our winter of hibernation.  See you all you crazies next year.
Want to be Matt's Twitter pal?  That's kinda creepy, but you can follow him here: @MattTruss