I hope everyone got to enjoy a long weekend this Memorial Day.  I took in some sunshine at the lake with some burgers and dogs with the unofficial kickoff to summer up here in the north country.  I've got the sunburn to prove it. Nothings says summer kickoff like coming home looking like a lobster. I'm all recovered though and ready to bring you the goings on for the week in the Razzball Commenter Leagues.  We had a change at the top spot for the first time in four weeks. A certain 'Pert is back on top of the 'Perts League heap and we had a couple of weekly records fall. All this and more in the week that was, week 8 in the RCLs:
Each week we'll peek in at our resident 'perts to see who is laying claim to best "expert" RCLer in the land.  We'll take notes, check the standings and generally stalk them.  The heading is also hyperlink, so feel free to follow along as we go.

It was short-lived for Ralph in the top spot.  Grey reclaimed his crown Monday night last week and went on to gain 10.5 points, the most in the league this week.  After losing 13 points last week Grey almost gained them all back and now sits 11.5 points ahead of his nearest competitor, Roto-Wan.  Roto-Wan tied with B_Don for the most standings spots gained this week, each gaining three places.
Son had a brutal week in the 'Perts League this week, losing 15.5 points.  Son had the second worst ERA in all the RCLs with a whopping 8.88 in 51.2 IP.  Ouch. Son, Tehol and Ralph all dropped three spots in the standings this week.
TOP 10
For those too lazy to check the MASTER STANDINGS, I present to you, the current top 10
Welp, the Fat Fuckin Babies take the lead folks.  They were able to gain one point in RCL #57 while former leader, Licketty Splits lost two in RCL #52 and fell to second.  It's a tight race at the top though and we could be looking at a few weeks of changes at the top.
My DFSers Anonymous team holds tight in third as does Backdoor Splitter's ECFBL squad in fourth and Team mcafeeeee in fifth.
Backdoor Cutters jumps up from seventh to sixth and Elephant Riders makes a big leap from 22nd to seventh.
Team pozzo remains in eighth for another week while my ECFBL teams fals to ninth.
Finally, UpNorth jumps back into the top ten after falling to 18th last week.
TRADES
All the trades that have gone down in the past week.  Public ridicule is not only allowed, but encouraged.
Nine trades went through this week with Josh Hader, Aaron Nola and Josh Bell  trading places twice. I prefer Hader to Brandon Lowe but swapping Hader and Neris for Anthony Rendon is pretty sweet.  I'm not sure what to make of Josh Bell's start to the year, but I guess you have to buy in at this point.
WEEKLY LEADERS
The best of the best from the week that was.
R – 73 – Funky Butt Lovin' (RCL 2019 (#40))
HR –28 – Skip Mcgillicuddy (Frequent Commenters League)
RBIs – 71 – Lucky Bucky (RCL 2019 (#15))
SB – 11 – Team cheesesteaks (RCL 2019 (#22)) & Team Bgazda (RCL 2019 (#51))
AVG – .361 – Team NinoCardenas (RCL 2019 (#44))
K – 99 – Team johnnyhobbes (RCL 2019 (#5))
W – 8 – 10 Teams Tied
SV –  10 – 4 Teams Tied
ERA (Min. 40 IP) – 1.29 – Ug (RCL 2019 (#65)) (in 48.2 IP)
WHIP (Min. 40 IP) – 0.719 – Team coachdalmore (RCL 2019 (#3)) (in 40.1 IP)
We set a new Runs record this week and we've now shattered last year's HR record.  Last season the weekly record for HRs was 26 over the course of the season. This year we've had weeks of 27 and 28.  Do you think we'll hit 30? We also tied the RBI weekly record with another team hitting 71. Keep up the good work everyone!
TEAM OF THE WEEK
Our weekly shout out to the team that killed it the previous week.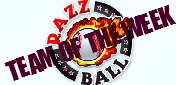 Team: Team maloudashairdresser
League: RCL 2019 (#59)
Stats:   AVG: .314, R: 62, HR: 24, RBI: 70, SB: 4
IP: 57.1, ERA: 1.41, WHIP: 0.924, K: 65, W: 7, SV: 5
Summary: Now that's a week to write home about!  Team maloudashairdresser hit over .300 for the week and was right near the top of the weekly leaderboard in both HRs and RBIs.  To top it off, Team maloudashairdresser was second in all the RCLs with a 1.41 ERA in enough qualified IP and had a sub 1 WHIP. It was Anthony Rizzo, Austin Riley  and Eddie Rosario pacing the offense this week with Odorizzi, Paddack, Foltynewicz and Stephen Strasburg doing work on the pitching side. This stellar week was enough to gain Team maloudashairdresser five league points in RCL #59 and increase their league lead to fifteen points!  Keep this up and the league will be over by July!
Want to be Matt's Twitter pal?  That's kinda creepy, but you can follow him here: @MattTruss