I hope everyone had a fabulous Memorial Day weekend.  I was lucky enough to take in a game this weekend and see the Sawx take on my beloved Braves in Fenway Park.  The Braves lost, but I got to see Acuna live and in the tilde, Ozzie Albeast and my man-crush, Freddie Freeman.  Massachusetts native, Sean Newcomb started the game, so there were a lot of Braves support there for him. The camo unis underwhelmed this year, black on black camo just looks solid black from the stands but the olive drab green high socks were pretty sweet.  Anyway, we're all recovered here at Razzball Commenter League HQ and ready to fill you in on all the goings on this week. We had a change at the number one spot for a second straight week, a certain prospector continued their dominance of the 'Perts League and a couple of weekly records were broken.  More details and the rest of the week that was week 8 in the RCLs below:
Each week we'll peek in at our resident 'perts to see who is laying claim to best "expert" RCLer in the land.  We'll take notes, check the standings and generally stalk them.  The heading is also hyperlink, so feel free to follow along as we go.

As mentioned in the open, Ralph continued to dominate in the 'Parts League.  He's got a 12 point lead over his closest competition (Son) with myself and Grey lurking a few points behind that.  Ralph is riding his middle infield duo of Albies and Didi for all they are worth. The recent HR binge by Just Dongs Martinez hasn't hurt any either.  It's really been a story of consistency vs. category dominance for Ralph as the only category he leads in right now is Saves (he's also in a three way tie for the wins lead).  That's potentially scary for the rest of us as it means he's got points to be gained in a plethora of categories. Yikes.
Lance was the big winner this week, gaining 13 points thanks to leading the league in runs, HRs, ERA and WHIP.  Lance moved up 2 spots with the point gain and is now tied with Rudy for 5th. Nice work Lance.
Smokey was the biggest loser this week as he dropped 6 points despite leading the league in batting average.  He dropped one place to 7th.
TOP 10
For those too lazy to check the MASTER STANDINGS, I present to you, the current top 10
I reclaimed the top spot this week after losing out to DHARMA Initiative for a week.  DHARMA slipped to 3rd this week as STL Squat Cobblers used the high ECFBL LCI to boost themselves from 6th to 2nd.
The Road Warriors moved up one spot this week to 4th and Some Salvy For My Knee jumped back into the top 10 to 5th, from 12th last week.
Los Beisbolcats, LauraHolt, OldNavy 3 & Ralph Lifshitz each dropped a spot of two but remained in the top 10 for another week.
Rounding things out is Hawaiian Punks, who moved up from 31st last week and into the 10th spot.
TRADES
All the trades that have gone down in the past week.  Public ridicule is not only allowed, but encouraged.
Just a couple of trades that I found this week.  Gio for Bour seems like the equivalent of trading Pogs for Beanie Babies, usefulness is in the eye of the beholder.
I've said it once, I'll say it again, Vottoman Empire is probably the most active owner in the trade market in the RCLs.  This one got scary this weekend with the Felipe Vazquez news. I'm not sure we're out of the woods yet, but I'm sure Vottoman breathed a sigh of relief that it's a "minor" injury.  James Andrews might have other thoughts in a week or so, but we'll see.
Sale for Bryant seems pretty fair depending on needs.  In fact the Trade Analyzer has it $1.50 in favor of the Bryant side.
WEEKLY LEADERS
The best of the best from the week that was.
R – 68 – Wiener Wald (RCL 2018 (#8))
HR –22 – 3 Teams Tied
RBIs – 73 – Stickball Al (RCL 2018 (#46))
SB – 13 – Team GaryAce (RCL 2018 (#6))
AVG – .340 – Captain Longballs (RCL 2018 (#71))
K – 128 – Vin (DFSers Anonymous)
W – 9 – The KID (RCL 2018 (#50))
SV –  13 – Even The Losers Get Lucky Sometimes (RCL 2018 (#10))
ERA (Min. 40 IP) – 1.07 – 1992 City Champs (RCL 2018 (#73)) (in 50.1 IP)
WHIP (Min. 40 IP) – 0.665 – Lyons Den (RCL 2018 (#73)) (in 61.2 IP)
One week after Ralph grabbed the Saves lead, someone swoops in with 13 and steals it right back.  The Tom Petty fan had Edwin Diaz, Kenley Jansen, Shane Greene, Corey Knebel and Fernando Rodney all chip in saves this week.
Shout out to RCL #73 for putting two teams on the leaderboard with outstanding pitch performances.  The 0.665 WHIP is good for a new weekly record and neither team skimped in the innings pitched either.  These make my 3.20 ERA and 0.966 WHIP in 39.1 IP in RCL #73 seem very inadequate.
TEAM OF THE WEEK
Our weekly shout out to the team that killed it the previous week.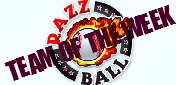 Team: One Ping Only
League: RCL #3
Stats:   AVG: .283, R: 41, HR: 15, RBI: 58, SB: 4
IP: 114.2, ERA: 3.14, WHIP: 1.212, K: 106, W: 6, SV: 6
Summary: One Ping Only was one of the unlucky few to get autodrafted and fall victim to FanTrax's love of all things pitchers.  Thanks to a few trades the first couple weeks of the season One Ping landed Anthony Rendon, Ian Desmond, Corey Dickerson and Blake Treinen so they weren't totally up shizz creek without a paddle.  Tim Anderson and his 4 HRs and .333 average led the offensive charge while Frankie Montas, Chad Kuhl and Danny Duffy were great streaming picks on the pitching side. Corey Kluber did Corey Kluber things and it was a great week all around for One Ping Only.  Nicely done!
Want to be Matt's Twitter pal?  That's kinda creepy, but you can follow him here: @MattTruss