It's pretty jarring to me that in two weeks from today our Razzball Commenter Leagues season will be over.  I expect to see a lot of movement in the overall standings during that time frame, despite the fact that the top spot has remained unchanged for three straight weeks.  Considering this is week seven, a time where, in a normal season, the league standings are just starting to level out, plenty of gains can still be made.  We've only had two teams hit the 525 IP limit so far, that alone will really shake up some league standings.  If you are not yet above 400 IP, what are you waiting for?  Make some noise on the waiver wire and get streaming!  We've also had two teams hit the max moves limit of 185 already.  Several more teams are into the single digits with two weeks to go.  I know we said to max out your moves, but yikes.  I feel like I've been extra active with late scratches and streaming like a mad man, and I'm pretty comfortable with moves in every league with around 50-60 remaining.  Next week will be a total bleep show with star players getting dropped left and right if they aren't in the lineup.  These aren't keeper leagues and you don't get extra points for hanging onto Nolan Arenado if he's out of the lineup for a rest day with three days left in the season.  Go ahead and make it a wacky finish to a wacky season!
Each week we'll peek in at our resident 'perts to see who is laying claim to best "expert" RCLer in the land.  We'll take notes, check the standings and generally stalk them.  The heading is also hyperlink, so feel free to follow along as we go.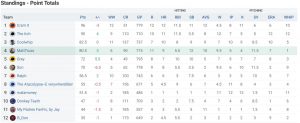 Cram It is still holding onto the top of the league for the third straight week.  However, he lost 3.5 points this week, giving The Itch a bit of life in the final two weeks.  The Itch gained 3.5 points, putting themselves just six points back from Crammy.  Coolwhip and I are warming up the bronze medal position, but we're both sitting mid-teens points behind Cram It and I'm not sure there's enough time to catch him.
After losing 18 points last week, Grey was this week's biggest gainer, earning back six of those points, and dragging himself up to fifth place.  Grey led the league with a 2.55 ERA and 0.925 WHIP as the fantasy deities made amends for his 8+ ERA last week.  With 24 points between he and Cram though, I think time has run out on Grey.
B_Don takes biggest loser honors this week, with an eight point loss driving him further into the league cellar.
Each week we'll also take a look at the top ten overall standings in our other Razzball sponsored league, the RazzSlam.  This is our NFBC Best Ball league with managers from all across the industry, from content providers to fans and readers just like you.

Ray Butler increased their lead to 76 points this week as they continue to lead the RazzSlam overall standings.  It would appear this is their contest to lose here.
Derek Rhoads reclaims second place this week as Greg Fishwick slips to fifth and Todd Zola dips all the way down to ninth place.  Rob Sherwood continues their climb, moving up from fifth to third this week.  Joseph Bond also continues climbing, moving from eighth to fourth this week.
Keith Willingham and Brent Franey swap spots this week finishing in sixth and seventh respectively and Rick Garlinghouse moves up five spots this week to round out the top ten.
The biggest gainer of the week is a familiar face around these parts, Matt Hayes, better known as, [email protected].  Matt gained 795 points this week and moved up 49 places to 52nd overall.  Nice job Matt!
TOP 10
For those too lazy to check the MASTER STANDINGS, I present to you, the current top 10
| RK | TEAM | LEAGUE | RCL PTS | LG PTS | LG INDEX | MASTER PTS |
| --- | --- | --- | --- | --- | --- | --- |
| 1 | Team Tokyo | Cougs R Us | 120 | 105 | 113 | 114.2 |
| 2 | Gunk Squad | RCL 2020 (#64) | 114.2 | 102.5 | 109 | 111.1 |
| 3 | Mattys Super Twos | RCL 2020 (#3) | 113.9 | 116 | 99 | 114.2 |
| 4 | Fat Fuckin Babies | Cougs R Us | 112.6 | 98.5 | 113 | 107.3 |
| 5 | Stl Squat Cobblers Tres | RCL 2020 (#59) | 112.6 | 106 | 104 | 112.6 |
| 6 | In a Ditch | RCL 2020 (#76) | 112 | 99.5 | 109 | 110.8 |
| 7 | Trussell Shuffle | RCL 2020 (#60) | 111.9 | 105.5 | 107 | 107.4 |
| 8 | summer thunder 2 | RCL 2020 (#49) | 110.9 | 105 | 105 | 109 |
| 9 | Savages in the Box | Night of the Living Zombinos | 110.5 | 94 | 114 | 106.9 |
| 10 | Team kansasjayhawks05 | RCL 2020 (#63) | 110 | 100 | 110 | 104.8 |
As mentioned in the lede, things are leveling out a bit here in week seven as the top three spots didn't change at all with Team Tokyo still holding the top position over Gunk Squad and Matty's Super Twos.
CT Old School falls out of the top ten this week, leaving FFB to take the fourth spot.
Squat Cobblers Tres moved up three spots to fifth this week and In A Ditch jumped up from 27th last week to take the top ten by storm this week, moving into sixth place.  More on this hot team later on.
In A Ditch bumps me down one spot to seventh and summer thunder 2 moves up two places to eighth.
Savages in a Box scoot into the top ten, up from 14th last week and we have one more impressive jump rounding things out.  Team kansasjayhawks05 was sitting in 52nd overall last week and moved into tenth this week.  That's two giant leaps that made their way into the top ten overall in a week's time.  Will you be next week's big mover?
TRADES
All the trades that have gone down in the past week.  Public ridicule is not only allowed, but encouraged.
We had a couple of last minute deals that didn't go through until early this week.  Shane Bieber was on the move twice in these deals and it seems that someone didn't get the same value for Bieber as someone else managed.  Interesting.
WEEKLY LEADERS
The best of the best from the week that was.
R – 70 – Team kansasjayhawks05 (RCL 2020 (#63))
HR –20 – Sweet Potato Mashers (RCL 2020 (#34))
RBIs – 67 – Walking the Parrot (RCL 2020 (#24))
SB – 16 – Crows (RCL 2020 (#26))
AVG – .361 – CFofGravity_Brad (RCL 2020 (#8))
K – 103 – Team DFresh (RCL 2020 (#24))
W – 11 – In a Ditch (RCL 2020 (#76))
SV –  11 – FANTASY ICON 5.0 (RCL 2020 (#59))
ERA (Min. 40 IP) – 1.30 – Team Theakstons (RCL 2020 (#50)) (in 76 IP)
WHIP (Min. 40 IP) – 0.75 – Team dkopek (RCL 2020 (#28)) (in 57.1 IP)
You'll see the names of our two big movers into the top ten overall have made this week, little surprise there.  RCL #24 put two teams on the leaderboard this week, good luck to the rest of that league.  Apparently players threw caution to the wind this week and ran wild as we set a new steals record with 16, which ties the weekly record from last season as well.  Many teams had 14, 13 and 12 steals this week, it must be something in the water.  The stream is alive and well this week too as we also set new records in strikeouts and wins as managers bump those innings up.  Fantasy Icon broke our four-way tie for the weekly saves record, recording 11 this week!  Nice work everyone.
TEAM OF THE WEEK
Our weekly shout out to the team that killed it the previous week.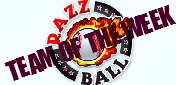 Team: In a Ditch
League: RCL 2020 (#76)
Stats:   AVG: .288, R: 65, HR: 16, RBI: 63, SB: 9
IP: 89.1, ERA: 1.71, WHIP: 0.951, K: 83, W: 11, SV: 3
Summary: I told you there would be more on In a Ditch later, and here we are, with a week for the record books.  In a Ditch nearly led the RCLs in Runs and RBIs while posting mighty fine HR and SB numbers to boot.  Throwing 89 innings and going sub 2 ERA and sub 1 WHIP is equally as insane and it's little surprise with those numbers that they led the RCLs in Wins.  In a Ditch has been keeping a full lineup and it's hard to pinpoint and star on offense as everyone was on fire, but Jeff McNeil seems to have led the way.  Who'd have thunk?  On the pitching side though, we have Luis Castillo, Kyle Hendricks, Lance Lynn and Sixto Sanchez all having remarkable weeks with six wins between them.  In a Ditch sits in first place in RCL #76, adding seven points this week.  Well done Ditch!
Want to be Matt's Twitter pal?  That's kinda creepy, but you can follow him here: @MattTruss