There are so many rookies out there right now that I can't find room to try and roster them all!  After basically punting corner infield in most of my Razzball Commenter League drafts this year I've been able to find Daniel Vogelbach, Mitch Moreland, Yandy Diaz and now Michael Chavis and Austin Riley to fill holes.  Amed Rosario has been uninspiring so far on most of my teams, so enter Chavis and his new 2B eligibility and Keston Hiura. I don't even have room to try and snag Brendan Rodgers. Now it's trying to find room for Yordan Alvarez, it never ends!  These are good problems to have though and a good reason to leave those last couple roster spots on offense able to be churned. There is no issue with leaving the draft in this format knowing you'll be hitting the waiver wire for your OF5, UTIL and CI/MI spots.  There are players every year that pop from the waiver wire, just keep those eyes peeled. Right now, point your eyes below for the rest of the week that was, week 7 in the RCLs:
Each week we'll peek in at our resident 'perts to see who is laying claim to best "expert" RCLer in the land.  We'll take notes, check the standings and generally stalk them.  The heading is also hyperlink, so feel free to follow along as we go.

Folks, we've had a major shake-up in the 'Perts league standings this week!  Ralph has come from 10th place back in week 2 to reclaim his throne. It doesn't get much more narrow than the 0.5 points Ralph has over Grey at the moment, but it doesn't matter, Ralph is in first place.  Grey took an epic dive this week, losing 13.5 points, the most in the league this week by far. I'm not sure where Grey lost all his points, he didn't have a terrible week, he was middle of the pack in offense and had a slightly high ERA/WHIP, but nothing extreme.  Maybe it was the one win or maybe everyone else just had great weeks where Grey was vulnerable, but it wasn't pretty. Ralph gained 5.5 points on his way to the top spot, but that wasn't the most in the league. I gained 15.5 points this week, so maybe I stole all of Grey's points.  My points are boosted by my league high 441.2 IP, giving me a false lead in Wins and Ks. Once everyone catches up, I'll fall back some. For example, Grey has 80 IP less than me right now. I did manage to lead the RCLs in Wins this week with this team, so maybe I have a little win luck going for me.  Things are close across the board in the 'Perts league with 0.5 points separating first and second, third and fourth are 4 points back with 0.5 points separating them and then there is a three way tie for fifth just 11 points behind the leaders.
TOP 10
For those too lazy to check the MASTER STANDINGS, I present to you, the current top 10
The entire top five remains in tact this week with just my DFSers squad swapping spots with Backdoor Splitter's ECFBL team.  Licketty Splits at least looks catchable this week, as they lost 3.5 league points and are now only 1 RCL point ahead of the Fat Babies and 1.4 ahead of my DFSers team.
In sixth place this week we have my ECFBL team who is locked in an epic battle with Backdoor Splitters in that league.  I had a nice week jumping up from 31st last week to get back in the mix. Right behind me in seventh is Backdoor Cutters and his NOTLZ team.  Let me get this right, Backdoor and I have 4 teams in the top 10 between us? Not bad, not bad at all. I'll also take this chance to give a shout out to Bezobrazie who also has two teams in the top 20 and each of them has taken a turn in the top 10 this year.  We've got some good managers in these RCLs!
Next up, in eighth we have Team pozzo who moves up from 14th last week followed by J&G who gets back in the top 10 after taking a hiatus in 15th last week.
Finally, rounding out the top 10 we have Teddy Bear Suicide who moves up three spots from 13th last week.
TRADES
All the trades that have gone down in the past week.  Public ridicule is not only allowed, but encouraged.
Ten trades went down this week.  Khris Davis was traded three times as power-starved teams looked to make a run.  Changing teams twice we had Byron Buxton, Austin Meadows and James Paxton.  Yordan Alvarez has already been traded, which is pretty funny. Mattingly's Mustache got an immediate impact from Shane Bieber which must have felt nice.  I don't really hate any of these deals, do you?
WEEKLY LEADERS
The best of the best from the week that was.
R – 62 – Two Hole Hitter (RCL 2019 (#66))
HR –24 – MattTruss223 (DFSers Anonymous) & Team dhardee (RCL 2019 (#7))
RBIs – 62 – 4 Teams Tied
SB – 13 – The Hippos (ECFBL) & Whit Lash (RCL 2019 (#44))
AVG – .347 – Brookhaven Modern Blue (RCL 2019 (#18))
K – 99 – Team ianmaxwell11 (RCL 2019 (#59))
W – 10 – MattTruss (PERTS LEAGUE)
SV –  10 – Backdoor Splitters (ECFBL) & Fat Fuckin' Babies (RCL 2019 (#57))
ERA (Min. 40 IP) – 0.73 – Bezobrazie 2 (RCL 2019 (#65)) (in 49 IP)
WHIP (Min. 40 IP) – 0.673 – Bezobrazie 2 (RCL 2019 (#65))
Only one weekly record fell this week and that was breaking the eight way tie in Wins as I came up with 10 with my 'Perts league team.  Top 20 teams were all over the weekly records this week as the rich got richer.
TEAM OF THE WEEK
Our weekly shout out to the team that killed it the previous week.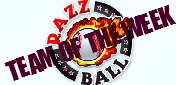 Team: MattTruss223
League: DFSers Anonymous
Stats:   AVG: .281, R: 52, HR: 24, RBI: 54, SB: 4
IP: 76.1, ERA: 1.65, WHIP: 0.852, K: 81, W: 5, SV: 6
Summary: I mentioned before how I hate when my teams show up as the TOW because I'd rather talk about someone else's team here, but there is no denying this one.  This team has the highest single week TOW score to date and was just an all around juggernaut. This team co-led the RCLs in HRs while going microscopic in ERA and WHIP in 76.1 IP.  With this performance I was able to add 5 league points and move closer to the top overall spot in the Master Standings. Vladito and Dan Vogelbach paced my offense with 4 dingers apiece while Shane Bieber had a week for the ages to go along with nice weeks from Walker Buehler, Yusei Kikuchi, Masahiro Tanaka and Yonny Chirinos.  Fingers crossed I can keep this up!
Want to be Matt's Twitter pal?  That's kinda creepy, but you can follow him here: @MattTruss