The Razzball Commenter League trade deadline went out with a bang, we have nine trades to go over today and another few to cover next week that just squeaked in at the deadline Sunday.  With the Labor Day holiday, Rudy's robots took the day off as well, so we have one extra day of data included in the weekly stats.  It's crazy that we only have three weeks to go in this strange season.  Hopefully you made some trades that will make a difference down the stretch.  I don't know about you, but it seemed weird to trade for a starter knowing they'd only have 4-5 more starts to come.  Everything about this season feels weird honestly, but we're making due.  Things are still in so much flux in the league standings that big swings are still happening all over.  I kicked my teams in the rear this week and pounded the innings pitched, which had me gaining points in strikeouts and wins across my many leagues.  I don't want to be caught that final week of the season needing to stream 100+ innings, because who knows what in the world that week will look like.  Keep an eye on your own IP and stream accordingly.
Each week we'll peek in at our resident 'perts to see who is laying claim to best "expert" RCLer in the land.  We'll take notes, check the standings and generally stalk them.  The heading is also hyperlink, so feel free to follow along as we go.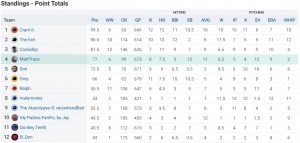 Cram It added to his lead again this week, racking up another two points and bringing his league total to 99.5.  
Coolwhip and I were the big gainers this week however, with Coolwhip picking up 14 points and moving up two places to third, while I gained 12 points this week and moved up three places to fourth.  Coolwhip threw 52 innings of 1.21 ERA and 0.962 WHIP ball, both league bests.  I led the league in batting average (.312) and saves (10) while co-leading in runs (52) and steals (7).
Grey was the league's biggest loser this week, as he posted an ugly 8.58 ERA and 1.991 WHIP.  Lance Lynn, Chris Paddack and Lance McCullers were the biggest culprits.  This led to Grey dropping 18 points this week and falling three places to sixth.
Each week we'll also take a look at the top ten overall standings in our other Razzball sponsored league, the RazzSlam.  This is our NFBC Best Ball league with managers from all across the industry, from content providers to fans and readers just like you.

Ray Butler hangs on for another week, increasing his lead to 63 points over the ever-changing tide of teams behind him.  This week it's Greg Fishwick who takes second place, as they move up from fourth last week.  Todd Zola hangs onto third and Derek Rhoads falls from second to fourth.  Rob Sherwood was our biggest point gainer of the week, racking up 702 as they moved up from eighth to fifth this week.  Brent Franey holds onto to sixth place this week and Keith Willingham moves into the top ten, up from 14th last week.  Joseph Bond remains in the top ten this week, moving up to eighth while John Cristopher moves into the top ten from 18th.  Ariel Cohen falls from seventh, but holds on to round out the top ten overall.  Our biggest mover this week was Michael Barner of Rotowire who gained 39 spots thanks to 632 points this week as they settled just outside the top 100 in 116th place.
TOP 10
For those too lazy to check the MASTER STANDINGS, I present to you, the current top 10
| RK | TEAM | LEAGUE | RCL PTS | LG PTS | LG INDEX | MASTER PTS |
| --- | --- | --- | --- | --- | --- | --- |
| 1 | Team Tokyo | Cougs R Us | 119 | 103 | 113 | 114.6 |
| 2 | Gunk Squad | RCL 2020 (#64) | 116.3 | 104.5 | 109 | 113.3 |
| 3 | Mattys Super Twos | RCL 2020 (#3) | 113.8 | 115 | 99 | 114.1 |
| 4 | CT Old School | RCL 2020 (#33) | 113.4 | 108 | 104 | 111.6 |
| 5 | Fat Fuckin Babies | Cougs R Us | 113.1 | 98.5 | 113 | 108.2 |
| 6 | Trussell Shuffle | RCL 2020 (#60) | 112.4 | 104.5 | 107 | 109.3 |
| 7 | Capital Offense | ECFBL | 111.8 | 101.5 | 109 | 107.4 |
| 8 | Stl Squat Cobblers Tres | RCL 2020 (#59) | 110.9 | 104 | 104 | 110.8 |
| 9 | Cram It | PERTS LEAGUE | 110.1 | 100 | 109 | 107 |
| 10 | summer thunder 2 | RCL 2020 (#49) | 110.1 | 103.5 | 105 | 109.2 |
Team Tokyo lost three points in Cougs R Us, but held onto to the top overall spot in the Master Standings, which is really all that matters.  Gunk Squad moved way up this week, gaining six league points and moving from sixth to second overall, just 2.7 points behind Team Tokyo.
Matty's Super Twos moves back into third overall this week after a one week hiatus from the spot, dropping CT Old School to fourth.
FFB falls from second to settle in fifth as one of my many teams climbs from tenth to sixth this week.
Capital Offense takes a little tumble, from fourth to seventh and bumps Squat Cobblers Tres to eighth in the process.
Cram It, who was knocking on the door last week move into the top ten this week and rounding things out we have summer thunder 2 falling one spot to tenth.
TRADES
All the trades that have gone down in the past week.  Public ridicule is not only allowed, but encouraged.
Plenty of trading action this week!  Rhys Hoskins moved a couple times as he got hot this past week.  Squat Cobblers caught a tough break in grabbing Max Fried who promptly hits the IL.  I really like the Castellanos for Buehler trade for both sides.  I expected to see more deals like that at the deadline, but it was tough trading I felt like.
WEEKLY LEADERS
The best of the best from the week that was.
R – 74 – In a Ditch (RCL 2020 (#76))
HR –29 – Team cubbiebearz (RCL 2020 (#29))
RBIs – 80 – Stl Squat Cobblers Deuce (RCL 2020 (#58))
SB – 15 – Canuckleballs (RCL 2020 (#7))
AVG – .340 – Team paulpatt18 (RCL 2020 (#30))
K – 117 – RizzoisGoldGlove2B (RCL 2020 (#11))
W – 11 – Team crimsontide33 (RCL 2020 (#42))
SV –  12 – Disgustipated (RCL 2020 (#43))
ERA (Min. 40 IP) – 1.07 – Team Seamhead81 (RCL 2020 (#8)) (in 42 IP)
WHIP (Min. 40 IP) – 0.862 – Houston Buzzing BandAids (RCL 2020 (#7)) (in 52 IP)
Due to the extra day of stats, I won't include the counting stat records in the weekly records, but we did set a new low in ERA this week with that 1.07.  Nice work Seamhead!
TEAM OF THE WEEK
Our weekly shout out to the team that killed it the previous week.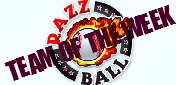 Team: Team hsclegend
League: RCL 2020 (#48)
Stats:   AVG: .324, R: 63, HR: 19, RBI: 63, SB: 9
IP: 85.1, ERA: 2.43, WHIP: 1.008, K: 90, W: 8, SV: 6
Summary: Two weeks in a row I've been nudged out of TOW honors, this time by less than a points, but hsclegend had one heck of a week.  Just look at those numbers.  Everyone on this offense got hits, led by Trea Turner and Marcell Ozuna.  Somehow, none of the pitchers gave up any runs either.  In 85 IP, getting an ERA under three is very impressive and hsc nearly went sub one with the WHIP as well.  Marco Gonzales and Kyle Hendricks paced the pitching staff in this one, nabbing four of hsc's eight wins.  Hsclegend also picked up a whopping 24.5 points in RCL #48 this week moving them from sixth to first!  See, there's still time to make your move, you could be the next hsclegend and take home RCL glory!
Want to be Matt's Twitter pal?  That's kinda creepy, but you can follow him here: @MattTruss