Week 6 is about the point that we can stop saying, "it's early" and it's about the time I assess and start cutting bait on underperformers.  I'm not saying this is the right way to do things, it could be way too late on some guys, but it's what I do. This week I dropped Joey Lucchesi in most of my Razzball Commenter League teams.  He'd been pretty bad and was starting in Coors this week where I wasn't starting him. Naturally, he went out and pitched a gem. This will most likely be his turnaround and he'll be a top 20 pitcher from here on out.  Your welcome. Jose Peraza is officially gone as is Yuli Gurriel. I ditched Eric Hosmer right before he hit three homers in five games. Fortunately, he's gone back to being terrible, but doesn't that figure? Have you raged dropped anyone yet?  Is there an underperformer you just keep hoping will turn it around (Vlad Jr.)? Let's commiserate in the comments, misery loves company and with any luck our complaining will jump start some of these guys. Now, for the rest of the week that was, week 6 in the RCLs:
Each week we'll peek in at our resident 'perts to see who is laying claim to best "expert" RCLer in the land.  We'll take notes, check the standings and generally stalk them.  The heading is also hyperlink, so feel free to follow along as we go.

Ralph really shook off the cobwebs this week.  It must have been all that heat he was getting on Twitter that woke his squad up.  Ralph moved up three spots this week and now sits in third place after starting the year in tenth.  Ralph's 7.5 points weren't the most gained this week though. That honor goes to Malamoney who gained 9 points and moved up two spots to eighth place.
Grey lost a point this week, but Roto-Wan lost three so Grey still has a 16 point lead on his closest competition.  Speaking of losing, Tehol was the biggest loser this week, dropping 10.5 points and falling three spots, down to seventh.  He's still beating me though, so I can't really talk.
TOP 10
For those too lazy to check the MASTER STANDINGS, I present to you, the current top 10
Licketty Splits remains the overall leader for the third straight week.  They've got 112 league points in a league with a 107 LCI. That 107 is second only to Night of The Living Zombinos, a perennial league powerhouse.  Impressive stuff.
Fat Fuckin' Babies and Backdoor Splitters each move up this week and my squad remains in fourth.
Team mcafeeeee falls a few to fifth and Backdoor Cutters hops back into the top ten this week into sixth, up from 18th last week.
BEZOBRAZIE 1 and Two Hole Hitter stay in seventh and eighth for another week and UpNorth jumps up to ninth.
Rounding things out we have Operation Shutdown who makes a big move from 28th last week to join the top ten.
TRADES
All the trades that have gone down in the past week.  Public ridicule is not only allowed, but encouraged.
A flurry of trade activity this week as eight trades were accepted in the RCLs.  Nothing too crazy here. I traded a semi-closer in Hector Neris for returning Miguel Andujar, allowing me to drop Yuli Gurriel.  That made me happy. Shane Greene was dealt twice and honestly, I think I'd rather have Greene in both those deals. I'm not sure I'd be dealing Yelich at this point, but that could work out if Mookie ballgame gets scorching come summer.
WEEKLY LEADERS
The best of the best from the week that was.
R – 67 – Jet9 (RCL 2019 (#43))
HR –25 – Jet9 (RCL 2019 (#43))
RBIs – 67 – Team Chad_MachoKC (RCL 2019 (#26))
SB – 11 – #6org (RCL 2019 (#62))
AVG – .359 – dammitjim30 (RCL 2019 (#2))
K – 109 – Rusty Shackleford (RCL 2019 (#22)) & Team johnnyhobbes (RCL 2019 (#5))
W – 9 – 7 Teams Tied
SV –  10 – Winter Is Coming (Bend the knee) (RCL 2019 (#48)) & Bezobrazie 2 (RCL 2019 (#65))
ERA (Min. 40 IP) – 0.00 – PASTE (RCL 2019 (#56)) (in 41.2 IP)
WHIP (Min. 40 IP) – 0.456 – PASTE (RCL 2019 (#56))
Well, it finally happened.  I always wondered if we'd see the day when we had a zero ERA for the week in the minimum number of innings.  PASTE just squeaks in with 41.2 IP, but that zero looks pretty awesome. It was Jose Berrios, Zach Eflin, Chris Paddack and Justin Verlander making starts and a slew of relievers all tossing zeros.  That's a record that can only be tied, so congrats to PASTE for making the RCL record books.
The weekly strikeout record fell this week as well and seven teams tied the wins record.
TEAM OF THE WEEK
Our weekly shout out to the team that killed it the previous week.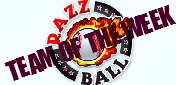 Team: Fortnite Flame Throwers
League: RCL 2019 (#16)
Stats:   AVG: .282, R: 49, HR: 19, RBI: 46, SB: 1
IP: 83.2, ERA: 2.80, WHIP: 1.135, K: 105, W: 7, SV: 1
Summary: A common theme with TOW contenders this week is Justin Turner and the Flame Throwers are no exception.  Turner's five dongs and ten ribbies go a long way to having a great week. What stood out to me with FFT is the 105 Ks in 83.2 IP.  I was even more surprised to see it was Lucas Giolito and Tyler Mahle that did a majority of that damage, each tossing 16 Ks this week.  Who knew!? The stellar week was good enough for FFT to gain 14 league points and move up to seventh. See, you just need one good week to get right back in the thick of things!  Congrats to the Flame Throwers and good luck to everyone in week seven.
Want to be Matt's Twitter pal?  That's kinda creepy, but you can follow him here: @MattTruss