We're six weeks into the Razzball Commenter Leagues now and I think we can finally stop saying "It's still early".  What do you think? I've about had it with Yu Darvish, Chris Archer, and Josh Bell. Jeff Samardzija and David Price have already worn out their welcomes as well.  I'm cutting some slack for Carlos Santana and he's showing signs of life. Aaron Hicks is getting a little extra leash as well. Ian Desmond's batting average is pretty miserable, but 6 HRs and 3 SBs are hard to quibble with.  I'm also holding my shares of Scott Kingery. For now, I'm still looking forward to a second half worth rostering. Who are some struggling players you're cutting bait with? Anyone that you are holding onto for dear life hoping and forming a prayer octagon that they return some value?  I was curious about who has struggled the most so far and what players have been carrying teams with their draft day value. Click below and you can curse your under-performers with everyone and praise your draft day steals!
First, let's take a look at players drafted in the top 100 that have been killing fantasy teams so far this season:
"STD PR" is Season-to-Date Player Rater position.  
Rougned Odor was off to a rough start and then got hurt, so maybe he gets a pass.  Buxton is just doing first half Buxton thing. He'll wait for me to drop him before he leads another team to the championship in the second half.  If we eliminate the injured players, we have Yu Darvish, Chris Archer, Domingo Santana, Luis Castillo, Kenley Jansen, Ken Giles and Paul Goldschmidt leading the charge for most under-performing stars so far.  Kenley and Giles are there proving Grey's SAGNOF theory perfectly. Goldy has to be the worst of this bunch, considering where he was drafted. Hopefully, he gets right soon.
Now for the flip side, let celebrate how amazing Ozzie Albies is and take a look at other players drafted in the top 100 who have returned the most value:
I have exactly zero shares of Gerrit Cole.  I owned him too many times in Pittsburgh only to be disappointed.  I'm with Trevor Bauer, find that pine tar so all Cole's owners can experience what I did the last 2 seasons. I was also off Tommy Pham, but I kinda love him after reading more about his story.  The guy has some serious fight in him. Marte and Cain were my homeboys this draft season though, I felt like I wanted to draft 30 OFs this year.
I thought this would be a fun little exercise at this point in the season.  Hopefully it wasn't too depressing for anyone. Now, for more of the week that was, week 6 in the RCLs:
Each week we'll peek in at our resident 'perts to see who is laying claim to best "expert" RCLer in the land.  We'll take notes, check the standings and generally stalk them.  The heading is also hyperlink, so feel free to follow along as we go.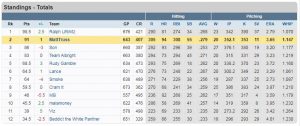 Ralph put some distance between Son and me this week, gaining 5 points.  All Ralph did was lead the league in IP (70.1), ERA (1.54), WHIP (0.725) and strikeouts (72).  Yawn. Fortunately for the rest of us, his hitting didn't keep pace with his pitching or this could have been a monster week for Ralph.  I gained a half point this week to at least keep myself in the conversation and Son dropped 5 points, giving me a little breathing room. Grey and Rudy each gained 6 points this week with Rudy jumping up two places in the standings to 5th, right behind Grey.  There is a 14.5 point gap between 5th and 4th though, so Rudy has some ground to cover if he wants to catch Grey.
Viz was the biggest point gainer this week, with 8.5 points gained.  Smokey was the exact inverse, losing 8.5 points this week, the biggest loss of anyone.
TOP 10
For those too lazy to check the MASTER STANDINGS, I present to you, the current top 10
I was able to hold onto the top spot for another week thanks to a 3.5 point gain in RCL #23.  STL Squat Cobblers are hot on my heels though, moving up from 4th to 2nd thanks to a 3.5 point gain of their own in ECFBL.  That boost in LCI (104 vs. 101) is enough to make things very close at the top.
M is for Mookie grabbed 5 points this week and moved from 8th to 3rd overall and Templeton Shoots The Bird gained 2.5 points to move from 5th to 4th.
The Road Warrior makes their top 10 debut at number 5, up from 23rd last week.
My team that was 2nd overall last week slipped to 6th this week thanks to a 3 point slip.
Ralph jumps into the top 10 overall, sitting in 7th place with his 'Perts League team that did so well this week.
Rounding out the top 10 is OldNavy 3, up from 11th last week and top 10 holdovers, DHARMA Initiative & Some Salvy For My Knee.
TRADES
All the trades that have gone down in the past week.  Public ridicule is not only allowed, but encouraged.
There was some chatter on the league home page about Cole for Yelich, but I think it's pretty fair.  Also, ADLAB got autodrafted 100 starters, so he had a few to deal.
Mr. 305 came to me looking for saves and I was able to unload a struggling Yu Darvish on him.  I was pretty fed up with Yu so nabbing two guys I love in Bauer and Newcomb was pretty awesome.  Haniger is no slouch either and I'm in need of OF help, so, SAGNOF it is!
WEEKLY LEADERS
The best of the best from the week that was.
R – 69 – BJ Miketron (Crab Army)
HR –25 – Oil Can Lou (RCL 2018 (#42))
RBIs – 78 – Oil Can Lou (RCL 2018 (#42))
SB – 15 – Team reflektor91 (RCL 2018 (#53))
AVG – .386 – Turd Fergusons (RCL 2018 (#8))
K – 103 – Clobber Clan (RCL 2018 (#59))
W – 9 – 3 Teams Tied
SV –  11 – AL KOHOLIC (RCL 2018 (#60)) & BloodyMouthFingers (Crab Army)
ERA (Min. 40 IP) – 0.79 – LR Rangers (RCL 2018 (#66)) (in 56.2 IP)
WHIP (Min. 40 IP) – 0.677 – Oil Can Lou (RCL 2018 (#42)) (in 41.1 IP)
It was a good week for breaking records, especially for the offense.  We saw new high weekly marks in every category but steals this week. Despite all that offense, we also saw new highs in ERA and WHIP.  That's pretty incredible. Even crazier is that Oil Can Lou appeared in both the hitting and pitching leaders this week. Is that enough to make them Team of the Week though?  AL KOHLIC and NickTheDick also tied the weekly high for saves with 11. The .386 batting average by Turd Fergusons could stay the record for awhile. All of last season the highest weekly batting average was .383 and in the age of low batting averages, I don't know that we'll see higher than this .386 mark.  Nice work everyone!
TEAM OF THE WEEK
Our weekly shout out to the team that killed it the previous week.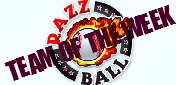 Team: Kerry Kloog
League: Razzball Writers League
Stats:   AVG: .299, R: 61, HR: 24, RBI: 63, SB: 11
IP: 65, ERA: 2.77, WHIP: 1.062, K: 62, W: 6, SV: 4
Summary: It was close, but no cigar for Oil Can Lou as Kerry Klug snuck in and stole TOW honors in one of the closest TOW races I've ever seen.  In the end, it was the extra innings that put Kerry over the edge. He had more Ks, Wins, and Saves that Lou as well as more stolen bases. That was enough to overcome the extra HR and handful of RBIs that Lou had.  Kerry gained 14.5 points this week in the Writers League, inching him closer to 3rd place. The Writer's League looks like it's going to be a great battle and now it's looking like a 4 team race. Nice work Kerry!
Want to be Matt's Twitter pal?  That's kinda creepy, but you can follow him here: @MattTruss