This is the time of year when I like to take a peak at what players are killing your Razzball Commenter Leagues teams and what players are boosting your teams up the standings.  I usually take the RCL ADP and compare that to the Razzball Player Rater. Well, low and behold, Rudy Gamble and went and beat me to the punch this year, releasing THIS little gem of a spreadsheet on Twitter the other day.  By the way, go follow Rudy on Twitter if you're not. Anyway, if you take a look at that spreadsheet, you'll see all the players who are owned in each of our 73 leagues.  The next column over will show you the average standings points of each team that owns said player. For example, if you own Christian Yelich, you should have, on average, 80 points in your league.  Having 6.5 in every category is average, so a score of 65. That means Yelich is 15 points above average. Makes sense, right? If you had started your draft back in April with Yelich, Bellinger and Mondesi, you'd be sitting pretty right about now.  On the flip side, if you started with Manny Machado, Francisco Lindor and Corey Kluber, you're crying in your beer right about now. I'm going to include a quick chart with our consensus first rounders and how they weigh out with Rudy's spreadsheet after the jump.  All that and the rest of the week that was week 5 in the RCLs:
There you have it.  The top two picks of this year's draft have been below average, but not bad.  If only someone warned you about Jose Ramirez this year though, bummer. It's crazy that Trea Turner has been out since game 4 and yet, his owners are still above average.  I think that speaks to the amount of waiver wire talent there has been early on. For example, if Turner went down and you snagged Kolten Wong and Michael Chavis so far, you're likely not doing too shabby.  I'm not sure, but it's interesting to theorize about.
Each week we'll peek in at our resident 'perts to see who is laying claim to best "expert" RCLer in the land.  We'll take notes, check the standings and generally stalk them.  The heading is also hyperlink, so feel free to follow along as we go.

Grey remains sitting pretty atop the 'Perts League standings and spoiler alert: he's still in the overall top 10 as well.  He's got a 14 point cushion on his closest competitor, Roto-Wan, but he did have a down week at least. Grey lost four points this week while Roto-Wan gained ten, so the gap closed a moustache hair.
Roto-Wan was not the biggest gainer on the week however, that honor goes to Donkey Teeth who gained 11.5 points and jumped up four spots in the standings.  Have a week DT! DT led the league in RBIs and tied in steals but was among the best in just about every category this week.
Malamoney was the biggest loser this week, losing 7.5 points and falling two spots in the standings.
I gained four points this week and remain on life support.
TOP 10
For those too lazy to check the MASTER STANDINGS, I present to you, the current top 10
Licketty Splits holds onto the top spot for another week but it's Team mcafeeeee chasing them down now as mcafeeeee jumped from fourth to second this week.
Fat Fuckin' Babies moves from tenth to third this week in an impressive leap for a fat baby.
Making another big leap was one of my 72 teams, MattTruss223 that came from 25th last week to fourth this week.
Backdoor Splitters falls from third to fifth and J&G moves into the top ten this week moving from 13th to sixth.
There were a lot of big moves this week and BEZOBRAZIE 1 is no exception jumping from 35th to seventh.
Two Hole Hitter falls one spot this week to eighth and BucLover moves up two spots to ninth.
Rounding things out, is Grey, just hanging onto the top 10.
TRADES
All the trades that have gone down in the past week.  Public ridicule is not only allowed, but encouraged.
Things were quiet this week, just three deals getting done, but some possible steals went through.  Trevor Story is a heck of a get there for a semi-closer and a bat.
If you saw Syndergaard for Paddack early on in the season you might think this was crazy, but who gets the better of this deal at the end of the year do you think?
WEEKLY LEADERS
The best of the best from the week that was.
R – 64 – Cram It (PERTS LEAGUE)
HR –27 – Team paulpatt18 (RCL 2019 (#17))
RBIs – 70 – Team stechsjj (RCL 2019 (#62)) & Aardwolves (RCL 2019 (#52))
SB – 11 – kumamoto expungers (RCL 2019 (#45))
AVG – .353 – Team Hatrikhwk (RCL 2019 (#61))
K – 99 – Team Joey_bats_ (RCL 2019 (#15))
W – 8 – Hookatrooper (RCL 2019 (#40))
SV –  11 – The Brown Horse (RCL 2019 (#60))
ERA (Min. 40 IP) – 1.01 – Booby Watcher (RCL 2019 (#23)) (in 44.2 IP)
WHIP (Min. 40 IP) – 0.724 – Steelflex Squad (RCL 2019 (#20)) (in 48.1 IP)
A new weekly HR record was set this week with 27.  I thought that might happen when I noticed a bunch of my teams on Saturday had 7+ HRs.  With Josh Bell, Alex Bregman, Manny Machado and Michael Chavis all getting double dongs, there were sure to be big numbers on the week.
TEAM OF THE WEEK
Our weekly shout out to the team that killed it the previous week.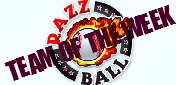 Team: MattTruss
League: Writers League
Stats:   AVG: .271, R: 43, HR: 19, RBI: 60, SB: 3
IP: 73.1, ERA: 2.82, WHIP: 1.064, K: 77, W: 4, SV: 7
Summary: I always dread when one of my teams comes out on top of the TOW points standings because that means I have to talk about it.  I'd much rather talk about one of your teams and give you guys praise. Truth be told, this team has had a rough start, it was in eleventh place as of April 28th.  One good week and now I'm in a more respectable fifth place. Still, Prospect Mike is running roughshod over this league right now, so far going wire to wire leader.  I'm doing my best with Jesus Aguilar finally waking up and the addition of Michael Chavis, but I also just lost Juan Soto. This was one of those teams where I had seven HRs on Saturday and I left Daniel Vogelbach's eighth one on the bench.  Glasnow and Kikuchi were my pitching studs this week (glad Yusei finally did something!) and Bregman's five dongs paced the offense. Watch your back Mike! (Maybe).
Want to be Matt's Twitter pal?  That's kinda creepy, but you can follow him here: @MattTruss