Rudy is back and that means we have numbers to crunch once again.  Before we take a deep dive into the leaders from the past two weeks though I wanted to chat real quick about K/9.  Back in the old days of the Razzball Commenter Leagues I preached about the importance of keeping an eye on your strikeouts per Game Started or K/GS.  With the move to FanTrax and the change from GS to Innings Pitched (IP) the K/GS stat went out the window. However, we have a different stat you should be keeping an eye on now, and that is your K/9.  Since every team is limited to only 1400 innings strikeouts essentially turn into a ratio stat. Once your innings are up, you are stuck with the number of strikeouts you have. This makes those high K/9 relievers such as Josh Hader and Matt Barnes (despite not getting many save chances) very valuable pieces.  Quick shout out to Great Knoche for tipping me off to another K/9 specialist in Nick Anderson who's rocking an 18.24 K/9, just below Barnes and Hader. Something I like to do is sort players by K/9. You can do this by hitting "Extra" on the player page when viewing pitchers. Then just sort by K/9 and make sure you're looking for players with a substantial amount of IP.  Reyes Moronta has been another favorite of mine this year. So, if you find yourself without a save vulture target for the day and your offense is full, consider grabbing a high K/9 reliever to help boost those stats. It only takes a few 7 IP, 2 K performances to put you behind the pace. It's important to monitor and keep a balance. Fortunately for you, and especially those that are bad at math, we're tracking your K/9 for you on the Master Standings page.  There, you can see that among teams with at least 40 IP/week we have Metal Face Doom with an impressive 12.1 K/9.  Bringing up the rear is Fake News Bears with 7.9 K/9 in 245 IP. There's still time to correct though, so fear not!  It's also going to be important to monitor your innings usage. You can click "MIN/MAX" on your team page to see your innings used and your pace.  I like to keep my pace pretty close to right on the money, but your mileage may very. Just don't leave innings on the table if you can help it. Let's take a look at the rest of the week that was, week 4 in the RCLs:
Each week we'll peek in at our resident 'perts to see who is laying claim to best "expert" RCLer in the land.  We'll take notes, check the standings and generally stalk them.  The heading is also hyperlink, so feel free to follow along as we go.

Another week, another beatdown courtesy of Grey.  Grey led the league this week in Runs, HRs, AVG, ERA and WHIP.  Talk about a total team effort. The craziest thing is Grey has Trea Turner and Aaron Judge on the DL.  How did the league let him get Trea, Judge and Bellinger? I don't know, but add in Pete Alonso and Luke Voit and it's no wonder his numbers are so crazy.  Oh, Grey also has Kris Bryant doing zippo at the moment. We could be in for a long season of looking at Grey's backside. Grey made up the nine points he lost last week and added another four to tie with Ralph for the most points gained in the week with 13.  Ralph parlayed his big week into jumping four spots in the standings, the biggest jump of the week. Good for Ralph showing some life finally, I need some of that myself. B_Don was the biggest loser of the week, losing 9.5 points and dropping three spots in the standings.
TOP 10
For those too lazy to check the MASTER STANDINGS, I present to you, the current top 10
We missed last week's update to the Master Standings, so we can expect some big shake-ups this week.
Licketty Splits takes over the top spot this week, up from third place two weeks ago.
One Day moves up four spots to second while Backdoor Splitters has a tremendous two week stretch and moves into third place from 39th.  Splitters' other squad, the Backdoor Cutters is in the top five as well, moving up from seventh two weeks ago. Impressive stuff!
Team mcafeeeee takes the four spot, up from seventh.
Grey is not only running away with the 'Perts League, but he's climbing the overall standings as well, sitting in sixth this week, up from 31st two weeks ago.
Rounding things out, Two Hole Hitter, The Seven-Year Yelich, UpNorth and Fat Fuckin' Babies all make their top ten debuts this week up from 18th, 24th, 16th and 62nd respectively.
TRADES
All the trades that have gone down in the past week.  Public ridicule is not only allowed, but encouraged.
It was a busy week on the trade market in the RCLs with 8 total trades being accepted.
Interesting that so many soon to be injured players were moved this week with Chris Archer, Eloy JImenez and Jean Segura all changing places.  Ray Flowers Toupee takes the worst beat here with Eloy's return looking to be in the 3-4 week range if we're lucky. Sad trombone.
I like that Carter Kieboom immediately starts hitting the trade market.  The FOMO is real.
WEEKLY LEADERS
The best of the best from the week that was.
R – 117 – GMoney Squared (RCL 2019 (#33))
HR –45 – Team Brettj72 (RCL 2019 (#28))
RBIs – 127 – Green Monster Mashers (RCL 2019 (#59))
SB – 23 – Team DFresh (RCL 2019 (#40)) & Bitches Love Sosa (RCL 2019 (#65))
AVG – .307 – Team YourGivensAllOverMe (RCL 2019 (#34))
K – 172 – Team ksteadsrus (RCL 2019 (#54)) & The Lemurs (RCL 2019 (#58))
W – 15 – Funky Butt Lovin' (RCL 2019 (#40))
SV –  18 – 4 Teams Tied
ERA (Min. 80 IP) – 1.86 – Prague Defenestrators (RCL 2019 (#15)) (in 111 IP)
WHIP (Min. 80 IP) – 0.829 – Prague Defenestrators (RCL 2019 (#15)) (in 111 IP)
None of these stats will count towards the weekly records since they are for a two week period, but they are impressive nonetheless.  Nice work everyone!
TEAM OF THE WEEK
Our weekly shout out to the team that killed it the previous week.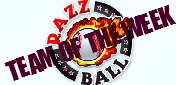 Team: House Balls
League: RCL 2019 (#63)
Stats:   AVG: .258, R: 99, HR: 40, RBI: 77, SB: 5
IP: 162, ERA: 3.00, WHIP: 1.049, K: 152, W: 10, SV: 7
Summary: More like the Team of two weeks.  While House Balls' offensive numbers might not be the most impressive, the combination is pretty darn sweet.  Throwing 162 innings and maintaining a 3.00 ERA and darn near 1 WHIP is fantastic. I'm not sure how you hit 40 HRs and only end up with 77 RBIs but the Runs and HRs are in the upper echelon for the two week time frame.  The pitching is the real gem though with Trevor Bauer, Jose Quintana and J.A. Happ leading the charge there. Eddie Rosario chipped in 8 HRs on the offense and the rest is history. With the effort House Balls moved up from 5th to 2nd in RCL #63 while gaining 20 league points.  Nice work Balls!
Want to be Matt's Twitter pal?  That's kinda creepy, but you can follow him here: @MattTruss