It's hard to believe there's only one week to go in the Razzball Commenter Leagues.  This marathon of a season has seen us torture ourselves for 25 long weeks, agonizing over batty calls, dipping into the streamers with mixed results, cursing players and praising others.  We've ignored our families, our jobs and our personal hygiene and now it all comes down to the final week.  You may smell like stale Funyuns, but dagummit, that virtual fantasy trophy is all yours!  Speaking of trophies, Returning Champ all but sealed is overall championship this week.  When you're already the #1 team in the Master Standings and then you go out and win Team of the Week honors in the second to last week of the season.  Well, that is just the clutchiest of the clutch moves right there.  Last week Returning Champ held a 2.9 point lead over Cram It, this week that lead is up to 5.7 points.  Those numbers don't even take into account that as of Monday morning, Returning Champ hit 119 league points.  Last year saw the first perfect score in the RCLs when Team Levy hit 120.  Until that time the highest league score had been 119, set by the Rank Railheads back in 2012.  Both Team Levy and Rank Railheads were in leagues with an LCI of 98, so Returning Champ has his league's 101 LCI working for him.  Unfortunately, Returning Champ will have no shot at a perfect score since one of the teams in The Giant and the Jew has hit all the home runs.  Hot Ham Water currently has 390 HRs to Returning Champ's 329.  329 is good enough for 2nd in the category, but unless Giancarlo wallops 60 dingers this week, 119 will be the best Returning Champ can muster.  That should still be plenty good enough to take home the overall championship.  Come along, there's plenty more about Returning Champ and the rest of the week that was, week 25:
Each week we'll peek in at our resident 'perts to see who is laying claim to best "expert" RCLer in the land.  We'll take notes, check the standings and generally stalk them.  The heading is also hyperlink, so feel free to follow along as we go.
There was absolutely no movement in the standings this week in the 'Perts League, as things have really leveled off.  Grey picked up one point this week and, in classic fashion, Ralph picked up 2.  Still, 6 points separate the two and Grey will need an epic collapse to lose this one.
Mike Maher had the largest gain of the week, with 4 points while Malamoney was the biggest loser, dropping 4 points.  
Cram It had been making a late push but dropped 3.5 points this week to settle into 3rd place.  
Rudy rounds things off in what should be the top 4 to finish the season.
TOP 10
For those too lazy to check the MASTER STANDINGS, I present to you, the current top 10
Returning Champ and Cram it remain one-two in the Master Standings as we head into the final week.  No matter what happens, it's been impressive run for both of these teams.
Team Studer made a huge jump this week, from ninth to third thanks to a 5.5 point gain in league points.
I moved up from sixth to fourth this week thanks to a 2.5 point gain of my own.  With myself and Team Studer moving into the top four, Gomes' Gnomes and Team Albright get bumped down to fifth and sixth.
Grey is Bae moves from eighth to seventh this week as their fellow robot manager slipped from fifth to ninth.  Rudy is Snooty picked a bad week to stop huffing 10W-30.
The kumamoto expungers have been lurking in the top 20 for the past few weeks and made a big push this week in Rio Ruiz Super League.  A gain of three league points along with the league's 106 LCI was enough to finally boost the expungers into the top 10, debuting in eight overall.
Finally, Vottoman Empire rounds out the top 10 overall as DFSers Anonymous keeps two teams in the top 10.
WEEKLY LEADERS
The best of the best from the week that was.
R – 58 – Up North (Take on the Jay 5)
HR –24 – THE CARDINALS STL (Take On [email protected] 2) & New York Dahls (Keepin it Real)
RBIs – 70 – Hollywood Knights (My Nightly Fantasy)
SB – 15 – The Schmohawks (Original Recipe 2017)
AVG – .335 – MyBrownsSuck BigTime (Benintendi Erection Club)
K – 133 – Johnny Utahs (ECFBL)
W – 13 – Johnny Utahs (DFSers Anonymous) & Beni's Chainz Bind Me (Benintendi Erection Club)
SV –  14 – Goldschmidt On This Team (RLC Champions League)
ERA (Min. 40 IP) – 0.72 – Neon Keon (Sons of Beddict) (in 62.1 IP)
WHIP (Min. 40 IP) – 0.65 – The Dude (You ain't put in on this maaaan!) (in 41.2 IP)
No records were broken this week, but it was an odd week in weekly leaders.  
58 Runs is the lowest total since week 8, which saw 55.  
There were two teams (including Ralph) from Benintendi Erection Club represented this week as well as one manager from two different leagues.  Congrats to Johnny Utahs who just missed TOW honors with two different squads this week.
TEAM OF THE WEEK
Our weekly shout out to the team that killed it the previous week.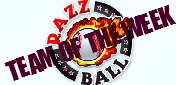 Team: Returning Champ
League: The Giant and the Jew
Stats:   H/AB: 99/336, AVG: .295, R: 54, HR: 23, RBI: 67, SB: 7
IP: 108, ERA: 4.17, WHIP: 1.29, K: 100, W: 7, SV: 5
Summary: While the ratios might not be the prettiest, Returning Champ did just about everything else right this week.  Going into the second to last week, Returning Champ was down a handful of HRs and all he did was go out and hit 23.  This, in a week that saw many teams hit only 13-15 HRs, was plenty good enough to make up ground.  Now the Champs just need to hold on and stave off the league competition for HRs and RBIs.  The Champs are currently sitting at 179 GS and I'm not even sure it's worth it for them to throw another starter, I don't think anyone is catching them in any of the pitching categories.  Fortunately, they have some buffer in ERA and WHIP, so I suppose there's no harm in going for it.  I have a feeling I'll be talking a lot about this team next week, so we'll keep this TOW blurb short.  Nice work Champs, finish strong.
Want to be Matt's Twitter pal?  That's kinda creepy, but you can follow him here: @MattTruss