It's that time of year again, when teams looking to max out their counting pitching stats (strikeouts and wins) or who hope to get lucky (or have nothing to lose) and lower their ratios, stack up nine starting pitchers on their final day of starts and see what happens.  This is a strategy that has caused quite a bit of consternation over the years of the Razzball Commenter Leagues, but in the end, it's not against the rules and if you want to take the risk, that's your prerogative.  Y! Leagues feature the same characteristic where, on the day you go over your IP limit, all stats count.  This is no different. Thus far, 4 teams have maxed out with 188 Games Started.  I have two teams that have taken the plunge, as has Simply Fred of ECFBL and # Sozo of Cougs R Us.  ECFBL and Cougs R Us are routinely two of the most competitive RCLs and, speaking on behalf of the 5 years I've played in ECFBL, typically 75% of the league will hit the 188 threshold.  Strikeouts and wins are usually so tightly contested, that every inning counts.  Unless you are holding a slim lead in the ratios that you don't want ruined, there's not much to lose in maxing out your stats.  So, how have our trio managers made out?  We'll look at that and more from the week that was, week 24 below:
Here's how our teams made out on their final day of nine starting pitchers, it's not as easy as you might think:
I targeted this past Sunday, the 17th, as a fine day for streaming with both of these squads, hence the identical numbers.  I was smitten with Jon Gray vs the Padres, Julio Teheran vs. the Mets and E-Rod vs. the Rays.  I was lucky in that this was the day Matthew Boyd decided to go Oil Can Boyd (the 1986 crack smoking version of course) on the White Sox and I streamed his near no-no.  Sozo threw his nine starters out back on the 12th and Fred, he popped early, way back on August 29th.  
Fred easily takes the wins category with six.  Sozo and I could only muster two.  Sozo take the strikeout and ERA crown, while I at least had a decent WHIP in my 50 IP.
Think you can do better?  Let me know when you plan on hitting the 188 mark and I'll keep an eye out for top performers.  I'll check in the final couple weeks when the Master Standings run, but I might miss you, so let me know either way.  Good luck!
Each week we'll peek in at our resident 'perts to see who is laying claim to best "expert" RCLer in the land.  We'll take notes, check the standings and generally stalk them.  The heading is also hyperlink, so feel free to follow along as we go.
Things have really leveled off now in the 'Perts League.  The biggest gain this week was only 3 points ([email protected]) and the biggest loss was 4 points (Jay).  [email protected] picked up two places in the standings with his gain, but everything else was much the same.  Grey continued to his march towards overall RCL glory.  Despite losing 1.5 points Grey maintained a 7 point lead over Prospector Ralph.  Ralph isn't throwing in the towel though, he hasn't pumped himself full of anabolic steroids and spent 22 hours a day on the treadmill to quit now.  Ralph had a week that placed him 18th in the Team Of the Week standings and gained one point.  Every point counts and there's still top 10 Master Standings glory to fight for.  Speaking of…
TOP 10
For those too lazy to check the MASTER STANDINGS, I present to you, the current top 10
Returning Champ remains numero uno for another week, but Grey has tightened the gap, from 4.1 back last week to only 2.9 back this week.  This is going to go down to the wire.  Who ya got, the commenter, the 'Pert, or the field?
Cram It holds down that three spot for another week but instead of a bot behind him, it's Gomes' Gnomes in fourth this week.  Our friendly RCL robot falls to fifth.
My DFSers Anonymous team takes a big jump forward this week from tenth to sixth.  My previous high finish is 10th overall back in 2015, I'm hoping to improve on that this year.  We'll see.
Backdoor Sliders jumps into the top 10 this week, with authority.  The Big Yabu is no stranger to the top 10 overall, finishing 3rd last year and 5th in 2015, he's a strong finisher looking for three straight top 10s.
Our other robo-manager remains in eighth this week while Team Studer falls from sixth to ninth.
Finally, rounding out the top 10 this week is South Side Hitmen.  The Hitmen have been out of the top 10 since week 20, but return this week, holding down the tenth spot.
WEEKLY LEADERS
The best of the best from the week that was.
R – 67 – New York Dahls (Keepin it Real )
HR –28 – Team foul balls (Daniel Murphy's Porn Stash)
RBIs – 65 – Mr. Delicious Bird (BATTAMANIA )
SB – 13 – Domo ori Votto (Mega League )
AVG – .339 – Rock Lake Bullheads (Beddict Believers)
K – 122 – The Sneethes (Razzers Not Brazzers)
W – 11 – The Kid (Rio Ruiz Super League )
SV –  14 – Rudy is Snooty (Take On [email protected] 3 )
ERA (Min. 40 IP) – 0.93 – Sleeper Waives (Great Knocks) (in 48.1 IP)
WHIP (Min. 40 IP) – 0.64 – Sleeper Waives (Great Knocks)
Yet ANOTHER team finished a week with 28 homers, which brings us to a six-way tie for the weekly record.  For the love of all that is holy, would someone hit 29 one of these final two weeks!?
We also got a new record for WHIP this week thanks to Sleeper Waives.  The Waives beat the old record held by Team Frost and Puigs on the Wong by 0.02 points.  Nice work waives!
TEAM OF THE WEEK
Our weekly shout out to the team that killed it the previous week.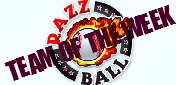 Team: The Sneetches
League: Razzers Not Brazzers
Stats:   H/AB: 89/312, AVG: .285, R: 49, HR: 19, RBI: 54, SB: 8
IP: 119.1, ERA: 3.77, WHIP: 1.14, K: 122, W: 8, SV: 2
Summary: Hey, I know this team!  This team was just TOW 3 weeks ago!  I'm really not trying to cater to my own teams, I swear.  I'm just providing the numbers.  That doesn't mean I don't get a little giddy when my team shows up on top of the heap though.  This is the team in a dead league where I have my pick of the litter on the daily with offense and streamers.  I didn't roster a starter for longer than 2 days for the past month.  As mentioned in the open, I just capped off the streaming season with 9 starters on Sunday, bringing my season long ERA to an underwhelming 4.039 and WHIP to 1.263.  Most seasons this would equate to dead last, but this year that's good for 7 and 6 roto points respectively.  Now, perhaps my RPs can bring those ratios down a smidge.  However, the real focus for this team will be beating out Tehol for the overall RCL HR title.  As of this typing I'm up 3 on him.  Both teams have already crushed the former RCL HR record, so whoever ends with the most will go down in RCL history, at least for one season.  May the best manager win!
Want to be Matt's Twitter pal?  That's kinda creepy, but you can follow him here: @MattTruss