Something came up in the comments of my last Razzball Commenter Leagues article that I thought I'd address this week.  This is something veteran RCLers from the ESPN days will recall and you'll also be familiar with this concept if you play in Yahoo Pro Leagues or something similar.  The idea is that you can maximize your pitching counting stats by manipulating the day you go over your 1400 IP. In the ESPN days this was manipulating the day you went over the 180 GS limit by getting to 179 GA and then loading up 9 starters and hitting 188 GS.  The same thing applies here with the IP limit (and also in Yahoo leagues) in that on the day you go over the 1400 IP limit all of your pitching stats count for that day. So, let's say you work it so you get to 1398 IP, then you load up 9 starters the next day. If all 9 starters last 5 IP, you'd hit 1443 IP and thus gain an extra 43 IP of strikeouts and possibly earn an extra win or two along the way.  The risk is obvious. I have a hard enough time pulling one streamer out of the free agent pool that won't obliterate my ratios, nevermind eight! Unless you are holding a slim lead in the ratios that you don't want ruined, there's not much to lose in maxing out your stats though. So far we've had one manger take the shot. We'll take a look at how they made out and more from the week that was, week 24 below:
Our one brave manager so far is Team GaryAce, who maneuvered nine starters to a 49.2 IP, 48 K, 2 W, 4.71 ERA, 1.309 WHIP line.  That left GaryAce with 1441.2 IP on the season. Was it worth it? I think so. They had to take the shot anyway, 2 more wins that final day and it would have gained GaryAce another 2 points in the standings.  That's just bad luck. I will say, pulling this if off is not easy. I'll be keeping an eye out for those teams that do go all-in and will be curious what the best pitching line achieved is. If you go for it, let me know.  I'll likely be attempting it in a few leagues in the final weeks.
Each week we'll peek in at our resident 'perts to see who is laying claim to best "expert" RCLer in the land.  We'll take notes, check the standings and generally stalk them.  The heading is also hyperlink, so feel free to follow along as we go.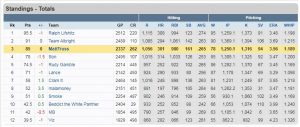 Grey might benefit from the big pitching plunge in the next week.  With only 30 IP remaining he's going to have to make the most of it.  Grey lost a point this week while Ralph gained one and we're close to calling this one with two Sunday remaining.  Ralph went ahead and led the league in HRs (16), RBIs (45) and Steals (16) this week. How very slam and leggy of him.  Ralph will also soon be passing Grey in strikeouts which should put this one out of reach for good. It was a good run boss, but better luck next year.
TOP 10
For those too lazy to check the MASTER STANDINGS, I present to you, the current top 10
After eight weeks of top 10 turmoil, the top 3 all remained the same this week.  The Fighting Hams, Chippers Lovechild and LauraHolt all keep their spots.
Backdoor Cutters moves from ninth to fourth this week and even more impressive, put a second team in the top 10.  Backdoor Sliders of FCL fame checks in at number eight! Nice work here by a very impressive manager. You may know him by his commenting name, The Big Yabu.
Turd Fergusons moves up from seventh to fifth this week as Bag Stealn Wheelin Dealin Son Of A Guns falls from fifth to sixth.
My Starfish & Coffee squad picks up one spot, moving into seventh.
Some Salvy For My Knee and Stl Squat Cobblers each tumble a bit this week and round things out in ninth and tenth.
WEEKLY LEADERS
The best of the best from the week that was.
R – 57 – Kenny Powers (RCL 2018 (#67))
HR –20 – Bezobrazie!! (Cougs R Us)
RBIs – 57 – Bezobrazie!! (Cougs R Us)
SB – 17 – kumamoto expungers (RCL 2018 (#16))
AVG – .327 – Team berrys_baseball (RCL 2018 (#39))
K – 147 – Vin X. Wins (RCL 2018 (#37))
W – 11 – Munson Mobsters (RCL 2018 (#3))
SV –  11 – Fantasy Baseball Chuck Norris (Crab Army) & Im in a Ditch (RCL 2018 (#44))
ERA (Min. 40 IP) – 1.14 – The Price Is Wrong Bitch (RCL 2018 (#27)) (in 47.1 IP)
WHIP (Min. 40 IP) – 0.703 – Team ZRob1220 (RCL 2018 (#39)) (in 42.2 IP)
No new records this week, but VinWins came within 1 strikeout!  Also, shoutout to last week's TOW, Munson Mobsters who racked up the innings again this week and led the way in strikeouts while also posting a 2.34 ERA and 0.983 WHIP in 134.1 IP.  Had their offense been a little better, they would have won TOW honors twice in a row. Nice work Mobsters!
TEAM OF THE WEEK
Our weekly shout out to the team that killed it the previous week.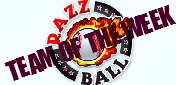 Team: Hawaiian Punks
League: RCL 2018 (#71)
Stats:   AVG: .257, R: 48, HR: 16, RBI: 54, SB: 15
IP: 89, ERA: 2.73, WHIP: 1.067, K: 86, W: 5, SV: 7
Summary: Instead, we have the Hawaiian Punks, who put up a great week of offense and pitching.  The Punks produced a Ralph-esque 16 HR/15 SB week while also getting 89 innings of quality ratios and a near K/IP K-rate.  The Punks are doing their darndest to chase down Fear and Ignorance in RCL #71. With a couple more weeks like this it could be possible, but with 10 points to gain it could be too little too late.  Still, it's always fun to be named TOW (though I might be biased), so congrats Punks!
Want to be Matt's Twitter pal?  That's kinda creepy, but you can follow him here: @MattTruss