This is looking like one of the better end of season races in Razzball Commenter League history.  Typically there are one or two teams that really separate themselves from the pack and about this time of year you can tell who the winner might be.  Not this season folks. We've had 8 different leaders in the Master standings over the past 8 weeks. I had a week at the top, LauraHolt was up there last week, 8 weeks ago it was the STL Squat Cobblers, two different members of Cougs R Us have been in the lead the past 8 weeks and now this week…well, I'm going to make you click on the link to expand this article to find that tidbit out.  Come on, let's make Grey 1/500th of a cent and check out the new leader of the Master Standings and the rest of the week that was, week 23 in the RCLs:
Each week we'll peek in at our resident 'perts to see who is laying claim to best "expert" RCLer in the land.  We'll take notes, check the standings and generally stalk them.  The heading is also hyperlink, so feel free to follow along as we go.
Before we get to the top 10 though, we have to stop and appreciate what Grey is doing in the 'Perts League.  Ralph has gotten plenty of accolades here, he's been in first place since week 3 and dominating the league. However, a few weeks ago Grey said he was putting all his energy into catching Ralph.  At the time (week 20), he was 12.5 points back, now in week 23 the gap is a mere 2.5 points. That's some impressive stuff. Grey has led the 'Perts league in wins for 4 straight weeks and this past week led the league in HRs and strikeouts.  With only 75 IP remaining, I'm still suspicious that Grey holds on here. I have a feeling his standings position is slightly inflated due to excess IP, but we'll see.
TOP 10
For those too lazy to check the MASTER STANDINGS, I present to you, the current top 10
This week, it's the Fighting Hams taking the top spot!  Go Hams! Their 1 point gained in RCL #10 was enough to push them to the top of the heap this week.
Chippers Lovechild gained 2.5 league points this week to move from sixth to second.
Last week's number one team, LauraHolt lost just 0.5 points, but fell to third.  That just goes to show how close the top 10 really is.
STL Squat Cobblers held strong in fourth this week while Bag Stealn Wheelin Dealin Son Of A Guns lost one league point and fell from third to fifth.
Some Salvy For My Knee moves from tenth to sixth this week and Turd Fergusons moves up one spot to seventh.
Falling from fifth to eighth this week thanks to a loss of one league point AND a loss of LCI is my Starfish & Coffee squad.
Finally, rounding things out we have two new additions to the top 10 this week in Backdoor Cutters aka The Big Yabu and VinWins aka uhhh, VinWins!  These two have been knocking on the door of the top 10 for awhile and it's good to see them both finally break through. For those who don't know, Vin used to run these RCL updates back in the day, he's basically my mentor on this front, so he's easy to root for.  Nice work fellas.
WEEKLY LEADERS
The best of the best from the week that was.
R – 51 – Bezobrazie!! (Cougs R Us) & The Cat's Ass (Crab Army #2)
HR –21 – VictoriaB (Razzball Writers League)
RBIs – 58 – AL KOHOLIC (Original Recipe 2018)
SB – 11 – The Brown Horse (RCL 2018 (#60))
AVG – .349 – summer dawgs (Original Recipe 2018)
K – 119 – Munson Mobsters (RCL 2018 (#3))
W – 8 – MCC (RCL 2018 (#39)) & Munson Mobsters (RCL 2018 (#3))
SV –  11 – Im in a Ditch (RCL 2018 (#44))
ERA (Min. 40 IP) – 0.86 – The Strolgs (Cougs R Us) (in 41.2 IP)
WHIP (Min. 40 IP) – 0.768 – The Strolgs (Cougs R Us)
No new records, but nice to see the legacy leagues representing this week!  Cougs R Us and Original Recipe holding it down.
TEAM OF THE WEEK
Our weekly shout out to the team that killed it the previous week.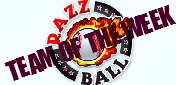 Team: Munson Mobsters
League: RCL 2018 (#3)
Stats:   AVG: .255, R: 40, HR: 12, RBI: 45, SB: 3
IP: 115.2, ERA: 3.03, WHIP: 1.107, K: 119, W: 8, SV: 5
Summary: Well, leading the RCLs in IP is a good start to earning TOW status.  If you lead the RCLs in IP and you don't obliterate your ratios in the process, you have an even better chance.  Toss in leading the way in Ks and Wins while posting respectable offensive numbers and you're pretty much golden.  That was the formula for the Munson Mobsters this week. The Mobsters went on a streaming spree it seems, using 4 pitchers Tuesday, 3 Friday, 5 on Saturday and 4 on Sunday.  Apparently they had some inning to catch up on. The Mobsters now sit at a +13 IP pace, so I expect things to calm down a bit for them the final few weeks. Either way, it's an impressive week, nice streaming and good luck the rest of the way Mobsters!
Want to be Matt's Twitter pal?  That's kinda creepy, but you can follow him here: @MattTruss