I hope everyone has recovered from their Labor Day festivities.  The unofficial end of summer means we're into the nitty gritty of Razzball Commenter League action.  Last week I told you about how Laura Holt's team in the Writer's League was so good that it fired Rudy's circuits and broke the RCL Master Standings.  Well, a long weekend later and everything is fixed and that leaves LauraHolt back on top of the Master Standings. Numero Uno, tops, the best. Things are still pretty close up there with three teams in a tie for second just 0.4 RCL Points behind Laura.  She's going to have to work hard to keep the top spot, but she just had herself another killer week, even going so far as to lead all the RCLs in WHIP. With that, she's looking like the team to beat down the stretch. More on the top 10 and the rest of the week that was, week 22 below:
Each week we'll peek in at our resident 'perts to see who is laying claim to best "expert" RCLer in the land.  We'll take notes, check the standings and generally stalk them.  The heading is also hyperlink, so feel free to follow along as we go.
It seems like I was just typing this same sentence one year ago, but we've got ourselves a battle in the 'Perts League.  It's once again Grey and Ralph trading jabs and hoping to be the last 'Pert standing. Grey gained another two points this week and now sits just seven points in back of Ralph.  Grey can catch Ralph in Runs for a 2 point swing, but working against Grey is the fact he has the most IP in the league right now. That means, everyone else has a shot to move up in wins and strikeouts at his expense.  Overall, it will be Grey's ratios that are his undoing. Having seven points in ERA/WHIP just won't cut it. Curses Robbie Ray, Carlos Martinez and Lance McCullers!
On a side note, Lance went on an absolute tear in the 'Perts League this week, leading the way in HRs, RBIs, ERA and WHIP.  That's pretty ridiculous, but even more ridiculous is that he lost a point in the standings this week. How does that happen!?
TOP 10
For those too lazy to check the MASTER STANDINGS, I present to you, the current top 10
As mentioned earlier, LauraHolt has staked her claim as queen of the RCLs this week.  Laura has been close to the number one spot in previous weeks, but hasn't made it to the catbird seat until now.  Nicely done.
Next up we have the Fighting Hams, who move from fifth to second despite losing a point in their league.
Last week's number one team, Bag Stealn Wheelin Dealin Son Of A Guns drops two spots to third this week followed by last week's second, third and fourth place teams, Stl Squat Cobblers, Starfish & Coffee and Chipper's Lovechild.
Team Shoopy jumps back into the top 10 this week in seventh place, bumping Turd Fergusons to eighth.
Big Blue made a huge jump this week from 21st overall, up to ninth!
Finally, Some Salvy For My Knee rounds things out, getting back into the top 10 this week and tenth overall.
WEEKLY LEADERS
The best of the best from the week that was.
R – 66 – Whipping Boys (RCL 2018 (#4)) & Team GaryAce (RCL 2018 (#6))
HR –24 – 4 Teams Tied
RBIs – 77 – Team GaryAce (RCL 2018 (#6))
SB – 16 – Team HamPorter726 (RCL 2018 (#68))
AVG – .340 – Sin City 62 (RCL 2018 (#62))
K – 131 – Fear and Ignorance (RCL 2018 (#71))
W – 9 – 5 Teams Tied
SV –  10 – 5 Teams Tied
ERA (Min. 40 IP) – 1.49 – Team pael (RCL 2018 (#17)) (in 48.1 IP)
WHIP (Min. 40 IP) – 0.763 – LauraHolt (Razzball Writers League) (in 63 IP)
No new weekly records this week, but there sure were a lot of ties!
Major kudos to LauraHolt for busting out the teeny weeny WHIP in a robust 63 IP.
TEAM OF THE WEEK
Our weekly shout out to the team that killed it the previous week.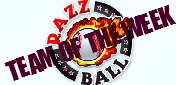 Team: Whipping Boys
League: RCL 2018 (#4)
Stats:   AVG: .295, R: 66, HR: 24, RBI: 75, SB: 10
IP: 77.1, ERA: 2.68, WHIP: 1.009, K: 69, W: 5, SV: 0
Summary: Besides having no saves this week, the Whipping Boys had a week to remember.  The Boys co-led the RCLs in Runs and HRs, were only 2 RBIs off the RBI lead and had some impressive ratios in a slew of innings pitched.  Hunter Renfroe and Alex Bregman each chipped in 3 HRs this week and Trevor Story went double slam and triple legs. On the pitching side it was Carlos Carrasco and Jack Flaherty leading the way.  The Whipping Boys are now 1 point up on Weird Balls for first place in RCL #4. A couple more weeks like this and the Boys will be putting a virtual trophy on their virtual mantle.
Want to be Matt's Twitter pal?  That's kinda creepy, but you can follow him here: @MattTruss