As the air starts to turn a bit cooler, the calendar flips to September and a large group of fantasy baseballers turn their attention to fantasy football.  There are only five weeks left in the fantasy baseball season but what an important five weeks they are. As the rest of your league checks out to go play the fantasy sport that requires only one day per week of roster setting (or as I like to refer to it, chess vs. checkers) the true competitors remain to grind it out for Razzball Commenter Leagues glory.  Right now only 0.2 RCL Points separate first from fourth in the Master Standings, so we should be in for a heck of a finish. We'll take a look this week at the year long RCL records and what teams have a shot at setting new ones. Does your team have a shot at the RCL record books? Find out this and more in the week that was, week 21:
Each week we'll peek in at our resident 'perts to see who is laying claim to best "expert" RCLer in the land.  We'll take notes, check the standings and generally stalk them.  The heading is also hyperlink, so feel free to follow along as we go.
Ralph lost 0.5 points this week and Grey gained 3.5 but there's still a fairly sizable gap there of 8.5 points.  Grey put up a Team of the Week worthy performance this week though (he finished runner up) as he led the 'Perts League in Games Played, Innings Pitched, Runs, strikeouts and had stellar ratios (2.24 ERA & 1.072 WHIP in 92.1 IP).  Despite this, Ralph also managed a pitcher week to write home about putting up a 2.10 ERA, 0.99 WHIP and equaling Grey's 6 wins in 68.2 IP. It was a solid pitching week in general with Lance (2.61 / 1.032 in 62 IP) and myself (2.96 / 1.079 in 54.2 IP) also putting in good weeks.  That makes it tough to pick up many points. Grey still has plenty of room to gain points in the ratios, so we'll see if he can keep up the fine pitching performances.
TOP 10
For those too lazy to check the MASTER STANDINGS, I present to you, the current top 10
Another week, another new overall leader.  This time it's Bag Stealn Wheelin Dealin Son Of A Guns turn to hold the top spot in the RCLs.  I've spotlighted BSWDSOG before, but it's worth calling attention to again. BSWDSOG currently has two teams in the top 10 overall.  That's no easy feat, so bravo.
The STL Squat Cobblers have been back on a tear in the ECFBL and put themselves back over 100 league points.  That, coupled with the high LCI has them back into contention for #1 overall.
My Starfish & Coffee squad hit 109 league points, but that wasn't enough to keep me at numero uno, I fall to third this week.
We had a snafu with the Master Standings this week where anyone over 1,000 Runs or RBIs only got credit for 1.  That will be sorted out next week, but I feel as though I need to mention it since LauraHolt hit 1,000 runs this week and should most likely still be sitting in the top 10 overall.  Instead, despite only having credit for 1 run, she's still in 23rd overall. Ha! I'm pretty sure she's still top four despite losing 0.5 league points this week.
Chippers Lovechild leapfrogs the Fighting Hams this week and SmoakNCron also moves up a spot to sixth.
Turd Fergusons moves from tenth last week to seventh this week, passing Frost who moves from ninth to eighth, swapping places with The Brown Horse.
BSWDSOG's second team rounds out the top 10 overall, but let's also remember Laura should be somewhere in this mix too.
WEEKLY LEADERS
The best of the best from the week that was.
R – 53 – Bag Stealn Wheelin Dealin Son Of A Guns (RCL 2018 (#59))
HR –22 – Japanese Slap Titter (RCL 2018 (#75))
RBIs – 56 – Israel WBC 2021 (RCL 2018 (#66))
SB – 16 – Alternative Stats (RCL 2018 (#43))
AVG – .327 – Whipping Boys (RCL 2018 (#4))
K – 108 – Johnny Utahs (DFSers Anonymous)
W – 10 – foul balls (RCL 2018 (#21))
SV –  11 – A really old team (RCL 2018 (#34)) & Lyons Den (RCL 2018 (#73))
ERA (Min. 40 IP) – 0.75 – Team cheesesteaks (RCL 2018 (#68)) (in 48 IP)
WHIP (Min. 40 IP) – 0.722 – Team SPORTS (RCL 2018 (#16)) (in 54 IP)
No new records were set this week, but you are reading that correctly, that's the #1 overall team in the RCLs leading the way in Runs scored this week.  Nice work BSWDSOG!
YEARLY LEADERS
The best of the best from the year that has been.
Here is a list of the Yearly RCL Records, so we all know who we're chasing:
| | | | | |
| --- | --- | --- | --- | --- |
| CATEGORY | STATS | TEAM | LEAGUE | YEAR |
| RUNS | 1283 | Backdoor Sliders 1 | FCL | 2016 |
| HOME RUNS | 414 | New York Dahls | Keepin It Real | 2017 |
| RBI | 1239 | The Sneetches | Razzers Not Brazzers | 2017 |
| STEALS | 270 | MaxPlanck 1 | RCL European Division | 2014 |
| AVERAGE | 0.297 | Team Thompson | Razzball Roto League | 2012 |
| STRIKEOUTS | 1801 | Rudy is Booty | Baba Booey | 2016 |
| WINS | 122 | Samuel Colt Debate Team | DFSers Anonymous | 2016 |
| SAVES | 258 | Rudy is Booty | We're All Winners | 2017 |
| ERA | 2.57 | John Boccabellas | The Downward Spiral | 2015 |
| WHIP | 1.001 | Anabolic Agents | Dr. Bosch's Anti-Agers | 2015 |
And here are how each category currently stands for 2018 along with the pace:
Obviously, things are a little different this year with an IP limit instead of a GS limit.  I would expect strikeouts to be greatly reduced, ditto with saves and wins. However, things are a bit closer than I anticipated.  Milothecat has an insane K/9 of 11.1 right now. I used that to calculate their strikeout pace and things get pretty close. If Milothecat were to say, hit 1435 IP, things could get close for strikeout record, something I wouldn't have guessed at the start of the season.
Runs and HRs could get close, but I think those records are safe.  My RBI record from last season could be in jeopardy though.
No one is touching that steals record.
Wins could get interesting and I can't believe I'm even remotely close to last year's robo team's saves record.  I doubt I hit it, since I need to get some starters going to make my IP limit, but it's fun to dream.
The ratios both have a shot to set records with a couple good final weeks.
Chase those records RCLers!
TEAM OF THE WEEK
Our weekly shout out to the team that killed it the previous week.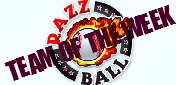 Team: Johnny Utahs
League: DFSers Anonymous
Stats:   AVG: .269, R: 47, HR: 18, RBI: 47, SB: 4
IP: 89.2, ERA: 1.81, WHIP: 1.026, K: 108, W: 5, SV: 2
Summary: I'm pretty excited about this TOW honor.  I play with Johnny Utahs in a few leagues including this one, ECFBL and FCL in years past, all of which are some of the top LCI leagues year to year.  Johnny Utahs is one of the best competitors out there, always grinding, always fighting until the end and boy is that paying off right now in DFSers Anonymous.  The Utahs parlayed some amazing ratios in a ton of innings into taking over first place in the league. The Utahs overtook Vottoman Empire, who is another one of the best managers I've had the pleasure of playing with, so no easy feat there.  Nice work Utahs, keep it up!
Want to be Matt's Twitter pal?  That's kinda creepy, but you can follow him here: @MattTruss