A familiar name is back atop the Razzball Commenter Leagues Master Standings, that of your humble RCL Update host.  It's been since week 8 that I've finished the week in the top spot, but with 6 weeks to go, it's not a bad position to be in.  I'm still fighting that ugly LCI of 99 and with 0.2 RCL Points separating first from third, it's going to be anyone's game. Even the lightest slip up and you're out of it.  I think it will take one of the high LCI teams reaching 106+ or a low LCI team such as mine reaching 110+ to win this thing but either way it should be a fun finish! I'm not the only Razzball writer with a shot at overall RCL glory either, Laura Holt continues to put on a shot in the Writers League and is currently in third place, just 0.2 points behind my squad.  Laura is getting dinged by some pretty terribly win-luck as she's only got 59 Wins in her 976.1 IP. Watch out for Laura if her win-luck turns around down the stretch. She may end up pulling double duty on Razzball after that, Deep Leagues and RCL strategy! Click below for more on the Master Standings and the rest of the week that was, week 20:
Each week we'll peek in at our resident 'perts to see who is laying claim to best "expert" RCLer in the land.  We'll take notes, check the standings and generally stalk them.  The heading is also hyperlink, so feel free to follow along as we go.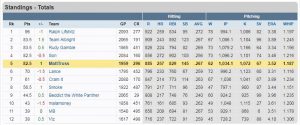 Ho hum, just another week for Ralph leading the 'Perts league.  With 6 weeks to go, I don't think anyone's catching him at this point.  I could be wrong, but this looks like a battle for first loser at this point.  With that said, the battle for second is extremely close! There is currently only one point separating the 4 teams fighting for Ralph's scraps.  
It should be noted that even a blind squirrel finds a nut once and awhile as Viz's squad, that hasn't been touched since early May led all RCL teams this week with 25 HRs.  Not too shabby!
TOP 10
For those too lazy to check the MASTER STANDINGS, I present to you, the current top 10
Two of the top three were talked about in the open and Bag Stealn Wheelin Dealin Son Of A Guns remains in second place for another week.
The Stl Squat Cobblers got closer to triple digits again this week and climbed from eighth to fourth as a result.
Fighting Hams fell one spot this week to fifth and Chippers Lovechild jumps from twelfth to sixth, no doubt thanks to Chipper's HOF induction.
SmoakNCron lost 1.5 league points this week and fell from third to seventh.
The Brown Horse jumped into the top 10 this week, hitting eighth place and last week's #1 team, Frost of Cougs R Us dropped 3.5 league points to fall down to ninth.  Those are the breaks with those tough leagues.
Finally, we have Turd Fergusons rounding things out, falling one spot this week from ninth to tenth.
WEEKLY LEADERS
The best of the best from the week that was.
R – 64 – upnorth (RCL 2018 (#49))
HR –25 – Viz ('Perty Perts)
RBIs – 66 – Phucket (RCL 2018 (#50)) & Team ltran88 (RCL 2018 (#3))
SB – 14 – Cruz Missiles (RCL 2018 (#60))
AVG – .348 – Golden Snitches (RCL 2018 (#18))
K – 113 – OldNavy 3 (RCL 2018 (#7))
W – 10 – Team GaryAce (RCL 2018 (#6)) & Team farrelljt (RCL 2018 (#39))
SV –  12 – The Sneetches (RCL 2018 (#51))
ERA (Min. 40 IP) – 0.84 – Team Giantstep (RCL 2018 (#52)) (in 53.1 IP)
WHIP (Min. 40 IP) – 0.674 – Team leeh3194 (RCL 2018 (#11)) (in 46 IP)
No new records were set this week and with six weeks to go, here's a reminder of this season's weekly records we're all chasing:
R – 69 – BJ Miketron (Crab Army)
HR –26 – Team namelessNsilent (RCL 2018 (#73))
RBIs – 80 – The Iron Horse (Crab Army #2)
SB – 19 – Backdoor Sliders (Frequent Commenters League)
AVG – .386 – Turd Fergusons (RCL 2018 (#8))
K – 148 – Clobber Clan (RCL 2018 (#59))
W – 14 – Vin (DFSers Anonymous)
SV –  16 – Chicago Mark (RCL 2018 (#71))
ERA (Min. 40 IP) – 0.41 – FANTASY WIZARDS (RCL 2018 (#71)) (in 43.2 IP)
WHIP (Min. 40 IP) – 0.627 – Backdoor Cutters (Night of the Living Zombinos) (in 44.2 IP)
TEAM OF THE WEEK
Our weekly shout out to the team that killed it the previous week.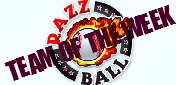 Team: Rmuzz55
League: RCL 2018 (#7)
Stats:   AVG: .259, R: 42, HR: 17, RBI: 57, SB: 6
IP: 114.2, ERA: 3.22, WHIP: 1.108, K: 109, W: 9, SV: 2
Summary: Rmuzz had a bit of innings overload this week, but still had the offensive numbers to make them team of the week.  17 HRs and 57 RBIs will do that for you when you mix in 109 Ks and decent ratios. Rmuzz was led this week (unsurprisingly) by Ronald Acuña AKA Pheñom and (surprisingly) Miguel Sano.  No tilde for you Sano! On the pitching side it was all Jacob deGrom. Nice work Rmuzz!
Want to be Matt's Twitter pal?  That's kinda creepy, but you can follow him here: @MattTruss