The starterpocalypse is still in full effect this week as ERAs across the board are less than stellar.  Grey led the 'Perts League in ERA with a 2.35 this week, but no one else is under a 3.23 with seven teams over a 4.50 ERA.  That is, how we say in the business…not good. Meanwhile, power is through the roof. Since I've tracked the Razzball Commenter Leagues for the past, *carry the one*, long time, I've got the weekly stats that I track all saved to look back on.  Last year the weekly record for HRs in a week was 26. That was in all of the weeks last season. We've already matched that in week 2 this year. The same goes for Runs scored. All of this is a fancy way of saying, offense is up this year and it's still cold outside baby.  Just wait until those hot summer months combined with whatever may or may not be going on with the ball this year. We could be in for some real offensive records. Oh, you drafted a top pitcher in the first three rounds, well, best of luck to you, this could be a long year. More weekly stats and the rest of the happenings in the week that was week 2 in the RCLs:
Each week we'll peek in at our resident 'perts to see who is laying claim to best "expert" RCLer in the land.  We'll take notes, check the standings and generally stalk them.  The heading is also hyperlink, so feel free to follow along as we go.

Grey remained well ahead of the pack for another week, 21 points to be exact.  Grey had another solid week and as mentioned in the open, led the league in ERA.  Grey also paced the league in WHIP this week. That was good in gaining 10 points on the field this week.
Cram It was the big winner this week, gaining 21 points which still only put him into 6th place.  Still, that's much better than last week's last place finish. Crammy led the league in HR, RBI and SBs.  Not too shabby.
Roto-Wan kept his strong pitching rolling, leading the league this week in wins and strikeouts.
Ralph was the biggest loser this week, dropping 10.5 points, but it's still silly season for point swings.
TOP 10
For those too lazy to check the MASTER STANDINGS, I present to you, the current top 10
Auto generated password, 31g4T-0N3-31g4T led the RCLs for another week.
Fantasy Icon had a tremendous week, moving from 100th last week to second this week.  More on this squad later.
Licketty Splits moved up ten spots this week while The Great Knoche moved up seven.
One Day remains in fifth place for another week and Team ParkBarkley falls four spots to sixth.
Backdoor Cutters fell one spot to seventh but Broken Hipps moved up one spot to eighth.
Rounding out the top ten we have Razzball's Team mcafeeeee who falls from third to ninth and RayFlowers akabaldasshole who jumps up four spots this week.
TRADES
All the trades that have gone down in the past week.  Public ridicule is not only allowed, but encouraged.
RCLers remained busy in the trade market this week with another five deals going down.  Kike Hernandez gets passed around yet again. He's the proverbial bottle of beer on the wall thus far.
Jose Altuve for Shane Greene might not look very good in a couple weeks.  I don't like that trade at all, but to each their own I guess.
The Dick Loveladys is not only the best team name I've seen thus far, but I like this deal they pulled off too.  Nabbing a first round pick for a 4th and 7th is pretty sweet. I always like getting the best player in a deal and Bregman is that player.  Nice work on all fronts Dick.
WEEKLY LEADERS
The best of the best from the week that was.
R – 69 – 4th Place (RCL 2019 (#53)) & Ptown High Heat (RCL 2019 (#31))
HR –26 – Team TrophyHusband (RCL 2019 (#7))
RBIs – 71 – Gluugsnergluug (RCL 2019 (#50))
SB – 14 – The Seven-Year Yelich (RCL 2019 (#17))
AVG – .376 – Team itsmass4 (RCL 2019 (#51))
K – 101 – Funky Cold Molina (RCL 2019 (#12))
W – 9 – Israel WBC 2021 (RCL 2019 (#42))
SV –  13 – Battlin Taz (RCL 2019 (#60))
ERA (Min. 40 IP) – 0.82 – AR3 (RCL 2019 (#3)) (in 44 IP)
WHIP (Min. 40 IP) – 0.705 – AR3 (RCL 2019 (#3))
Despite the starterpocalypse AR3 managed some pretty tiny numbers in ERA and WHIP.  That's one way to move up the leaderboard. Nice work to AR3 and everyone that made the leaderboard in week 2.
TEAM OF THE WEEK
Our weekly shout out to the team that killed it the previous week.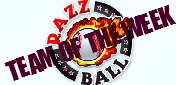 Team: FANTASY ICON
League: DFSers Anonymous
Stats:   AVG: .335, R: 54, HR: 19, RBI: 59, SB: 7
IP: 72.1, ERA: 3.24, WHIP: 0.912, K: 72, W: 6, SV: 8
Summary: Have a week Fantasy Icon!  I was comfortably in first place in DFSers Anonymous last week, up by 24 points and in the top 10 overall.  Combine me losing 12 points with Fantasy Icon gaining 23.5 and it's role reversal. Fantasy Icon didn't lead the RCLs in any category but was outstanding in all of them.  Huge power numbers combined with incredible pitching in 72+ IP has Fantasy icon jumping 98 places in the RCL overall standings. That's a HUGE jump, even this early. Austin Meadows, Ronald Acuna and Yasmani Grandal combined for 10 HRs, 27 RBIs and a .531 batting average.  On the pitching side, it was Gerrit Cole, Madison Bumgarner, Jake Arrieta, Jose Berrios and Cole Hamels doing work while Roberto Osuna pitched in 5 Saves. A total team effort. I can't wait to battle it out the rest of the way with Fantasy Icon!
Want to be Matt's Twitter pal?  That's kinda creepy, but you can follow him here: @MattTruss