The trading deadline for the Razzball Commenter Leagues went out with a bang on Friday with 15 trades being completed.  Remember back in the day when we used ESPN and they had that crazy noon trade deadline time? Thank goodness for FanTrax making that right!  Speaking of, how are people liking the new add/drop and trade screens? I think that's a pretty nice mid-season upgrade. Trades seemed to be down across the board this year, I wonder if the early-season trade screen (or lack thereof) contributed to that.  I only counted 60 or so trades this year, but I'm sure I missed a few. By comparison, we had 232 last season. I'm hoping to make a couple changes to the RCL data next year so I don't have to manually find all the trades, that should help our accuracy quite a bit.  We didn't have everything set up quite right with the move to FanTrax this season. No matter, the trade deadline might be gone, but don't fret, there are still plenty of closers losing jobs and September call-ups are right around the corner. Maybe we get some Eloy Jimenez love?  I'm stashing Vladdy Jr. in my 15 teamer hoping for a power surge down the stretch. Check out Ralph's work for a handy chart.  Not much has changed in a month, Jo Adell is still the man.  Earlier today I took this and sorted by 2018 and 2019 to see who I should try to snag in keeper leagues and who might see some action at the end of this season.  Ralph puts his blood, sweat and white Monster energy drinks into those rankings, don't let them go wasted! Jump below for more about the trades this week and all the other happenings in the week that was, week 19:
Each week we'll peek in at our resident 'perts to see who is laying claim to best "expert" RCLer in the land.  We'll take notes, check the standings and generally stalk them.  The heading is also hyperlink, so feel free to follow along as we go.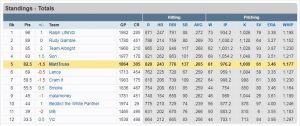 It's time for some more Ralph talk as Ralph continues to lead the pack in the 'Perts league.  Rudy keeps trying to push it up to Ralph's level and just a week after saying he wasn't sure he'd be able to hit 90+ points, Rudy finishes the week with 89, just 7 behind Ralph who added 1 point this week.  Son added 2.5 points this week, Grey added 2 and I added 1.5 to keep second through fifth all in the 80s. Tehol lost 9 points this week as he moves on to football for the year.
TOP 10
For those too lazy to check the MASTER STANDINGS, I present to you, the current top 10
We had a small hiccup in the Master Standings last week, which has been sorted out for this week, but led to some wonky shake-ups in the top 10.  Things are all good now, so we'll use this week as a barometer for the rest of the season.
Frost takes a turn in the top spot this week as they and Some Salvy For My Knee continue to battle it out in Cougs R Us.  Salvy sits in 6th, falling below 100 league points.
A bump in LCI and a gain in league points has Bag Stealn Wheelin Dealin Son Of A Guns in the second overall spot.  It should be noted that Bag Stealn Wheelin Dealin Son Of A Guns has two teams in the top 20 right now as well.  Kudos.
SmoakNCron and Fighting Hams have both seen big jumps in league points over the past few weeks and now sit in third and fourth respectivly.
My Starfish & Coffee squad is doing it's best to overcome RCL #23's 99 LCI.  It's going to take reaching 110+ for this team to crack into the top spot.
LauraHolt continues to hang out in her usual spot inside the top 10 as she obliterates the Writers League.
Stl Squat Cobblers are the soul representative from ECFBL in the top 10 this week.  EvilEvies continues to pressure for the league lead though.
Turd Fergusons sit in ninth place this week and The Road Warrior rounds things out.  The Road Warrior has it even worse than me as RCL#6 has a 96 LCI. That's pretty rough.
TRADES
All the trades that have gone down in the past week.  Public ridicule is not only allowed, but encouraged.
Now for the real bread and butter of this week's update, the trade extravaganza!  It's always fun to see how people value needs this time of year.
Miles Mikolas seems like a lot to give for an injured Pham, but to each their own.
How about that Chris Sale trade!?  I mean, if you can gain a shizz ton of points in saves and don't need the innings, I can totally see this making sense.  I love bold moves like this, but it appears to have ruffled some feathers in NOTLZ as we have a pretty rough trade go through next in Chapman and Blackmon for Juan Soto.  Soto is good and all, but that seems like a "screw you" trade to me. I'll let the court of public opinion weigh in on all that though. For what it's worth the Trade Analyzer has the Sale deal at $40.60 to $19.40 in favor of Sale and the second deal $55.90 to $12.10 in favor of Chapman and Blackmon.  So the second one was a way bigger hose job. The ROS rankings are tough on interim closers as well, so your mileage may vary.
Gerrit Cole was traded 3 times this week, I guess folks are done with him.  If you only get back a broken closer (Knebel) and Matt Kemp for him though, I think you got ripped off.
WEEKLY LEADERS
The best of the best from the week that was.
R – 64 – Breaker of Chains (RCL 2018 (#39))
HR –24 – Smoked Trout Every Day (RCL 2018 (#40))
RBIs – 67 – Smoked Trout Every Day (RCL 2018 (#40))
SB – 19 – Backdoor Sliders (Frequent Commenters League)
AVG – .333 – Old School Brother (Frequent Commenters League)
K – 109 – Ralph (Crab Army #2)
W – 9 – foul balls (RCL 2018 (#21))
SV –  11 – Fear and Ignorance (RCL 2018 (#71))
ERA (Min. 40 IP) – 0.43 – Team ianmaxwell11 (RCL 2018 (#59)) (in 42.1 IP)
WHIP (Min. 40 IP) – 0.709 – Team ianmaxwell11 (RCL 2018 (#59))
Backdoor Sliders set a new stolen base weekly record this week with his 19.  That topped Sons of Pitches 18 set back in week 14.
Team ianmaxwell11 came within 0.02 ERA points of setting a new mark there on a record I thought was untouchable.
TEAM OF THE WEEK
Our weekly shout out to the team that killed it the previous week.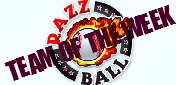 Team: Cruz Missiles
League: RCL 2018 (#60)
Stats:   AVG: .309, R: 52, HR: 21, RBI: 59, SB: 4
IP: 64, ERA: 1.55, WHIP: 0.891, K: 79, W: 5, SV: 4
Summary: If you're ever feeling down about your RCL team, you can always come here each week to feel even worse.  It's always comforting to know someone else is putting up a truly spectacular week while your team is languishing.  Cruz Missiles were launching this week as they almost led the RCLs in a handful of categories. JD Martinez, Ronald Acuna and Miguel Andujar led the charge on offense while Trevor Bauer and LANCE LYNN(!?) paced the pitching.  Some people can turn anything they touch into gold, Cruz Missles can turn Lance Lynn into fantasy relevant again apparently. Nice work Missiles!
Want to be Matt's Twitter pal?  That's kinda creepy, but you can follow him here: @MattTruss