Happy trade deadline week RCLers.  This is the final week you have to trade for some steals, saves, power or help out those pitching ratios with a big time name.  It's at this point in the season that you can really see some overpaying going on.  Giancarlo for Ken Giles?  Possibly.  Aaron Judge for Billy Hamilton?  It all depends on team needs and where the most points can be gained.  Remember, there are no extra points for winning a category by 50.  Take a look at the overall standings in your league and see where teams are bunched together.  If there's an opportunity to leap over multiple teams by taking a category by storm, make your move now.  If you're in second place right now, make that move for first, play to win, go out and make it happen.  The Razzball Commenter League trading deadline is Friday, August 11, at noon Eastern.  I expect there will be a flurry of activity to break down for next week's update.  For this week however, we have eleven trades to look at as well as a new overall leader, our former leader regaining his grasp on the top spot in the 'Perts League and a new name making an appearance as the team of the week.  Come read about all of this and more in the week that was, week 18 in the Razzball Commenter Leagues:
Each week we'll peek in at our resident 'perts to see who is laying claim to best "expert" RCLer in the land.  We'll take notes, check the standings and generally stalk them.  The heading is also hyperlink, so feel free to follow along as we go.
Grey didn't appreciate the sass from Endorphin Ralph last week and so he went out and gained 4.5 points while power walking in his zubaz.  That, combined with Ralph losing 1 point was enough for the two to swap places in the standings.  Grey is back on top and even held onto a place in the top 10 overall.
Cram It edged out Grey for the biggest gainer of the week though, adding 5 points. Â Those 5 points along with me losing 4 (the biggest drop of the week) was enough for Cram to jump up two spots from last week and steal 3rd place. Â I fell to 4th this week thanks to a whopping NINE home runs. Â How great would it be if Man Fred really did have juiced balls all year and then swapped them back out for the final 2 months so everyone forgot about the whole thing?
TOP 10
For those too lazy to check the MASTER STANDINGS, I present to you, the current top 10
The Swamp Donkey are the king of the swamp this week.  Despite the 99 league index, Swamp Donkey's 111.5 league points is good enough to squeak by Cram It 102.5-102.3.  It's going to take an extraordinary year a la Team Levy to win with a 99 league index but we'll see if the Donkeys can keep it up.
Third and fourth remain unchanged this week as everyone's favorite bot and Vottoman Empire stick around.  Fifth place changes hands though, as Returning Champ jumps from ninth to pass Team Albright, who falls to sixth.
Team Studer moves up one spot this week to seventh, whereas South Side Hitmen fall two places to eighth. Â 
The Hollywood nights return to the top this week after falling to eleventh last week and the final spot remains the same, with Pancake Riot holding down the fort.
TRADES
All the trades that have gone down in the past week. Â Public ridicule is not only allowed, but encouraged.
Everything is very needs dependant with trades right now, and as I mention above, I expect to see some lopsided-looking deals this coming week.  This week though, there's not a lot to write home about.  
I like Simply Fred's deal for Arenado.  Steep, perhaps, but Arenado in Coors in August could be a huge boon in the power department.  
I'd trade Parra for Shane Greene all day long right now, especially if I needed some save points.
I can't really figure out the # Sozo / Rookie Monsters deal for either team.  Firstly, it seems like you could get way more for three closers, even iffy ones than three borderline RCL starters.  Secondly, # Sozo is 2nd in saves already and needs 41 more saves to catch the next manager…all for 1 point.  # Sozo isn't drastically over pace on GS either, only at 130 and the ratios/win total are alright, nothing major.  Rookie Monsters meanwhile, it seems like, could manage alright streaming those spots and holding the RPs.  Beats me, maybe # Sozo will flip those closers for another need.  Then it would make more sense.
WEEKLY LEADERS
The best of the best from the week that was.
R – 66 – Never Bunt (The Humidor)
HR –23 – Buck Swope (You ain't put in on this maaaan!) & Bad News Bears (It's Time For Dodger Baseball!!)
RBIs – 67 – Forty Acres and a Fool (Viz Versus The Commenters)
SB – 18 – LA Royals (Viz Versus The Commenters)
AVG – .331 – High Five City (That'll do Puig)
K – 105 – Retro Vertigo (ECFBL)
W – 9 – Lucky Bucky (Take on the Jay 2)
SV –  15 – Starfish and Coffee (Original Recipe 2017) & MPH MPH (The Humidor)
ERA (Min. 40 IP) – 0.91 – Team PopsX11 (Take on Jay) (in 49.1 IP)
WHIP (Min. 40 IP) – 0.74 – Team Kinney Roto (Keepin it Real) (in 53 IP)
No weekly records were set this week, but a shout out to two leagues, The Humidor and Viz Versus The Commenters for each taking down two categories this week. Â The Humidor nails Runs and a share of the Saves lead and Viz Versus The Commenters holds down RBIs and SBs. Â Nice work.
TEAM OF THE WEEK
Our weekly shout out to the team that killed it the previous week.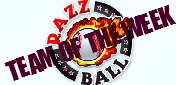 Team: Bush Light 30 Pack
League: Take on Jay
Stats: Â Â H/AB: 96/294, AVG: .327, R: 57, HR: 16, RBI: 50, SB: 8
IP: 79.0, ERA: 2.28, WHIP: 0.89, K: 79, W: 8, SV: 6
Summary: Bush Light 30 Pack, reminds me of college.  BL30P is currently leading the pack in league: Take on Jay with 104 points.  There is actually a fairly close race there with 2nd place going to one of our local RCL bots, Grey Is Fey who has 100.5 points.  BL30P is our hope for the human race in this league, let's win one for #TeamHuman!  With a little more stolen base punch BL30P could create a little more separation between themselves and the bot.  Either that, or more stellar weeks such as these.  Big weeks from the red-hot Willson Contreras and Nelson Cruz paced the offense while Lance Lynn and Gio Gonzalez helped out on the pitching side.  Keep it up BL30P, the human race is counting on you!
Want to be Matt's Twitter pal?  That's kinda creepy, but you can follow him here: @MattTruss