This Razzball Commenter Leagues update is going to be a little tricky.  I didn't think an update last week with only 3 days of games was worth anyone's time, so I was planning to give you an update of a week plus.  However, our good man Rudy Gamble is vacationing somewhere, no doubt having his afro picked by a scantily clad lady while being hand-fed grapes.  With Rudy away from his number crunching machine, we have no RCL data to analyze and no update to the Master Standings this week. We did get the standings run the Monday following the All-Star Break though, so we can look at those, just know they are a week behind.  Things should be sorted out next week and we still have plenty to talk about this week, like the 'Perts League action and some trades. So, fear not RCLers, we can and will make due without our precious numbers. Let's take a look at that and the rest of the week that was, week 17+:
Join the 2018-19 Razzball Fantasy Premier League for a chance at prizes! Don't know about Fantasy Soccer? That's okay, Smokey is here to walk with you throughout this journey of exploration and an absurd amount of accent marks on player names. So probably hide all your snacks. It'll be a long journey…
Each week we'll peek in at our resident 'perts to see who is laying claim to best "expert" RCLer in the land.  We'll take notes, check the standings and generally stalk them.  The heading is also hyperlink, so feel free to follow along as we go.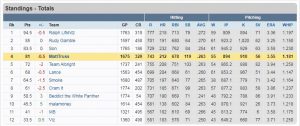 The 'Perts League might be a race after all.  The post ASB games saw my squad gain two points and bring it within six of Ralph.  I quickly squandered that this week though, losing 5 points (second only to Grey this week who lost 6 points and seems to be out of the hunt now) and surrendering the second place spot to Rudy.  Rudy sits 9.5 points back after Ralph gained 2.5 this week to give himself some breathing room. We'll see if Rudy can hang on this week whilst sipping pina coladas, but he's doing his darndest to hold an RCL league crown over Grey.  Remember, it's the deeper (weekly) leagues that are Rudy's forte. Ralph will certainly have something to say about this matter as will Son and I.
TOP 10
For those too lazy to check the MASTER STANDINGS, I present to you, the current top 10
As mentioned, the Master Standings are a week old, but I can check in on the current league standings and make some assumptions for this week.
My Starfish & Coffee squad can't catch a break it seems.  If it's not the Squat Cobblers and the ECFBL's 107 LCI pumping them into first overall it's Some Salvy For My Knee and Cougs R Us's 108 LCI bumping them into first overall.  Some Salvy jumps from 8th last week to first this week and checking in on the current state of Cougs R Us, Some Salvy gained a point this week to sit at 101.5 League points and thus likely holding that top spot.
Meanwhile, it's entirely possible that Cougs R Us has the top two teams in the Master Standings this week as Frost jumped from 96.5 points last week to 100 this week.  This league is a two team race and an impressive one at that. Frost just pulled off a big trade two weeks ago that landed them Khris Davis, Anthony Rizzo and Aroldis Chapman for Charlie Morton and Lorenzo Cain.  Frost is just 1 HR behind Salvy and 5 behind the HR leader. Should be an interesting finish. Keep that LCI strong and we might see two leaguemates atop the overall standings to finish the year.
Operation Shutdown jumped up from 16th to fifth last week and gained an additional half point this week, staying well ahead of the rest of RCL #64.
Team Shoopy also made a jump from 12th to sixth last week and gained another three points this week to further clobber the poor shmucks in RCL #73 (I am one of those schmucks!).
The Road Warrior maintained their place among the top 10 last week, falling from fifth to seventh.  They lost a half point this week, likely not enough to keep them from 10 glory.
Team KOechslin is another story though; they jumped from ninth to eighth last week, but lost 2.5 points this week, falling below 100 and likely pushing them out of the top 10.
Laura Holt continues to show she's no one trick pony.  She's sticking it to us shallow-leaguers hard in the Writers League and added an additional 2.5 points this week for good measure.
Finally, rounding things out is The Brown Horse, who was on the bubble two weeks ago but squeaked into the top 10 last week.  Brown Horse fell this week to 95 league points, so their time in the top 10 might be limited.
TRADES
All the trades that have gone down in the past week.  Public ridicule is not only allowed, but encouraged.
We've got nine trades to analyze from the past two weeks, so let's get to it.
There was plenty of bad luck in trades this period.  Extra Crispy got 4 games out of Kris Bryant before he returned to the DL and the Hawaiian Punks got about 6 games from Aaron Judge before he was injured.  Maybe they really are FANTASY WIZARDS!
Meanwhile, VinWins trades for Sean Newcomb, who immediately throws a near no-no.  That never happens to Vin! I had to double take this deal, because this is the type of thing that usually happens when Vin trades AWAY a player!  Nice get Vin!
Luis Severino was traded away twice before his implosion the other day.  Grey is speculating dead arm which would make a couple owners very unhappy.
I swapped Marte for Freeman in DFSers Anonymous.  I have a 40 SB lead and am hoping to get some more HR/RBIs thanks to having Jose Abreu at first base all season.  Get hot Freddie!
That's all for this week folks.  Weekly leaders and TOW will be back next week.
Want to be Matt's Twitter pal?  That's kinda creepy, but you can follow him here: @MattTruss