The MLB trade deadline has come and gone and that typically means a lot of scrambling for those in the Razzball Commenter Leagues.  Closers are a necessary evil and there's never a better time to snag a new one then at the MLB trade deadline.  This trade deadline we gained a Shane Greene, regained an A.J. Ramos and gained whatever the heck is going to happen in Minnesota.  The Twins could name T.C. Bear closer for all I know; it's not like it would matter much.  To everyone stashing Kirby Yates, my condolences.  The Padres apparently wouldn't budge on their steep asking price for Brad Hand, and so we got the shaft.  I was sweating the Zach Britton to Houston news for my recently traded for Ken Giles, thankfully that didn't pan out.  Now that the MLB trade deadline is over with, we turn our attention to our own, RCL trade deadline.  That, my friends, is Friday, August 11th at high noon.  We have 10 days to make the most of our teams for the stretch run.  I expect plenty of trading action for the next two updates.  There were 12 trades this week, up from 10 the previous two weeks.  Let's take a look at those, and the rest of the happenings in the RCLs in the week that was, week 17:
Each week we'll peek in at our resident 'perts to see who is laying claim to best "expert" RCLer in the land.  We'll take notes, check the standings and generally stalk them.  The heading is also hyperlink, so feel free to follow along as we go.
Queue the dramatic music, there's a new chief in town.  Prospector Ralph has seized the lead from our Fantasy Master Lothario.  Not to knock Ralph here at all, but I would actually say that Grey lost the lead more than Ralph took it, but that's really neither here nor there.  The fact is, Ralph is our new 'Perts League leader.  Grey has lost 10 points over the past 4 weeks, falling from 104.5 to 94.5.  Meanwhile, Ralph has been holding steady, lurking with 97 points until the moment was right.  Prior to reaching the 97 point plateau 4 weeks ago, Ralph really made hay.  From week 8 to week 14 Ralph gained 31 points.  This is what put him in position to seize the lead should Grey slip, and slip he did.  Only 0.1 ERA points separate 1st (Ralph) in the category from 5th (Grey).  Grey posted a 5.74 ERA and 1.68 WHIP in 42.1 IP this week, which led to the big slip.  With Ralph having just lost Clayton Kershaw, there is hope for Grey catching him in ERA, but it will take some careful maneuvering from here on out.
Elsewhere in 'Perts League news, Cram It was the biggest point gainer of the week, picking up 6.5 points after lamenting over having dropped Tazawa mere moments before A.J. Ramos was traded.  Jokes on him, he got Ziegler'd!  The biggest point loss of the week goes to both Grey and Tehol, who each lost 4 points.
TOP 10
For those too lazy to check the MASTER STANDINGS, I present to you, the current top 10
There is obviously a little delay between the Master Standings and the current standings, given the above explanation of Grey's current league position.  However, this is how things stood on Sunday, so we'll go with that for now.
Cram It holds onto the top spot for another week.  I'm rooting for Cram to go full 120 on us, complete his legacy and ride off into the RCL sunset to no doubt, slay the ladies with tales of his fantasy baseball glory.  I can only assume that is the sort of life a two time RCL Master Champion would lead.
The Swamp Donkeys move up from 6th to 2nd this week thanks to a gain of 5 league points. Â Our friendly neighborhood robot also gained 5 league points this week resulting in a jump from 8th to 3rd.
Vottoman Empire slipped a hair this week, falling from 2nd to 4th, as did Grey, as we already mentioned.
The South Side Hitmen fall from 4th last week to 6th this week and the Mount Fupa Squat Cobblers hold steady in 7th place overall.
Team Studer pops into the top 10 this week after three weeks of lurking in the top 20.
Returning Champ gains one spot this week and Pancake Riot returns to the top 10 after a one week hiatus.
TRADES
All the trades that have gone down in the past week. Â Public ridicule is not only allowed, but encouraged.
There was plenty of closer movement this week, always scary right before the trade deadline, but every save counts.  I've dished out plenty of trade scrutiny this year, so now you can let me have it.  Yes, I traded Aaron Judge and an injured Trea Turner.  Yes, I got back a struggling Manny Machado and a closer.  I also lost Carlos Correa, so my middle infield was a mess (oh good, Chris Owings is broken now too!) and saves seem to be the category where I can make the biggest push the final 9 weeks.  It's risky, but fortune favors the bold.  What do you think?
Corey Knebel got moved twice this week and I'm pretty shocked someone let Lindor go for him.  That seems lopsided for a closer, but hey, I just traded Aaron Judge, what do I know?
Tough break for Legal Roster, I think he owned Jim Johnson for exactly 1 IP before it was announced he was (mercifully) being moved to a committee with Vizcaino.
WEEKLY LEADERS
The best of the best from the week that was.
R – 61 – 5 Team Tied
HR –25 – Benintendi'd Consequences (The Giant and the Jew)
RBIs – 65 – DENNIS system (South Side Titans)
SB – 12 – Purple Hayes (Razzball Writers League) & The Schmohawks (Original Recipe 2017)
AVG – .356 – Team Duncan (Razzmonsters)
K – 103 – Greyt Success! High Five! (The Prospect Podcast League) (Back to back weeks leading the RCLs)
W – 11 – One Bad Inning (ECFBL)
SV –  14 – Rudy Is Booty (We're All Winners)
ERA (Min. 40 IP) – 1.14 – Hail HYDRA (La Cheesearie) (in 47.1 IP)
WHIP (Min. 40 IP) – 0.66 – Team Frost (Cougs R Us) (in 57.1 IP)
We have a new weekly leader in WHIP thanks to Team Frost and their 0.66.  Team Frost didn't skate by with it either, putting up 57.1 IP in route to the fantastic numbers.  Team Frost is the current leader in Cougs R Us thanks to the effort.
Greyt Success! Is going full Calgary Cannons on the RCLs, leading the leagues in strikeouts two weeks running. Â Nice work, high five!
TEAM OF THE WEEK
Our weekly shout out to the team that killed it the previous week.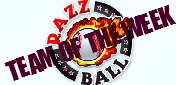 Team: Rudy is Snooty
League: Take On [email protected] 3
Stats: Â Â H/AB: 90/330, AVG: .273, R: 57, HR: 14, RBI: 43, SB: 8
IP: 83.1, ERA: 2.38, WHIP: 1.16, K: 93, W: 8, SV: 13
Summary: This is the second appearance by a robot in the TOW section, but the first by Rudy is Snooty.  Rudy is Snooty was first overall back in week 8 and is looking to put some heat on Cram It for that top spot once again.  They currently sit just 0.2 RCL points out of 2nd, but are still 2.8 behind Cram It.  More weeks such as this will go a long way though.  While the 14 HRs aren't a ton, combining them with 8 steals and 83+ innings worth of stellar ratios sure make them look nice.  The 13 saves are more than some teams get in a month.  The robot is not sleeping Cram, are you?
Want to be Matt's Twitter pal?  That's kinda creepy, but you can follow him here: @MattTruss