As we creep up on the All-Star Break, one team has separated themselves from the rest of the Razzball Commenter Leagues pack.  It's a bit unprecedented for a team in a league with a very high League Competitive Index to win in the Master Standings. Typically a league with a high LCI is filled with active managers that makes the league race very tight, which limits how far out in front a team can get.  Teams have done it before, Cram It comes to mind in 2015 when the FCL had an LCI of 112. Other than that, the highest LCI of a #1 team was Josh Hamiltons Fake Stache in 2013 when League: Cracking the WHIP had an LCI of 105. Every other #1 team has been in a league with an LCI of 100-102.  That brings us to the STL Squat Cobblers who currently sit with 108 league points in ECFBL with it's 106 LCI. That's enough to create a 5.4 RCL Point cushion over the second place team. If the Cobblers keep this up they'll be looking at reaching rare waters indeed. Granted, it's only a little over halfway through the season, a lot can happen, but it's still fun to extrapolate.  Let's look at the rest of the Master Standings and the week that was, week 14 in the RCLs:
Each week we'll peek in at our resident 'perts to see who is laying claim to best "expert" RCLer in the land.  We'll take notes, check the standings and generally stalk them.  The heading is also hyperlink, so feel free to follow along as we go.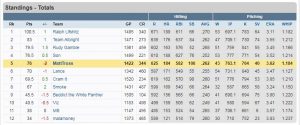 Not many changes this week in the 'Perts League.  Ralph is still owning us all and gained a half point this week for good measure.  Grey still sits in second, but lost 3 points this week and now sits 17.5 points behind Ralph.  Rudy and I swapped spots this week with Rudy reclaiming the third position as I fell to fifth. Also swapping spots this week were Viz and Tehol and Tehol moves into ninth.  Tehol has only 104 claims remaining and at the rate he's making moves should be out of options come August. That will be 2 months of a dead team for ol' Tehol who should fall back to the bottom of the barrel.
TOP 10
For those too lazy to check the MASTER STANDINGS, I present to you, the current top 10
As mentioned, the Squat Cobblers extended their lead over my Starfish & Coffee squad this week but the top two teams remained the same.
Team KOechslinleap-frogged Los Beisbolcats to take over the third spot and Bag Stealn Wheelin Dealin Son Of A Guns jumped up from tenth to fifth.
Im in a Ditch falls one spot to seventh and the Fighting Hams make their top ten debut this season moving from sixteenth last week to eighth.
LauraHolt holds down the ninth spot for another week and after leading the RCLs in runs scored this week the Los Angeles Angles move from 21st to tenth this week, rounding things out.
TRADES
All the trades that have gone down in the past week.  Public ridicule is not only allowed, but encouraged.
I only spotted one trade this week, but by all means, let me know if I missed one in your league.  
This trade went down with my second ranked team in the Master Standings where I'm kinda running away with the pitching categories.  My pitching staff was Trevor Bauer, Charlie Morton, Blake Snell, Miles Mikolas and Kenta Maeda. Losing Bauer doesn't kill me and I have Stephen Strasburg DL'd.  I'm always willing to trade an arm for offense and being a big Braves fan doesn't hurt either. Now I just need Acuna to start swiping some bags.
WEEKLY LEADERS
The best of the best from the week that was.
R – 62 – Los Angeles Angles (RCL 2018 (#3))
HR –23 – 50 feet of Crap (DFSers Anonymous)
RBIs – 69 – SUMMER THUNDER 2 (RCL 2018 (#16))
SB – 18 – Sons of Pitches (RCL 2018 (#42))
AVG – .345 – Finkelstein Ballers (RCL 2018 (#48))
K – 82 – Team Peninsula Oilers (RCL 2018 (#33)) & NE Nature Boy (RCL 2018 (#51))
W – 8 – 8 Teams Tied
SV –  11 – Chicago Mark (RCL 2018 (#71)) & Rmuzz55 (RCL 2018 (#7))
ERA (Min. 40 IP) – 1.11 – NYC Sturgeon King (RCL 2018 (#40)) (in 56.2 IP)
WHIP (Min. 40 IP) – 0.627 – Backdoor Cutters (Night of the Living Zombinos) (in 44.2 IP)
Two new weekly records were set this week.  Sons of Pitches took the weekly SB crown from their leaguemate, Lenny Potts.  RCL #42 has been all over the weekly records with Oil Can Lou currently holding the RBI record.
Backdoor Cutters (Frequent Commenter Big Yabu) beat out the weekly WHIP record by a mere 0.031.  Let's see if he can hold it.
TEAM OF THE WEEK
Our weekly shout out to the team that killed it the previous week.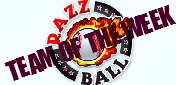 Team: Operation Shutdown
League: RCL 2018 (#64)
Stats:   AVG: .294, R: 54, HR: 17, RBI: 51, SB: 12
IP: 62.2, ERA: 2.15, WHIP: 0.989, K: 75, W: 5, SV: 4
Summary: Operation Shutdown had a heck of a week and rocketed from 58th overall up to 23rd overall in the Master Standings.  They also took over their league lead from M is for Mookie with the big week. This is one incredibly consistent week too, going double digits in HRs and SBs with some insane ratios.  Nice work OS, keep up the good work!
Want to be Matt's Twitter pal?  That's kinda creepy, but you can follow him here: @MattTruss